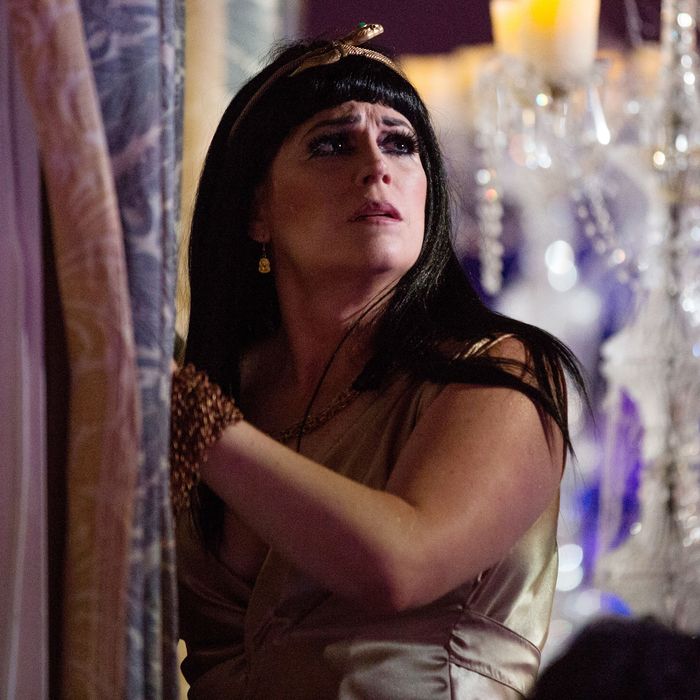 Berlioz's La mort de Cléopatre, in a production of On Site Opera, performed at the Harmonie Club.
Photo: David Andrako
A shoeless, slightly puzzled crowd milled uncertainly around the open floor of the Synod House at the Cathedral of St. John the Divine, searching the gallery and timber rafters for a sign that something was going to happen. Somewhere, a piano played the introduction of Brahms's Ein Deutsches Requiem, and then quiet voices lifted among us, so dispersed in the stone-walled room that they seemed to have no source. I looked around at the audience, casually dressed for Indian summer, and a venue without seats, and noticed that here and there, people were moving their lips. At my shoulder, a soprano's voice detached itself slightly from the ensemble, and I turned to find her smiling at me as she sang. Soon, the members of the Berlin Radio Choir began circulating, lightly touching listeners on the shoulders and stirring currents of music into the still warm air. It felt like bathing in an effervescent spring of alternately anguished and consoling counterpoint.
To convert Brahms's German requiem into Human Requiem, a bright flash in this year's White Light Festival conceived and directed by Jochen Sandig, Lincoln Center's planners ventured afield. They needed a venue for mystery, one without seats or stage, capacious enough to give the choral ensembles their majestic bloom, small enough to make it feel like an intimate experience shared with strangers. The choir clustered and scattered like starlings in slo-mo, now parading up the center of the room, now huddling around a recumbent body, never losing sight of the roaming conductor, Simon Halsey, or letting their intonation or balance slip so much as a degree from perfection. At times, Sandig's production tried too hard — I could have done without singers on swings — and the relationship between the choreography and the text was often obscure. Still, 75 minutes spent in direct physical contact with such glorious music felt like a rare kind of luxury.
Theater, opera, and virtual reality have discovered immersive as the ultimate buzzword, promising to obliterate the fourth wall or the screen, or the stage, or whatever divides performers from passive consumers. In music, this is often a matter of real estate rather than technology. The traditional concert hall, with the players facing one way and the audience facing the other, its forbidding ticket prices and arcane conventions (Clap later, not now! No texting! No playing air violin!) has acquired a reputation for stultification. Even as Lincoln Center and the Philharmonic prepare to scoop out everything inside the white travertine shell of Geffen Hall and replace it with a new auditorium designed by Thomas Heatherwick and Diamond Schmitt Architects, they are also working around its imperfections. Lincoln Center's programming guru Jane Moss interprets her jurisdiction's boundaries loosely enough to include a theater on 42nd Street, an East Side church, and the Park Avenue Armory, all to find the perfect architectural match for a particular artistic idea. She is not alone. Even moderately intrepid concertgoers have become accustomed to craning around columns at (le) Poisson Rouge, stretching out on the floor of the Armory's Drill Hall, or shuffling around a museum gallery, trying not to trip the performers. In pursuit of musical intimacy and surprise, audiences have embraced discomfort and poor acoustics. For Human Requiem, we all acquiesced to rules that might have gladdened the heart of a TSA agent: remove shoes, leave bags at home, check coats, dress comfortably.
The concert hall and opera house had a relatively brief and never secure monopoly over musical life. Late-18th-century London audiences vied for scarce seats in Carlisle House and the Hanover Square Rooms, but the construction of entire buildings acoustically engineered for large orchestras and audiences in the thousands was a late-19th-century phenomenon. Already in the mid-20th, the avant-garde had no use for the expensive infrastructure of the Establishment, and instead drifted off to lofts and galleries, where the rent was low, the wine was cheap, and decorum nonexistent.
By now the deinstitutionalization of music has become institutionalized. Groups that started in scavenged spaces in Gowanus regularly get invited to Alice Tully Hall, eclectic contemporary music has a new official home in Williamsburg, Carnegie Hall dispatches musicians to neighborhood libraries and outer-borough museums. Arts administrators are united in the belief that spreading music as far as possible, in both the digital and physical worlds, is more than just a marketing gimmick: It's a strategy for survival. The world is full of intellectually curious, artistically adventurous young people who would no more buy a ticket to hear Brahms's requiem in concert at Geffen Hall than they would stick a stamp on a handwritten letter. Maybe soon they'll reclaim ye olde auditorium concert with a sense of retro irony, but for now it's still foreign territory.
The desire to take opera out of the opera house is often a matter of economics. The Metropolitan Opera starts each night with a daunting number of seats to fill (3,800). New York City Opera died after leaving its Lincoln Center home, though it is now struggling back into existence. At the other end of the spectrum is an ecosystem of tiny companies that built their identities around a life on the road. On Site Opera matches the venue to its repertoire of rarities, almost never returning to the same place twice. Gershwin's Blue Monday at the Cotton Club, Marcos Portugal's (not Mozart's) The Marriage of Figaro in a townhouse on Hudson Street, Rameau's Pygmalion at Madame Tussaud's. I recently attended a double bill of one-act monodramas, Miss Havisham's Wedding Night, by Dominick Argento, and Berlioz's La mort de Cléopatre, performed in the impeccably neoclassical ballroom of the Harmonie Club, designed by Stanford White. I would not have wanted to hear either opera anywhere else. No meal was served the night I went, but the tables were set, cobwebbed chandeliers burned bright in the Beaux-Arts salon, and a cake sat rotting on a table. Leah Partridge sang the role of the jilted bride from Dickens's Great Expectations, who spends her life bitterly waiting for her missing groom. With the orchestra tucked in an alcove, she darted among the tables, her manic girlishness gradually spinning off into hysterical rage she seemed constantly on the verge of taking out on one of the listener/guests. Mezzo-soprano Blythe Gaissert one-upped her hysterics as the suicidal Cleopatra, sashaying imperiously around the room, clutching the instrument of her demise: a live snake. Both Berlioz and Argento wrote stagey one-woman shows meant to bridge a proscenium and vocal lines that can carry to the back of the house. But without that separation from the audience, Partridge and Gaissert leveraged the closeness, relying on the transparency of their characters' damaged psyches, indulging in murmured pianissimos and quick turns that might get lost in a bigger house. The result was both lavish and intimate.
Some more venerable organizations step out of the concert hall in pursuit of a not entirely convincing patina of cool. Stodgy institutions should try new things, and a change of venue can be bracing, but there's an occasional hint of fear in their expeditions. The New York Philharmonic, which will evict itself from Lincoln Center in a couple of seasons while it rebuilds Geffen Hall, has been sending scouting parties out into the city. I attended its first Off the Grid event of the season, a chamber-music happy hour at Pondicheri restaurant, which offered $6 Indian frankies, $14 cocktails, and an assortment of free musical snacks: a raga, plus snippets of Philip Glass, Schubert, and Terry Riley. A crowd of millennials, new to the orchestral world and fortified by the knowledge that they belong to the nation's most coveted demographic segment, jammed up close to the tiny stage and examined the offerings.
A few Philharmonic staffers looked on, fervently hoping that the event would persuade at least a small slice of the crowd to come hear a regular concert at Geffen Hall. Or, at least, that they would generate a big enough storm of tweets, posts, and Snapchats to break down the Philharmonic's reputation for codgerliness. As with most start-ups, success is an inefficient process, hard to define. Last year's Off the Grid pop-ups cost about $48,000 each, and attracted a few hundred people, 9 percent of whom bought Geffen Hall tickets. That means that the Philharmonic spent roughly $2,500 on every ticket it sold. This season's events are a little more Spartan, at $30,000 each, and I hope that the return on investment is climbing sharply.
It's always laborious and difficult to build up new audiences, but the real weakness of this particular program is that it sells the Philharmonic short. If I had never heard the full orchestra in all its immersive glory, with those waves of complicated sound ricocheting off the walls and thrumming through the floorboards — if I were innocent of the way a long Mahler crescendo can whip like surf through your hair, or the way a distant English horn solo can conjure a whole landscape — I would have gotten no hint of the orchestra's magic from the wan, under-rehearsed fragments I heard at Pondicheri. It seemed to me that most of the objects of marketing desire who were amiably texting and munching their way through the music went out into the night entertained but unawed. If I were one of their number, I would feel I had been condescended to.
At other times, when the Philharmonic ventures forth, it's to find the magical alignment of art and space — to serve music rather than sell it. The week before the Pondicheri gig, the Philharmonic moved into the Armory for a program of music by Kaija Saariaho. The Drill Hall is vast, and even when you shrink it by erecting bleacher seating and cutting off one end with a giant video screen, you still sense the way sounds go fluttering into the rafters and never come back, almost as if the performance were taking place outdoors. Saariaho's music, with its cosmic flutings and painterly shades of instrumental color, makes use of that immensity. In her clarinet concerto with the untranslatable title D'om le vrai sens, the clarinetist Kari Kriikku emerged from above and behind the audience and slowly made his way to the stage, an avant-garde pied piper. The spare darkness lit up by wild, uncanny sounds gave Saariaho's language an intensity it might have lost in the bright normalcy of a concert hall.
While they colonize other locations, the Philharmonic and Lincoln Center are girding themselves for a $500 million renovation of their shared home base. The principal goal is to repair the acoustics, whose faults have outlasted various overhauls and name changes — it was Avery Fisher Hall until last year and Philharmonic Hall before that — but the new space will have to do more than improve a sonic experience that is not great but not atrocious either. It will aspire to a contemporary vibe, seductive to hip young neophytes and graying mavens alike. Administrators crave the sort of place where Mahler and ragas and Saariaho's mysteries can all be equally at home. If the Philharmonic does manage to build itself the ultimate all-embracing concert hall, will it still seem as exciting and urgent to keep breaking out of it?