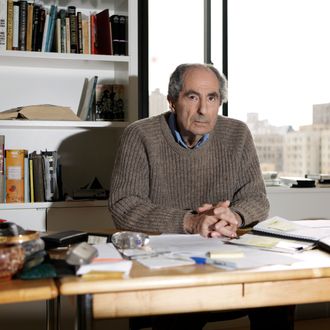 Photo: Julian Hibbard/Getty Images Portrait
When Philip Roth's personal library of some 4,000 volumes finds its permanent home in Newark, you'll need a deep understanding of how the celebrated author's mind works, or a map, to figure out how those books are organized. The New York Times reports that the Newark Library is planning to keep the spirit of Roth's current home setup for the tomes, with its design of dedicated space for the collection. Though Roth did separate nonfiction and fiction books within his Connecticut home — and kept copies of the dozens that he authored and their translations in closets and the attic — some of the volumes are also grouped together from when he used them for research. Many of the books are also heavily annotated with his personal notes.
Roth grew up in Newark, New Jersey, in the 1930s and '40s. Though he used a smaller branch near his neighborhood as a child, the Newark Library main branch became a mainstay as he grew older. The location is heavily used in Roth's novella Goodbye, Columbus (1959), though the century-old building was a bit embellished for the sake of the story; when you visit in the future don't look for the lion statues guarding the doors, because they're in New York.