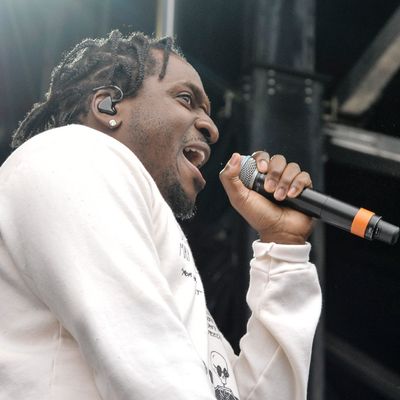 NEW YORK, NY - OCTOBER 02: Pusha T performs during The Meadows Music & Arts Festival 2016 at Citi Field on October 2, 2016 in New York City. (Photo by Kris Connor/Getty Images)
Photo: Kris Connor/Getty Images
Longevity has always been something more desired than expected in rap. The live-fast, die-hard ethos etched into hip-hop's DNA is mirrored by a baleful career casualty rate among its practitioners. The vast majority of aspiring rappers never come close to taking off, and among the few who do achieve some measure of success, that success is highly likely to be fleeting. In an art and industry where staying relevant for five years is a marvel, the fact that tens (if not hundreds) of thousands continue to test the odds seems miraculous. Conversely, when a figure manages to survive for well over a decade, it's a safe bet that their survival is a calculated matter, an outcome not merely of luck but of science.
Terrence Thornton, the Virginia-raised rapper known as Pusha T, has been involved in hip-hop for over half of his 39 years, and he hasn't just been hanging on: This year marked his ascension to the presidency of Kanye West's G.O.O.D Music imprint. All the same, Thornton's trajectory has hardly been smooth. For most of his career, every advance was soon after matched by a setback. After Clipse, the duo formed by Thornton and his older brother Gene (rap name Malice), signed with Elektra Records in the mid-1990s, Elektra effectively abandoned their debut album (1997's Exclusive Audio Footage) in the midst of its release. Then after Clipse, aided by their longtime collaborators and fellow Virginians the Neptunes, signed to Arista and released the classic Lord Willin' in 2001, Arista merged with Jive Records, whose management, like Elektra's, was skeptical of Clipse's commercial prospects and cast their projected third album into development hell. That album, the impeccable and bitter Hell Hath No Fury, was finally released in 2006, following much rancor and litigation.
After a fourth album came and went, the Thornton brothers' friend and former manager was indicted and sentenced on kingpin-level drug-trafficking charges. Soon after, Clipse dissolved as a result of Malice's conversion to Christianity. By the time Push embarked fully on a solo career, signing with G.O.O.D and releasing the album My Name Is My Name in 2013, he was well over 30 in an industry where youth is held at a premium. Earlier this year, he released Darkest Before Dawn, a brief album meant to build anticipation for King Push, his real second album. The fact that his recent art is more on point and ferocious than ever speaks not just to his competitive passion, but to a need to make up for lost time. If it takes extra effort for the middle-aged artist to keep up with younger peers who can take their relevance for granted, so be it: The man can deliver regardless.
His latest outing, a song and video titled "H.G.T.V." released yesterday, showcases King Push's mature aesthetic. The abbreviated title (echoed by "S.N.I.T.C.H." from My Name Is My Name and Darkest Before Dawn's "M.F.T.R.," "M.P.A.," and "F.I.F.A.," as well as by the initial in the artist's name) suggests that the only way to keep up is to cut down; that suggestion is amply reinforced by the song itself, which clocks in at barely over two minutes and consists of 32 bars and zero hooks over a looming, minimalist Mike Will beat. Then there's the video, a stark affair in high-def black and white, in which the artist slowly rotates through a series of stylish but ungaudy outfits while seated in a series of stylish but ungaudy chairs. For Pusha T, long-lived doesn't mean long-winded; it means reduction to fundamentals, distillation.
To be sure, survival means adaptation, and the artist, who's been in the news this year for signing Desiigner, joining with Hillary Clinton to register voters, and revealing that he allegedly wrote McDonald's "I'm Lovin' It" jingle, is hardly averse to new partnerships. But in a world where pandering and wave-riding have reached epidemic levels, it's a relief to encounter an artist who remains loyal, in his lyrics and dealings alike, to first principles. It's a cold, keen, and exclusive ethos perfectly represented by Push's chill, machine-precise, contemptuous voice, and his art's harsh pleasures are reserved only for close listeners (there are no distracting melodies to soften the blow), but the integrity is as unquestionable as it is rare. If Pusha T and the world around him are united in their frosty emphasis on wealth, the disorder of that world is nowhere to be found in his art, where everything is endurance, order, and forbidding excellence. Peace and warmth, on the other hand, will have to wait.