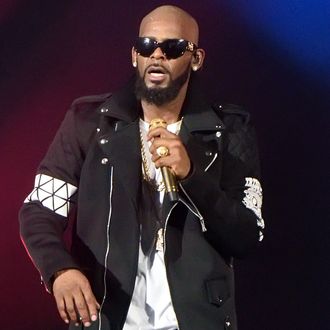 We listened so you don't have to.
Photo: Daniel Boczarski/Getty Images
Nothing says Christmas spirit quite like R. Kelly, am I right? Whether the world wanted it or not, Kellz has taken the natural progression from 12 Play to 12 Nights of Christmas, which is both the title of his new holiday album and the number of times he's threatened to fill up your, ahem, stockings this season. Given that this is his first-ever Christmas album, any reasonable person might expect him to stick to the classics, but that would just be too tame. All of his Christmas carols are originals and come rated-R for extreme ridiculousness (and, uh, sex, obviously). Is it okay to listen to any of them, Christmastime or not? Only if you'd like to kill your holiday buzz months in advance. Below, we unwrap the silliest things he says on this album. Cheers!
"I promise that we'll deck all the halls with shadows of you and me on the walls" ("Mrs. Santa Claus")
When Nat King Cole sang the praises of Mrs. Claus for being the unsung hero of the North Pole, we can almost guarantee that he never imagined, decades later, that R. Kelly would flip that idea into rewarding Santa's wife with sex. Because nothing, not even a famously married woman, is off limits to Kellz.

"I'm just a snowman looking for a snowgirl, someone who can share my snow world" ("Snowman")
You know, suddenly, the thought of a 100-degree Christmas doesn't sound so bad. (Sorry, Leo.)

"Baby this Christmas my gift to you will be …. me" ("Home for Christmas")
Now picture Kellz saying, not singing, that line in a whisper. We promise it's even funnier than what you're imagining.
"We throw snowballs, we laugh, we fall, we build snowmen once upon a time" ("Once Upon a Time")
At this point he's just playing Christmas mad libs.
"This holiday was made for giving, girl, so open up and let me get into your loving through the night" ("The Greatest Gift")
Um.
"I'm staring at the mistletoe. Oh, girl, come on in and close the do'" ("Christmas Lovin'")
Quite frankly, there isn't a single line on this song funnier than the fact that he sings them all in a totally earnest country twang. If you can get through this thing with a straight face, you're better than us.
"I'm gonna fill your stocking with sweet things, yes I will. 'Tis the season, girl, for eternity" ("Flyin' on My Sleigh")
Leave it to Kellz to work in a "fill your stocking" innuendo twice on a Christmas album. What a ho ho ho.