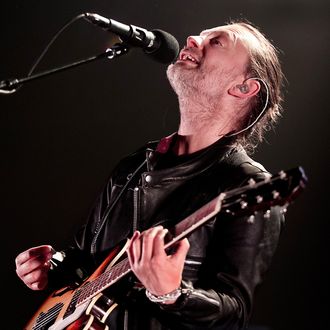 And you thought your Thom Yorke story was cool.
Photo: PAUL BERGEN/AFP/Getty Images
If you call yourself a Radiohead fan and count that one random Thom Yorke sighting in Oxford as an intimate experience with your personal hero — even if it was an impromptu garden party concert! — prepare to be put to shame. Over the weekend, after headlining Austin City Limits in Texas, Yorke and Jonny Greenwood casually stopped in local Austin synth shop Switched On for a browse. Of course, they were not alone in treating themselves that day: A Radiohead fan, who just happened to be there also synth shopping, was on hand to tell the tale for Reddit. This dude wasn't just a fly on the wall; he actually ended up jamming with the band and talking shop after impressing Yorke with his patching. And while most of us would've probably made it all awkward and begged for a selfie, this guy kept calm, never said a word about the fact that his whole reason for being in Austin was to see Radiohead at ACL (though, yeah, the shirt probably was a dead giveaway), and walked away with one of the coolest fan stories you'll ever read. Check it out below.
So, we drove 10 hours to see Radiohead last night at ACL. Third time seeing them, and they were incredible as always. The other reason I was excited to visit Austin was to visit a synth shop called Switched On. I'm an avid modular synth builder/user and there's not a store like Switched On anywhere near where I live. It's a pretty niche hobby to say the least.

As I'm working on a patch on their demo wall, I look over my fiancé's shoulder and see what appears to be Johnny Greenwood jamming on an old ARP. I stand up, draw my fiancé toward me and say "that's Johnny Greenwood." As that sets in, I hear the stool I had been sitting on roll up to the case of modules. I turn around, and there's Thom Yorke, sitting six inches from me and messing around with a couple of modules.

I turn back around to my now-understanding fiancé and say (safely muffled by the numerous sick jams going on all around us), "and that's Thom Yorke right behind me."

As I'm saying that, I notice Clive Deamer, Portishead's drummer that's currently touring with them, checking out an old Korg.

I also notice I'm wearing my Radiohead shirt.

We stay for a while and listen to the store clerk and Thom talk, playing it cool and just trying to soak up this incredible interaction. Thom walks away and I sit back down to keep testing modules. I was determined not to make this a fan moment, because I knew the most valuable thing I could give him was a normal moment in a synth shop.

I say under my breath to the clerk "this is crazy," and he just grins.

As I'm patching, I hear "what's that there?" from over my shoulder, and there Thom is, checking out what I was doing. We talked and patched for about an hour, joking about how esoteric and complicated some synth modules are. He was super interested in the Mutable Instruments Braids. I showed him a couple of my favorites and he said, "see, anything with a grid like that immediately gives me a headache. I'm just a singer, so I can do vocal effects and oscillators, but some of this is too much."

We looked at a very small dual sampler and he commented "see this is much too small; this one here is the sampler for people with really good glasses."

It was all like a dream. We jammed a little more. He was at least remotely interested in the music I was making. He bought an Intellijel Metropolis sequencer, and they loaded up Johnny's sequential circuits prophet into the back of a cab and left. I waved at them and they waved back.

That's about it. I feel like I'm both here and not here. It was really beautiful and validating seeing my absolute hero geeking out over the same convoluted hobby that I do. We didn't discuss who they were, we didn't discuss the show, and we didn't discuss how I was about to pass out from joy.

I didn't get a picture, since I've heard he's not crazy about them, but I thought if any community would appreciate this story it would be you, /r/Radiohead.

Side note: I bought some modules we both were using that he left behind, so I finally own some music gear used by Radiohead.