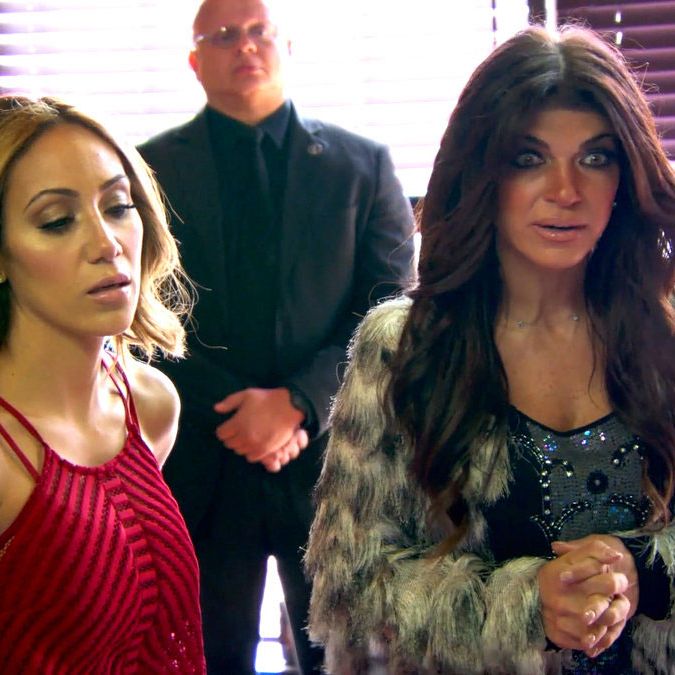 Melissa Gorga, Teresa Giudice.
Photo: Bravo
I honestly cannot believe it's the end of the season. It doesn't feel like anything has happened, but The Real Housewives of New Jersey has covered so much ground.
Let's be honest: Nothing has changed, has it? Teresa got out of jail. She and Jacqueline made a short-lived attempt to fix their friendship. Their failure to reconnect is not only the focus of this finale, but it also only gobbled up several episodes along the way. When the season began, I kept wondering, How are they ever going to come together? It doesn't seem like they can really be friends again. It doesn't seem like Teresa wants to. And that's pretty much where we are today.
What's different is that we have all gotten closer. (And by we, I mean you, me, Tre, Siggy, Dolores, Melissa — everybody except Jacqueline!) I feel like we really bonded, you know? It's safe to say Melissa and Teresa are good for the foreseeable future. I still get nervous when they even joke otherwise. When Melissa teased Tre about not putting her on the list to visit in prison, I was sweating buckets. But they were just playing. Meanwhile, Siggy and Dolores have proven themselves to be real friends — or at least Teresa has shown notable willingness to let things go and be chill about little bumps in the road with them.
I'm glad about all of this. Not just for you and me, but for Teresa, who needs support now that Joe is gone. It's sweet when Lawyer Jim reminds her that he's willing to lend a hand, as are so many others. Apparently, Joe has already lost ten pounds in prison. Madonna Mia! He should write a Fat Italian cookbook when he gets out. Too bad he can't write it while he's locked up — or can he? They need the money: Teresa might even put the house on the market.
Things are going pretty well for Melissa, whose Envy fashion show is a success, so much so that she triples her online sales, prompting proud-hubby Joe to apologize for a season-long chauvinist tirade and cook her a conciliatory dinner. Wait: The guy who supposedly couldn't reheat frozen chicken fingers knows how to whip up chicken cordon bleu? Maybe it's takeout. Also, did anyone else notice the cordial greeting between Teresa and Melissa's boutique manager at the show? I guess all that stuff about a scandal amounted to nothing.
Keeping with this theme of sisters doing it for themselves, let's talk about Dolores's lunch with Frank. She not only picks up the check, but tells him she won't be relying on him for money anymore. It's sort of cute how his reaction is concern, rather than relief. They both readily acknowledge their importance to each other. My prediction of a rekindled thing didn't happen this season, but I'll keep hoping for next year. Speaking of next year, can we take this moment to congratulate Siggy and Dolores on a good first season? I've come to really like them both, and I'd be disappointed if they don't return. That said, lunch with the moms and meatballs and matzo balls is a bit snoozy for a season finale.
No longer a real Real Housewife, Kathy Wakile and her pet husband, Richie, show up at the Envy fashion show. They have a predictably uncomfortable interaction with Teresa, and Richie is especially foul about Teresa. As he remarks to Joe, "I haven't seen her in a year and a half. Can't believe how much she's aged." I don't think anyone's too upset about it, but it's a poor use of Richie's precious little camera time. For what it's worth, Teresa isn't a saint at the show, either: She's critical of Jacqueline in conversation with Kathy and then blows her off. If Teresa really wants to be cool and casual with her cousins, she should laugh off any discussion of Jax without getting into a thing. I also fault Kathy for her judgmental defense of Jacqueline. If she wants to be good with Tre, why go there? Anyway, the Wakiles and the Giudices are — you guessed it! — exactly where they were at the beginning of the season.
And just like that premiere episode, we close things out with a sit-down for Teresa and Jacqueline, although this time it's complicated by everyone else's issues. Jacqueline wisely wants to face her frenemies one at a time, which really does make more sense, but it doesn't exactly happen that way. Jacqueline arrives before Teresa and Melissa, so she can have it out first. Dolores, class act that she is, walks in apologizing and owning her part in their conflict to clear the air. It's a good thing for Jackie, because even I (who have railed against her so fervently) felt bad for the girl walking into that lion's den. At least she's okay with Siggy and Dolores now. That's certainly a good thing: I really didn't want to spend more time deconstructing the idiotic fight between Jax and Dodo.
A question for the crowd: This sit-down is held at Rails and I am wracking my brain to remember which previous RHONJ sit-downs happened there. Was it Teresa and Danielle? Dina and Danielle? Teresa and Caroline? Why isn't there some sort of online reference for this? I feel like there's money to be made taking tourists on a Real Housewives tour of New Jersey. Come to the brownstone and flip the table, only $40 per person — including baked ziti!
Nobody flips a table this time, but they don't even have much of an opportunity. Teresa and Jacqueline are going at it before Teresa can even sit down! Seriously, this escalates from zero to C-word in, like, 20 seconds.
I have to say, my criticisms to the chef. This must be the most poorly planned Housewives make-up session since the Danielle days. How were the terms of the ceasefire not prenegotiated? Has Siggy not been following the stalled peace talks in her own motherland, Israel? Why is this issue of Jacqueline's meeting the girls one-on-one being discussed now? I'm a big fan of Tre, but I wouldn't send her to broker a peace. She gets too worked up. At one point this week, she actually compares Jacqueline to Osama bin Laden. We get it, Italians are passionate, but that's why somebody with a cooler head should have arranged the terms before the meeting. Somebody who's not Jacqueline or Teresa.
The sad part is they don't even disagree! Thanks to miscommunication, they incorrectly conclude that they can't sit down together. Both Teresa and Jacqueline are willing to meet with Siggy and Dolores in the room, but that never gets acknowledged because the guns go blazing in record time.
Do I think it would have made a difference? No. This relationship was doomed from the start. Teresa and Jacqueline went head-to-head when Teresa was in a bad place. Now that she's feeling better without Jacqueline, she really has no interest in making up.  If Jacqueline wants to make this work, she would have to really suck it up and let go of all her paranoia. Do we think she's capable of doing that? Like this nonsense about Melissa feeling threatened by Jax's relationship with Teresa? Uh, no. Melissa is not your enemy, Jax. The only thing Jacqueline has accomplished is bringing Teresa and Melissa closer together.
Is it safe to say that Jacqueline will be gone next season? If she comes back, she's just a glutton for punishment. It certainly seems like the other four ladies are on good footing, which leaves us to wonder what's next. Who will get the "bitch edit"? What fresh meat is coming our way? Whether it's a salty bresaola or something ground up in Bolognese, only time will tell. I'll certainly be looking for hints during the reunion.