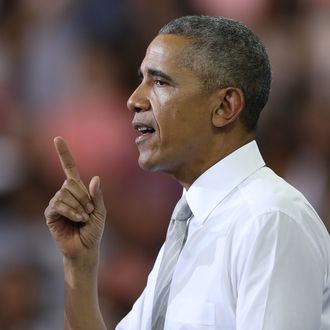 The POTUS, for a little while longer.
Photo: Joe Raedle/Getty Images
If you're a regular watcher of HBO's Real Time With Bill Maher, then you'll know that Maher has long been pleading with — nay, begging for — the sitting president of the United States, one Barack Hussein Obama, to appear on his show before he leaves office. Well, that pleading finally came to fruition. On tonight's Real Time broadcast, Maher announced that he will interview the president at the White House, and said that interview will air November 4, just days before the next presidential election occurs (a.k.a. the end of our long national nightmare). Famously, Maher petitioned via the official Whitehouse.gov website to get Obama on the show and received the required 100,000 signatures last year; however, it took until now to make it real (time … ). This may be one of the last Obama-as-prez interviews, so it's worth tuning in even if you are not a fan of Maher's razor-slice way of doing things. After all, a president in his last week in office is the most IDGAF president of all.