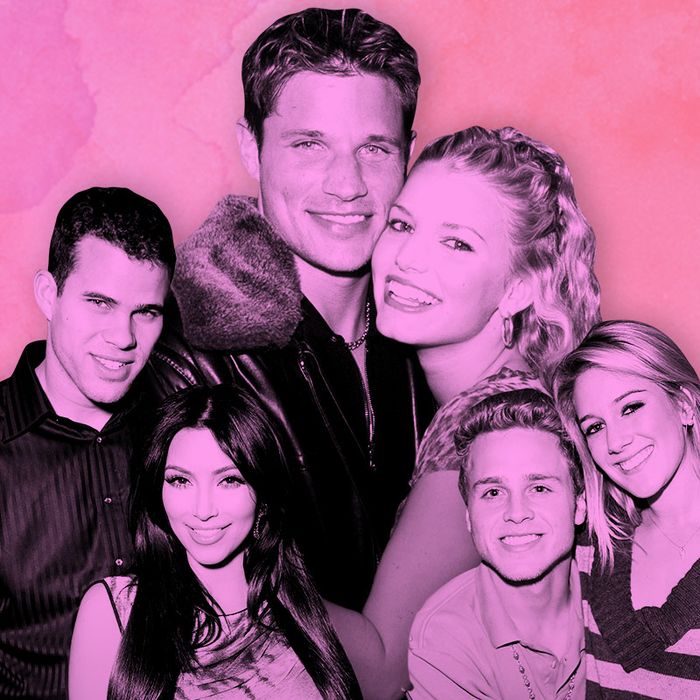 Photo-Illustration: Vulture and Photos by Getty Images
For the next three weeks, Vulture is holding a TV Couple Scuffle to determine the greatest couple on television in the past 30 years. Below, we remember the great couples on the unscripted side of television.

We watch reality television for all sorts of reasons: the tension, the drama, the people who aren't there to make friends. But for many, it is all about the romance. Onscreen and off, rarely a day goes by without reality stars meeting and falling in love with each other. Even celebrity couples can't resist using the genre to celebrate their own relationships (or, just as often, their discord).
With that in mind, Vulture has ranked the 100 best reality-television couples that we'll never forget. Some got together before our very eyes, some hooked up after meeting on the reality-TV circuit, and others just decided that the world needed to share in their wedded bliss. The one thing they all have in common? They're unforgettable.
100. Giggy the Pom & Grandma Wrinkles (The Real Housewives of Beverly Hill/The Real Housewives of New Jersey)
Who ever said only humans can find their soul mate on television? Lisa Vanderpump's hairless dog (thanks to alopecia) and Dina Manzo's hairless cat (thanks to genetics) got hitched on Watch What Happens Live in 2011. Love knows no species.
99. Todd Herzog & Spencer Duhm (Survivor)
Though they never competed together, these two openly gay contestants started dating after their seasons wrapped and Spencer tried to help Herzog in his battle with alcoholism, which he discussed on Dr. Phil.
98. Alex Kinsey & Sierra Deaton (The X-Factor)
This married pair was the only group to win the American version of The X-Factor in its third and final season. They do a killer cover of "Toxic."
97. Dave Brown Jr. & Rachel Brown (The Amazing Race)
This combat pilot and his wife saved most of their fighting for each other. They leveled the field, not only winning the show's 20th season, but also winning the most legs of the race ever.
96. Jonny "Fairplay" Dalton & Michelle Deighton (Survivor/America's Next Top Model)
The rare couple that wasn't even on the same shows, but still got together. As one of the all-stars returning for Survivor: Micronesia, Jonny had tribe mates vote him out first so he could return home to be with a pregnant Michelle.
95. James Huling & Natalie Negrotti (Big Brother)
Natalie had a tough time in the Big Brother house, thanks to nasty comments from her male housemates. Luckily, her man James had her back all throughout a year that was dominated by couples and especially difficult for the ladies.
94. Zach Nichols & Ashley Kelsey (The Real World)
The long-haired hunk and his "fake" girlfriend (at least according to her housemates) were inseparable when they were living in the San Diego house. Just a few years later, there was no love left when they appeared on The Challenge: Battle of the Seasons.
93. Kim Stolz & Sarah Rhoades (America's Next Top Model)
Tyra Bank's beauty factory has featured lesbian models since its very first season, but Kim Stolz and Sarah Rhoades were the first to see any action. Rhoades seemed genuinely confused about her sexual feelings for another woman, and sadly, Sarah got kicked off before things could really go anywhere.
92. Kevin Jonas & Danielle Deleasa (Married to Jonas)
Of all the pop-star couple shows listed, this one is by far the most dry. These guys don't even fight or anything! Can't we just give Nick and Joe Jonas their own shirtless show?
91. Jeff Lewis & Gage Edward (Flipping Out)
The only thing more impossible to imagine than this cushy-lipped design dictator finding love with a handsome, upstanding gentleman is imagining what these two will be like as parents. Good thing Jeff's assistant Jenni — a.k.a. his real soul mate — will be around to help.
90. Derek Hough & Shannon Elizabeth (Dancing With the Stars)
The two-stepping pro and his celebrity partner dated for a year, but they're most memorable for their method of breakup: They posted matching tweets to tell the public it was over. How absolutely civilized!
89. Terry & Heather Dubrow (The Real Housewives of Orange County/Botched)
Although Heather is always hectoring her plastic surgeon husband to spend more time with his kids, you can tell these two have a loving and lasting relationship, unlike fellow Househusband and Dubrow's divorced Botched co-star Paul Nassif.
88. Giuliana & Bill Rancic (Giuliana and Bill/The Apprentice)
The E! News correspondent met Donald Trump's first winner thanks to reality television, so it made sense that they decided to share their lives (and struggles with infertility and adoption) with the whole world.
87. Ken Greene & Tina Hunter Greene (The Amazing Race)
When the former NFL player and his wife started the Race, they were separated and not wearing their rings. After globetrotting all the way to the finale, they repaired their relationship and put their rings back on at the finish line. So what if they didn't win?
86. Al & Caroline Manzo (The Real Housewives of New Jersey/Manzo'd With Children)
It's hard not to wish Caroline Manzo was your tough-talking but nurturing mother. With her always steady husband by her side, the Manzos are a perfect blueprint for the marriage that lasts. They're a rarity in the reality world.
85. Colin Mortensen & Amaya Brecher (The Real World)
It was almost painful to watch Amaya fall so hard for Colin, and it was definitely a turnoff for many viewers. He wasn't nearly as into it as she was, and that's what makes this imbalanced (and unstable) couple so memorable.
84. Amanda Zuckerman & McCrae Olson (Big Brother)
This couple got "married" in the house with the bride wearing a toilet-paper dress, which is unforgettable on its own. Who would think a real-estate agent and a pizza-delivery guy would be suited to each other? Unfortunately, their differences became apparent when their breakup led to more than a few Twitter feuds.
83. Grant Kemp & Lace Morris (Bachelor in Paradise)
The Bachelor gets a lot of well-deserved heat for never choosing a black suitor, so I don't understand why the show doesn't highlight this relationship more often. These two even got engaged on air! What's not to love about finding love in paradise?
82. Jaime Dugan & Erik Huffman (Survivor)
In a real-life version of "Ring Them Bells," these two grew up near each other but only met while traveling to China to compete for $1. After seven years together, they're married and have a son. Survivor will probably still be on air when he's old enough to compete.
81. Jenna Compono & Zach Nichols (The Challenge)
These two Real World-ers first hooked up on Battle of the Exes II, but Zach's mistreatment messed with Jenna when she appeared on subsequent seasons without him. After winning Bloodlines, Jenna told the world she dumped Zach because she called him and he mistook her for another woman. Battle of the Exes III, anyone?
80. Mike "Boogie" Malin & Erika Landin (Big Brother)
When Boogie proposed to Erika in the house, it seemed like a Big Brother moment we had seen before. But still, this partnership got one of the show's most esteemed contestants his only win. Meanwhile, Erika scored a second-place trophy and a paper ring.
79. Mike "Boogie" Malin and Krista Stegall (Big Brother)
This is where we saw that move before. In the show's second season, Boogie proposed to Krista during the show's finale. Remember the early days of reality TV when we all thought these relationships could last? They would break off their engagement soon after.
78. Maksim Chmerkovskiy & Karina Smirnoff (Dancing With the Stars)
Rumors often swirl that Dancing celebs are doing the horizontal hula with their partners, but two of the dancers hooking up? Well, that is plenty interesting, too. Though they broke off their engagement, Maks can't keep fishing off the company pier and is now betrothed to Peta Murgatroyd.
77. Kyle Richards & Mauricio Umansky (The Real Housewives of Beverly Hills)
Not only does Mauricio always stick with Kyle even though her family can be — how can we put this delicately? — trying, the budding real-estate mogul is also a certified slab of beef who takes a shirtless swim at least once a season. Who needs family, anyway?
76. Brad & Tori Fiorenza (The Real World/The Challenge)
Say what you will about professional reality-TV personalities, but this couple won $80,000 during the Cutthroat season, so they are not apologizing. Not only did they meet on the show, but the couple now has a pair of kids. Wonder what career day will be like at their school.
75. Zack Randall & Frankie Grande (Big Brother)
More than a "bromance" but less than a "showmance," this gay-straight alliance professed their love for each other though things never turned physical. Even their moms were shipping them. Usually gay dudes on this game are alone and frustrated, but Frankie got to snuggle with one of the hottest guys in the house.
74. Amanda Kimmel & Ozzy Lusth (Survivor)
Both runners-up on their initial seasons, Amanda and Ozzy met when they returned for Survivor: Micronesia and things started to get heavy. She was a runner-up again that season; Ozzy made it to the end but didn't win when he returned for a third time in Survivor: South Pacific. This is the most losing winning couple in all of reality history.
73. Doug & Jackie Christie (Basketball Wives LA)
A vow renewal is usually the kiss of death for a reality couple, but this former NBA star and his outspoken wife do one every year and their relationship is still the paragon of strength. If only she could have the same relationship with her squabbling co-stars.
72. Meri, Janelle, Christine, Robyn, & Kody Brown (Sister Wives)
Leave it to TLC to bring us this polygamist family. Audiences have lapped up the complicated relationship between Kody, his four wives, and his 18 children — and now he's allegedly thinking of adding a fifth to the party. If the family survived the criminal investigation after the show debuted, they can survive this.
71. Aneesa & Rachel (The Challenge)
Guys and girls hook up on The Challenge like it's the last sorority mixer before the end of the world. This, however, is one of the few lesbian couples ever to come out of MTV's ongoing reality experiment, though they were much more successful in love than they ever were at winning the show.
70. Amina Buddafly & Peter Gunz & Tara Wallace (Love & Hip Hop: New York)
This combination is more explosive than a Molotov cocktail. Although Amina and Peter have an on-again, off-again marriage, he and Tara are still tight. How can we forget when mortal enemies Amina and Tara were pregnant with Peter's children at the same time? In this love triangle, everyone gets burned.
69. Kandi Burruss & Todd Tucker (The Real Housewives of Atlanta)
Kandi has always been one of the more low-key members of this tribe, until she hooked up with one of the show's producers and married him. Thanks to her union, she's fought extensively with her mother Joyce and with co-star Phaedra Parks. And he seems like such a nice guy!
68. Sharon Needles & Alaska (RuPaul's Drag Race)
After Sharon Needles won the show's fourth season, it was almost impossible for her boyfriend Alaska to ward off the inevitable comparisons and step out of her shadow during season five. Now Alaska is back for an All Stars season and the pair have parted ways, Alaska is finally getting the recognition she deserves for her own inimitable outré drag stylings.
67. Tamra Judge & Simon Barney (The Real Housewives of Orange County)
One of the best fights in Real Housewives history, fans will never forget Tamra asking her controlling and awful husband Simon for a divorce in the back of a limo. And this was only shortly after she had his name tattooed on her finger as a sign of her everlasting devotion. Oh well, nothing a little surgery won't fix.
66. Jonathan Baker & Victoria Fuller (The Amazing Race)
The Amazing Race was designed to test the limits of relationships, but none like this. The critical and controlling Jonathan treated his wife poorly throughout the globe-trotting competition, and when they came in second during one trial, he shoved her so hard she nearly fell over. The pair got divorced in 2009 and now, oddly enough, Victoria appears on Kendra as Kendra Wilkinson's nanny.
65. Melinda Stolp & Danny Jamieson (The Real World/The Challenge)
It was love at first sight for these two: Danny proposed on the first night of their stay in the Austin house and they eventually married. What was really memorable, however, was when they were on the same team during Battle of the Seasons 2 and they had to live together after their divorce. Awkward.
64. Catelynn Lowell & Tyler Baltierra (Teen Mom)
Against all odds, these two seem to make it work. After putting their firstborn up for adoption in 2009, the couple is now married and raising their second daughter, Novalee, together. It's great when a reality story has a happy ending.
63. Corey Brooks & Nicole Franzel (Big Brother)
Though it wasn't the first "showmance" for returning houseguest Nicole (sorry, Hayden), this was the one pair that propelled Nicole to an eventual win.
62. Whitney Duncan & Keith Tollefson (Survivor/Amazing Race)
Duncan came in fifth on Nashville Star before ever showing up on Survivor, where she ultimately met Keith and fell in love. After getting married, the couple migrated to The Amazing Race, where they once again didn't place in the finals. You know what they say, lucky in love but unlucky at reality TV.
61. Lisa Vanderpump & Ken Todd (The Real Housewives of Beverly Hills)
This couple, who live in an enormous mansion and oversee a restaurant empire, have two kids, five swans, a whole litter of dogs, and a miniature pony. But their best relationship is always with each other, and the intense bond they feel for each other can be felt even with such a menagerie swirling around them.
60. Jax Taylor & Stassi Schroeder (Vanderpump Rules)
You want drama, these two will bring you drama. Between Jax knocking up a girl in Vegas and Stassi lying about sleeping with Frank, the maelstrom surrounding this couple is almost the entire reason why Vanderpump Rules is successful. Thankfully, they bring as much tumult apart as they do together.
59. Stephen "tWitch" Boss & Allison Holker (So You Think You Can Dance/Dancing With the Stars)
Not only did reality TV bring them together when they both competed as So You Think You Can Dance all stars, this couple even had their wedding at judge Nigel Lythgoe's house. The pair has now welcomed a baby boy earlier this year. With these genes, he will surely be doing the cha-cha in no time.
58. Ben Higgins & Lauren Bushnell (The Bachelor/Ben & Lauren: Happily Ever After)
Although Ben and Lauren are only the most recent couple to get hooked up on The Bachelor, they're the first to get their own series afterwards, which will air on Freeform this fall.
57. Kynt Cothron & Vyxsin Fiala (The Amazing Race)
Reality-TV couples are typically famous for what they do. For this pair of androgynous goths, though, they're memorable for how they looked. With her pink hair, his piercings, and their over-the-top outfits, Kynt and Vyxsin might not have done that great on the show, but they certainly left an impression.
56. Cara Maria Sorbello & Abram Boise (The Challenge)
Who could even stand to be in the same room with these two? After an on-again, off-again relationship, everything culminated in this year's Bloodlines season when Cara cheated with fellow contestant Thomas before Abram showed up as a replacement contestant. It was just tumult and shouting from there on out. At least Cara ended up taking home the crown.
55. Chrissy Lampkin & Jim Jones (Love & Hip Hop/Jim & Chrissy: Vow or Never)
This couple, who grew up together in Harlem, has been together for 11 years and engaged for five. But will they finally tie the knot? Well, you'll have to watch Vow or Never to find out, but based on their rocky road to love, you never know.
54. Wes Bergmann & Johanna Botta (The Real World/The Challenge)
There were sparks when these two got together in the Austin house, but it's all the drama wrought afterwards that we'll never forget. Johanna got together with Kenny and Wes shacked up with Kelly Anne. Oh, what tangled webs they weave.
53. NeNe & Gregg Leakes (The Real Housewives of Atlanta)
Throughout the Real Housewives franchise, we've seen plenty of women get divorced and then remarry. Über-Housewife NeNe Leakes is the only one who managed to do both of those things with the same man. Luckily, Gregg has been a stable, albeit goofy, presence ever since.
52. Ethan Zohn & Jenna Morasca (Survivor/The Amazing Race)
One of the first Survivor power couples, these two both won when the show was in its prime. (Then even competed together in the first All-Stars season.) However, their ten years together weren't always smooth, in no small part because of Jenna's mom's death from cancer and Zohn's own health struggles. They broke up in 2013, and some of us are still sad about it.
51. Erica Mena & Cyn Santana (Love & Hip Hop)
When it comes to Erika and Cyn, we can thank social media for keeping hope alive. Though they had a bad breakup after the fifth season, they still feud and flirt regularly on Twitter.
50. Daniele Donato & Dominic Briones (Big Brother)
We'll always remember Daniele's fights with her estranged father "Evil Dick" Donato, but this relationship has brought her a lot more joy and far less shouting. The pair met on the show's 13th season when returning houseguest Daniele became besties with Dominic. They were married in 2013.
49. Trishelle Cannatella & Steven Hill & Brynn Smith (The Real World)
Less of a couple and more of a hookup, this Jacuzzi ménage is still an infamously important relationship. During its Las Vegas season, with ratings on the decline, The Real World pivoted from a high-brow social experiment to drunken hookups in hot tubs. It worked, and it changed reality television forever.
48. Nicole "Snooki" Polizzi & Jionni LaValle (Jersey Shore)
On a reality show that was more about "smooshing" in the hot tub than it was about finding true romance, it's amazing that Jersey Shore's signature tanned guidette managed to find lasting love on the dance floor at Karma. After two kids and a tabloid-endorsed wedding, the two are still fist pumping into the sunset.
47. Mario Lopez & Karina Smirnoff (Dancing With the Stars)
All those rumors about celebs hooking up with their professional dance partners? During the show's third season, it turned out to be true. The Saved by the Bell star cha-cha-ed his way to a career revival and a two-year relationship with Smirnoff before breaking it off in 2008.
46. Tareq & Michaele Salahi (The Real Housewives of D.C.)
By far the most forgettable season of the Real Housewives franchise, but the only reality show in history to lead to a congressional hearing as these "White House party crashers" finagled their way into a 2009 state dinner that the Obamas hosted for visiting Indian dignitaries. As if that weren't crazy enough, they made headlines again in 2012 when Michaele ran off with Journey's guitarist and divorced Tareq. How could they not get a show off the ground with this amount of insanity?
45. Ace Young & Diana DeGarmo (American Idol)
Although Idol is responsible for countless top 10 singles, only one real couple came out of the former ratings juggernaut. Young, from season five, and DeGarmo, from season three, met off camera and have been living and performing together ever since, tying the knot in 2013.
44. Christopher Knight & Adrianne Curry (America's Next Top Model/The Surreal Life/My Fair Brady)
The Brady Bunch star and the ANTM winner half his age had an unlikely romance, based on bickering for a VH1 show that put a bunch of C-listers in a house together. They were so popular, they got their own show which documented their engagement, wedding, and marriage. Too bad they called it quits on their fifth anniversary in 2011.
43. Lauren Conrad & Brody Jenner (The Hills)
So much of The Hills revolved around whether or not the girls were going to a party and whether or not their respective crushes and boyfriends would be there. Of course, none were bigger than LC and Brody. But it seems like Jenner, a member of reality-TV's first family, knew about faking it for the camera long before the rest of his clan. Both have admitted that the relationship was fake and they had "zero chemistry" all along.

42. Ashley Hebert & J.P. Rosenbaum (The Bachelorette)
The second time was the charm for Ashley. She almost got to the final rose with Brad Womack, but when she returned for her own season in 2011, J.P. ran off with her heart. The pair is now married with two kids and living happily ever after in Miami.
41. Chip & Joanna Gaines (Fixer Upper)
Most people don't think of home-improvement shows as "reality TV," but how could this absolutely dreamy couple be anything else? While they keep themselves busy transforming (ludicrously inexpensive) homes in Waco, Texas, into palaces with open floor plans, shiplap, and sliding barn doors, the easy, authentic chemistry between the goofy Chip and the glamorous Joanna makes Fixer Upper one of HGTV's biggest hits.
40. "Mama" June Shannon & Mike "Sugar Bear" Thompson (Here Comes Honey Boo Boo/Marriage Boot Camp)
Everything about Honey Boo Boo was unexpected, from its success to its swift cancellation when Shannon was caught hanging out with her ex who was convicted of abusing her oldest daughter. Not even Marriage Boot Camp could save this couple when they appeared earlier this year.
39. Jeff Probst & Julie Berry (Survivor)
Reality shows feature plenty of hookups, but this is the only known host and contestant pairing. While filming the Vanuatu season, Berry (a woman 20 years Probst's junior) flirted slightly, but it wasn't until the season wrapped that they started dating in earnest. Sadly, their romance was eventually voted off the island a few years later.
38. Jim Bob & Michelle Duggar (19 Kids and Counting)
This incredibly fertile couple starred in TLC's most popular show, recognizable not only for their large brood but also their devout beliefs. However, the show was canceled after son Josh admitted to sexually abusing several girls, including some of his sisters.
37. La La & Carmelo Anthony (La La's Full Court Life)
It turns out everyone doesn't want to watch a totally happy couple. The former TRL VJ and her NBA star husband have a totally aspirational life, but the ratings of their signature show slowly declined over five seasons. Maybe they should have fought more.
36. Uchenna & Joyce Agu (The Amazing Race)
No one who watched the show's seventh season will forget the moment when Joyce enthusiastically shaved off her long braids so that the couple could win the race. Although they returned for another season — the only winners to ever do so — Uchenna and Joyce eventually divorced.

35. Amber Portwood & Gary Shirley (16 & Pregnant/Teen Mom)
This relationship has been marked by drug arrests, custody battles, and even Amber being charged with abusing her former fiancé. They seem to have reached a détente: Both are married to other people, with Shirley taking custody of their daughter Leah.
34. Alex and Simon Van Kempen (The Real Housewives of New York City)
The original Househusband, Simon always seemed much more interested in the spotlight than his wife, the soft-spoken Alex. He's even the only male member of the show to have his own dance single. After being fired from the show, the couple have returned to Simon's native Australia to escape the limelight once and for all. At least until The Real Housewives of Sydney comes a-knocking.
33. Pam Ling & Judd Winick (The Real World)
A low-key couple, this med student and comic-book artist were often outshined by the explosive Puck and the tragic Pedro during the show's San Francisco season in 1994. Maybe that lack of insanity is what has kept the two together all these years.
32. Josh Kilmer-Purcell & Brent Ridge (The Beekman Boys/The Amazing Race)
Most people know this hard-charging couple as the winners of the Race's 21st season, and the second gay couple to claim the title. But don't forget their hilarious first show, which found these two New York city slickers trying to make their upstate goat farm a success.
31. T.I. & Tameka "Tiny" Harris (T.I. & Tiny: The Family Hustle)
Few families are more lively than this rap mogul, his manager wife, and their six children. Plenty of famous couples have to juggle work and family on reality television, but few also had to deal with the patriarch going to jail. Sadly, this union came to an end in 2016 when Tiny caught her husband cheating.
30. Rachel Reilly & Brendon Villegas (Big Brother/The Amazing Race)
This couple didn't just play reality's toughest game once, they played it a second time when they returned for the 13th season and propelled Rachel to victory. Brandon even sacrificed himself, using the power of veto on Rachel to take her off the block, ensuring he would be sent home. They also competed on The Amazing Race twice, coming in third on both occasions. In 2016, Rachel and Brendon had their first child, a daughter named Adora Borealis. Once a reality star, always a reality star.
29. Jason Mesnick & Molly Malaney (The Bachelor)
The Bachelor regularly promises the most shocking episode ever. For a change, they finally delivered when Mesnick announced on the season finale that he didn't want to marry winner Melissa Rycroft after all, but instead wanted a chance to propose to Malaney. The couple eventually wed (during a prime-time special, natch) and now have a baby. Sometimes being second fiddle isn't so bad.
28. Kendra Wilkinson & Hank Baskett (Girls Next Door/Kendra/Kendra on Top)
Wilkinson rose to prominence as one of Hugh Hefner's three girlfriends on Girls Next Door, but her marriage to an NFL player is what cemented her as reality-TV royalty. The couple even survived a 2014 cheating scandal when Baskett was caught with his pants down with a transgender YouTube model. The two ultimately worked through their differences — and still draw an audience on national television.
27. Khloe Kardashian & Lamar Odom (Keeping Up With the Kardashians/Khloe & Lamar)
Initially, Khloe and Lamar seemed to be the stable couple in reality TV's most prominent family, but that was dashed when they broke up in 2014 after he was caught cheating with other women. However, Odom's near-fatal drug overdose in a Las Vegas brothel brought them back together this year. Is a second marriage in the works? If there is, you know Kris Jenner will find a way to capitalize on it.
26. Britney Spears & Kevin Federline (Britney and Kevin: Chaotic)
Did "chaotic" refer to the couple or how the footage for this five-part reality series was shot? Filmed mostly on crappy home cameras with grainy footage, the show didn't really capture Spears at the height of her fame. Instead, it was mostly just her and Federline rolling around and talking about themselves. This was a reality TV train wreck, but not in the way that we usually love.
25. Kim Zolciak & Kroy Biermann (The Real Housewives of Atlanta/Don't Be Tardy)
A lot of reality-TV shows play out like family sitcoms, but Kim and Kroy are at the vanguard of the genre. The over-the-top diva and her taciturn NFL player husband met at an on-camera fundraiser. Ever since, they have turned their chemistry into one of the zaniest shows on the dial. With six kids and plenty of fooling around, they provide as much humor as they do love.
24. Bobby Brown & Whitney Houston (Being Bobby Brown)
Though Being Bobby Brown only lasted one season on Bravo, no one will ever forget how this dysfunctional couple acted onscreen. Sadly for the late Whitney, the footage of their awful camping trip gone awry and her vivid description of how Bobby digitally alleviated her constipation might last just as long as the memory of her vocal triumphs.
23. Tori Spelling & Dean McDermott (Tori & Dean: Inn Love/True Tori)
This couple seemed to have it all together, even as their show focused on them "running" an inn among other possibly contrived scenarios. However, in 2014, when Dean was caught cheating, their tear-filled road to recovery rocked both their program and the tabloids. Still, this couple with four kids found a way to make it work.
22. Sean Lowe & Catherine Giudici (The Bachelor)
Very few couples have made hay of their reality-TV relationship like these two, who got hitched after meeting on the show in 2013. Since then, they've also appeared on Dancing With the Stars, Marriage Boot Camp, Celebrity Wife Swap, and even Celebrity Family Feud. Luckily, they have a gorgeous little baby to keep them busy — and maybe off TV a little more.
21. Chip Arndt & Reichen Lehmkuhl (The Amazing Race)
It might not seem like a big deal now, but in 2003, this gay couple were listed as "married" long before such a thing was legal or imaginable in this country. They broke up shortly after winning the race (and before it actually aired), with Lehmkuhl dating Lance Bass after he came out publicly and then starring in Logo's deplorable The A List. Well, it was good making history while it lasted.
20. Tamar Braxton & Vince Herbert (Braxton Family Values/Tamar & Vince)
This R&B singer has turned herself into a catchphrase factory, lighting up reality television ever since Braxton Family Values took WeTV by storm in 2011. While her relationship with her sisters it what made the show work, her marriage to Herbert and their long quest to have a child wound up being the focus of their own series. Recently, Tamar was ousted from the talk show The Real. She and Herbert seem to fight a lot, though both stars claim their marriage is as solid as ever.
19. Sean Duffy & Rachel Campos-Duffy (The Real World)
This couple met on Road Rules: All Stars after starring in the Boston and San Francisco chapters of The Real World, but they're best remembered for their unlikely post-reality life. Duffy is an elected member of Congress, and these political conservatives have eight kids.
18. Gwen Stefani & Blake Shelton (The Voice)
Sure, these two were famous before they got on reality television, but it was their time in the spinning chairs that brought them together. After both of their marriages ended, Stefani and Shelton brought a whole new level to the competition as an item. Looks like Blake finally loves someone more than he loves Adam.
17. Jeff Schroeder & Jordan Lloyd (Big Brother/Amazing Race/Marriage Boot Camp)
Schroeder and Lloyd are the first Big Brother couple to not only return to the house, but they also appeared on special occasions, like when Jeff asked Jordan to marry him or when they announced her pregnancy. While Jordan is the one who won the big prize, Jeff has gone on to host a number of online series for CBS, including Survivor: Live.
16. Chris "CT" Tamburello & Diem Brown (The Challenge)
If this reality love story doesn't melt your heart, nothing will. After meeting on The Duel in 2006, this couple had a rocky on-again, off-again courtship that included plenty of fights, makeups, breakups, and even CT sleeping with a co-star to spite Diem. Just days before she tragically died from ovarian cancer, CT swept into Diem's hospital room to propose to her. Though she said no, the pair clearly shared a rare bond with each other.
15. Teresa & Joe Giudice (The Real Housewives of New Jersey)
As soon as this pair started paying cash for the furniture to fill their enormous McMansion, we knew something was off. Turns out it was even deeper than we knew: Both of them pled guilty to fraud charges in 2014. Though they never publicly apologized or admitted guilt, Teresa spent a year in prison and Joe is now serving a multiyear sentence. Nevertheless, the couple has remained faithful as they raise their four daughters.
14. Flavor Flav & Brigitte Nielsen (The Surreal Life/Strange Love)
The most WTF reality couple of all time. The faded rapper and the '80s screen goddess were the most unlikely of pairs when they met on The Surreal Life. On their spinoff series, the jealous couple fought and squabbled as Nielsen tried to get Flav to take etiquette lessons and he took her to get fitted for gold teeth. At the end of the first season, she decided to dump him for her Italian lover. Some things are just too bizarre to last.
13. Pedro Zamora & Sean Sasser (The Real World)
In 1994, appearing on television as a openly gay man with HIV was an incredibly risky and political act. Zamora never shied away from taking a stand, whether for HIV education or against Puck putting his nasty fingers in the peanut butter. Zamora, whose last days were captured by MTV's cameras, proved that reality shows have, in some cases, changed the culture. His love for Sasser, whom he met while the show was filming, will certainly be remembered.
12. Darva Conger & Rick Rockwell (Who Wants to Marry a Multi-Millionaire)
Okay, they dated for less than a week, but this early reality-TV stunt is unforgettable. Conger was one of 50 women who competed for Rockwell's hand in marriage, though none of them had even seen his face. After meeting Rockwell (and learning his net worth wasn't as high as advertised), Conger insisted on an annulment just days after the wedding took place.
11. Sammi Giancola & Ronnie Ortiz-Magro (Jersey Shore)
The romantic heart of one of the decade's biggest reality hits. Sammi and Ronnie instantly fell in love, and she even had to bail him out of jail for fighting during the first season. However, the couple soon turned their aggression toward each other in a series of on-air battles that were uncomfortable to watch. They were united by the time the series ended, and they've continued their on-again, off-again dance ever since.
10. Eric Nies & Julie Oliver (The Real World)
It's never as good as the first time. When MTV opened up the Pandora's box of reality television with this New York season, none of us had seen real people fall in love on camera before. Oliver was a 19-year-old virgin from Alabama and Nies was, well, a hunk with a killer body. Their flirtation was sweet and innocent and probably not as profound as the producers made it out to be. While housemate Norm went out on dates and Becky infamously slept with one of the show's directors, Eric and Julie's relationship is the one we will never forget.

9. Bill & Pat Loud (An American Family)
Not only did the world's first reality show, which aired on PBS in 1971, introduce us to its first couple, it also showed its first divorce. The end of a marriage was much more scandalous back then, especially for the Louds, who quickly became a national sensation. They reunited in 1983 and 2003 for an HBO special about the show and a PBS special detailing their son Lance's death from AIDS-related illness. After that, they reconciled and moved back in together. At last, proof that what reality TV can take away, it can also restore.

8. Kim Kardashian & Kris Humphries (Keeping Up With the Kardashians)
Kim and Kanye are in all the tabloids these days, but let's be honest: Kanye never liked the reality aspect of their relationship. If we're talking memorable reality couples, Kim's 72-day marriage to Kris is the stuff of unscripted legend. Between their on-air courtship, the record-breaking wedding special, and all the tabloid tie-ins, this was a union made in reality-TV heaven. Too bad it wasn't good enough to last.
7. Ice-T & Coco Austin (Ice Loves Coco)
Coco is made for reality TV: She's got the outrageous body, the extra-girly mannerism, and the insistence on living in the lap of luxury. For three seasons, her doting husband gave her everything she ever could have wanted (including their daughter, Chanel). It's a good thing Ice-T has all of that Law & Order money to keep her happy.

6. Sharon & Ozzy Osbourne (The Osbournes)
The Osbournes came out of nowhere to become one of the defining programs of the genre, ushering in the flood of "celebrity family" shows that came after it. Family matriarch Sharon led her nearly unintelligible husband and her two daffy children to ratings success in 2002, resurrecting Ozzy's nearly dead career in the process. The clan made the show into their livelihood, branching off for gigs on Dancing With the Stars, Fashion Police, The Talk, and other shows. Sadly, after so many years of what seemed like a rock-solid marriage, the Osbournes filed for divorce this year.

5. Trista & Ryan Sutter (The Bachelorette)
This couple has always been a bit bland, but there's something to be said about being the first. Trista competed on the debut season of The Bachelor, then became the very first Bachelorette. She and Ryan were the first to have their wedding televised to the world in prime time. Trista was even on the first season of Dancing With the Stars. With two kids and more than a decade of marriage under their belts, this couple is still going strong. Maybe love forged by reality TV really does last.

4. Jon & Kate Gosselin (Jon & Kate Plus 8)
When this show about a Pennsylvania couple and their unlikely brood premiered on TLC, it was little more than a curiosity. However, after a very public and acrimonious breakup that the tabloids framed as Jon's midlife crisis, the show's fifth-season premiere attracted almost 10 million viewers. Though the show was later revamped as Kate Plus 8 (after Jon relented and allowed his kids to appear on camera), people were never as curious as when the Gosselin family was falling apart.

3. Jessica Simpson & Nick Lachey (Nick & Jessica: Newlyweds)
After the success of The Osbournes, MTV created yet another genre of reality TV by filming the marriage of two marginal pop stars. The show — particularly Jessica's ditzy behavior — boosted both of their careers and, for a time, proved to be a hit. However, Newlyweds only lasted three seasons. The show was canceled in 2005, just months before the couple would call it quits.

2. "Boston" Rob Mariano & Amber Brkich (Survivor/The Amazing Race)
Survivor's 2003 all-star season was the first of its kind. It was also where Brkich and Mariano rode their love all the way to the final two, with Brkich taking the final prize. It would take Mariano, one of the best Survivor players ever, until his fourth appearance to win $1 million of his own. The couple also played The Amazing Race twice, missing the big prize on both outings. The pair will not only be remembered for their excellent game play and (overly) competitive spirit, but also how they were always at their best when playing together.

1. Heidi Montag & Spencer Pratt (The Hills/I'm a Celebrity Get Me Out of Here/Marriage Boot Camp)
If there were ever a couple that exists for reality television, it was Speidi. Not only did their union cause an indelible rift between Montag and Lauren Conrad, fueling seasons of MTV's docu-soap, but offscreen antics —  the plastic surgery, the erratic behavior, the crystals — are what made them a spectacle of historic proportions. On their season of I'm a Celebrity, they bailed on the second day of filming only to return later and then leave a second time. In 2013, they starred in Celebrity Big Brother as a single unit, eventually coming in second. Naturally, there was also a stop on Marriage Boot Camp. Despite Montag's unsuccessful attempt to become a pop star, these two have done nothing but reality television for more than a decade. Quite simply, they are the genre's most recognizable personalities. Whether to their advantage or detriment, no one has harnessed the power of reality television more than Heidi and Spencer.