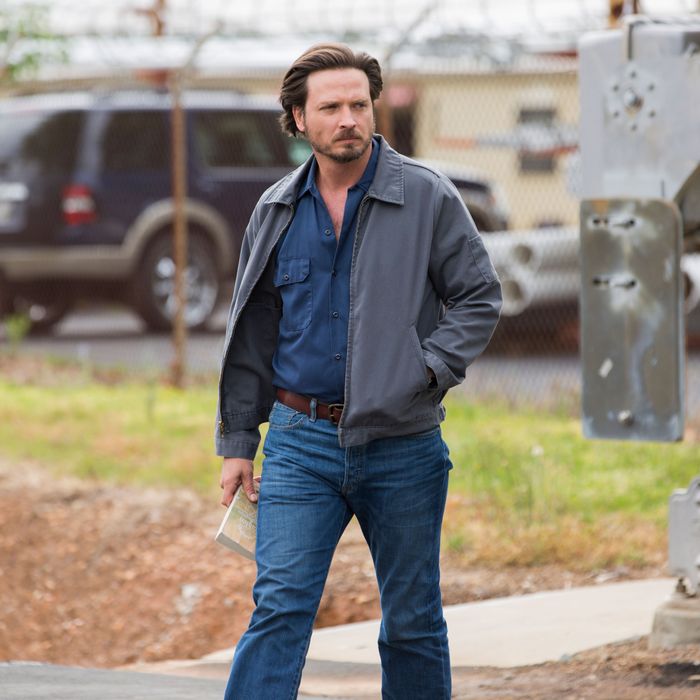 Aden Young as Daniel.
Photo: Jackson Lee Davis/SundanceTV
Pickle's pretty confident that Daniel will pick up tonk "in no time." After all, it's essentially a variant of rummy, a game Daniel grew up playing with his father and sister. That's about all Pickle, Nate, and Tyrus — his roommates at the New Canaan Project halfway house in Nashville — know about their solitary man; that, and the surface details of his murder conviction and 19 years on death row. But as Rectify begins its final season, Daniel's record falls short of offering real insight into his condition, which could be described as an obsessive spiral of loneliness, self-loathing, and looming rage wound so tight he's liable to either lash out or come undone at any moment.
Daniel would prefer to slowly loosen up into an easy, outgoing life, and hopes joining his roommates at the card table will be the first in many steps toward New Canaan leader Avery's advisory path of acceptance and release. He doesn't remember exactly what happened that night when Hannah died, and he may never, but he's been given a second chance and has to decide whether to seize that opportunity. If not, he may as well walk out New Canaan's front door and open up his bed to someone else.
"A House Divided" is a surreal episode of Rectify, and not merely because we're dumped into a new city with a new ensemble and — much like our protagonist — no additional familiar faces to orient us. What feels unreal (as Daniel himself puts it) is that it's as if we're watching some stranger named "Dan" meander around his ramshackle Nashville environs like he's on an airport treadmill, only coming back into his body when prompted to respond to formalities. (His responses to which are rote at best.) He's glad his boss at the warehouse is glad to have him. He assures fresh ex-con Brittany that she's in good hands. He rehashes his day for the New Canaan group as if it were a school homework assignment rather than therapy. The fact that a motivational sign reading "Poise Perseverence Practice Patience" misspells "perseverance" seems a perfect metaphor for Daniel being slightly but discernibly out of step. As was the case in prison, Daniel Holden is no more. Behind bars, he was inmate number so and so. Now, he's one of New Canaan's 261 successful job recipients. He's caught in a loop. He's the walking dead. He's "Dan."
But there are signs of life beyond workplace politics and pats on the back, past tensing up in bed with a good book, unmoved by his roommates' clandestine exit in the night, a backslide he felt no inclination to mitigate. There's a woman named Chloe, and she's squirreled away inside a makeshift art studio where young Tennesseans are manipulating all manner of material into work that can't be as easily forgotten and reproduced as inventory on warehouse shelves. Chloe makes jewelry that's strong but delicate. She warns Daniel against reading too literally into it, not quite seeing that his curiosity betrays a more direct identification. But by episode's end, he's far more transparent. Not just with Chloe, but Avery, Pickle, and everyone else. We first meet them as he more or less meets them, at least in any honest kind of way. We're reconnecting with Daniel as he reconnects with himself and — for the first time since his Georgia exile — he truly, formally introduces himself to new people. The time he spent in Paulie was more like a prison visit turned inside-out. Nashville is a new start, and it's just beginning.     
Sure, that's all a bit trite, but as Avery reasons, building up one's sense of self demands being "hokey as shit." Daniel has to break things down, get out of his head, reach back far enough into his past until he can grab something pure, and find out if there's a way to get comfortable with the idea that he's already been judged. Now, the rest is up to him. Whether in Nashville or nowhere near it, Daniel needs to realize he can find his own personal "warehouse that's trying to do something that's worth a shit."
Apart From All That:
A really impressive script from series creator Ray McKinnon. Deceptively plain at first, adding layer on layer until it throws down the gauntlet for a gripping final season.
Don't tell me that sly, polished warehouse manager doesn't remind Daniel of Teddy just a wee bit.
I'm guessing the show is still filmed in and around Atlanta. There's no South Gate Bail Bonds in Nashville that I could find.
The subtle menace of "Dan's" encounters is a nice touch.
Maggie is the worst job counselor ever.
Something tells me Brittany isn't gonna make it.
Not sure whether I'd prefer Daniel and Chloe as a budding romance.
No Daniel and Rectify, you haven't been gone "too long in the context of time." Also: Welcome back, one last time.
Three cheers for veteran DP and first-time episode director Patrick Cady!