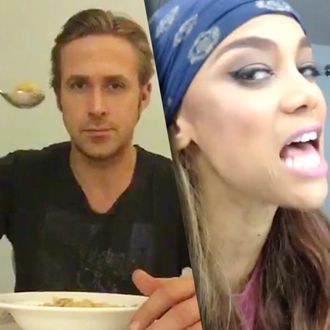 Today, Twitter announced that it is shuttering the Vine mobile app, effectively bringing an end to the six-second format's 15 minutes of fame. The platform will probably be best known for bringing rise to a new kind of social-media celebrity of the likes of Shawn Mendes, Logan Paul or [insert the name of any number of cute baby animals], but as with any kind of social media, it was also home to many already-famous celebrities' attempts to extend their fame, sometimes in self-defeating ways. In honor of Vine's passing, let's look back at the celebrities who did their best to grab your attention on the app.
Do you remember when Harry Styles tried to be artsy?
Or, well before she wanted to be excluded from any narratives, when Taylor Swift put up clips of her cats?
Let us take a moment and think of all our great glimpses into Justin Bieber's inner life.
And of the time when Kylie Jenner quit and then came back.
Where are we going to get our six-second clips of Zach Braff singing at Donald Faison?
Or be reminded that Josh Peck, of Drake and Josh, had a whole lot of fun online?
So let's take a moment and think about Snoop Dogg telling people to "work that VINE."
And reflect on a time when Maisie Williams was just beginning to master her social-media prowess.
Hey, remember when Alison Brie and Danny Pudi were still shooting Community?
And we weren't fully aware how weird the Jonas brothers would end up being?
Let's think about all the Disney stars, like Jennette McCurdy, who were really good at Vine.
And the most established stars, like Taye Diggs, who were, uh, having fun.
Let's remember that Tyra is good at everything.
That the bond shared between Divergent co-stars Ansel Elgort and Miles Teller is a beautiful thing.
And worry about lingering physical harm done by Tyler the Creator's pranks.
Also, let's just remember that some Vine stars actually did become real stars.
And also think about one of the best sets of Vines of all.
Which, of course, ended up getting a sweet little celebrity response.
RIP weird celebrity Vine accounts, you will be missed. Oh, and don't worry, celebrities. We follow you on Twitter, and Facebook, and Snapchat anyway.