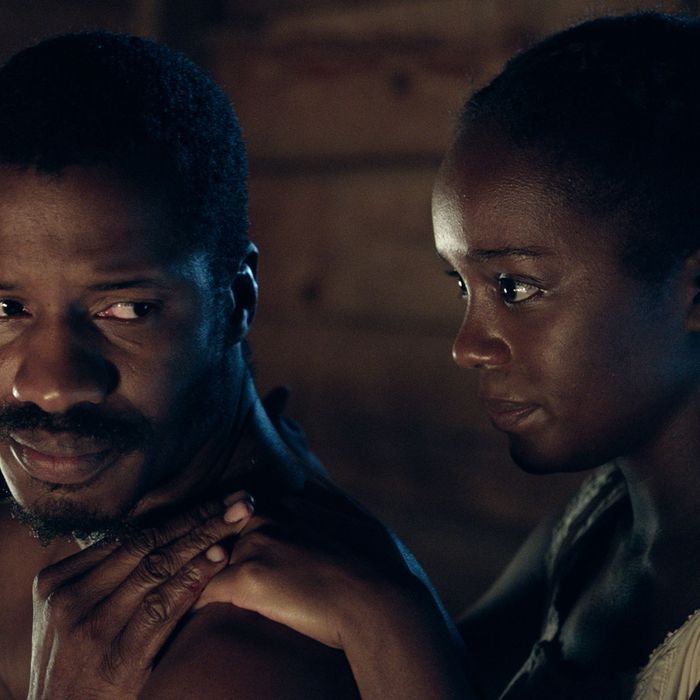 Nate Parker and Aja Naomi King in The Birth of a Nation.
Photo: Twentieth Century Fox
Branded a bona fide triumph at Sundance, Nate Parker's The Birth of a Nation has taken a noticeable dive in the minds of critics since its festival debut in January. Nine months after the Nat Turner biopic scored rapturous applause, set a Sundance sale record of $17.5 million, and leapt into the Oscars discussion, the current conversation has been entirely dominated by debate around a 1999 sexual-assault allegation against Parker. He was found not guilty, but his energetic damage-control campaign has done little to tamp down the controversy.
It's too easy to say that the more mixed responses that have greeted the film's release are solely a reaction to the director's past: Many reviews from Sundance, however laudatory, hinted at flaws like a certain directorial heavy-handedness and a tendency toward melodrama. The current reviews have built on these critiques, with some critics seeing Birth as a sweeping epic in the vein of Mel Gibson's Braveheart, while others consider it a lowbrow follow-up to 12 Years a Slave. Others say it's just a gratuitously brutal action flick with some dramatic pathos. Here's a roundup of what critics said about the film, both right after its Sundance premiere and this week.
THEN:
"It's a beautiful, reflective film even as it is also a brutal, visceral one. That stylistic dialectic reflects the turmoil within Nat — his struggle to reconcile the world he sees with the world he reads about in the Bible. And his inability to do so, in essence, powers the explosion of blood that comes at the end. There, I think, is where the film resonates most. More than a movie about a slave rebellion, it's about the difficulty of reconciling the great moral chasms between thought, vision, and deed. "—Bilge Ebiri, Vulture
"The most vigorous discussion will center on the film's ferocious, frustrating and inescapably cathartic climax, in which the tremendous strengths of its classical storytelling, as well as its dramatic lapses, stand in perhaps the sharpest relief. Parker's filmmaking suddenly shifts into the brutal, blood-soaked idiom of the war movie, in which various shades of moral gray are resolved in a queasy eruption of red (at the first Sundance screening, the applause that greeted certain killings proved as telling as the anxious hush that followed others). The Christ-figure overtones hover ever more stirringly, and disturbingly, over the movie's final moments, and you may be forgiven if your mind drifts for a moment toward Braveheart. The movie can be forgiven as well. The Birth of a Nation exists to provoke a serious debate about the necessity and limitations of empathy, the morality of retaliatory violence, and the ongoing black struggle for justice and equality in this country. It earns that debate and then some."—Justin Chang, Variety
"Parker's performance as Turner is undeniably affecting, as are those by his costars Hammer, Aja Naomi King as the slave who becomes his wife, and Jackie Earle Haley as a sadistic brute. As he witnesses the unspeakable brutality and dehumanizing treatment of his fellow slaves (including several scenes that are so sickening they're difficult to watch), Parker's Nat becomes a stick of dynamite ready to detonate. It takes a while for Turner's rebellion to come, but when it finally does in the film's climactic final act, it's a bloody and gruesome release. And apparently not just for the characters on screen. Several dozen members of the Sundance audience applauded and cheered during the film's explosion of violent retribution. It doesn't take a genius to figure out why that may be. While our country's never not had a time with racial tension, The Birth of a Nation comes at an especially tense time – not just in Hollywood during the current Oscar season or on the presidential campaign trail, but far more importantly and urgently in most of our cities every day."—Chris Nashawaty, Entertainment Weekly
"So, a perfect film this is not. But in a strange way, the film's stumbles, its errant moments of messiness, make it feel all the more vital. The film's most recent analogue, Steve McQueen's Oscar-winning 12 Years a Slave, is a polished, exquisite piece of art, one so measured and formalist that it occasionally risks remoteness. The Birth of a Nation, in contrast, is overflowing and immediate, a crescendoing roar from the gut. We need films like this as much as we need the high art, to stir in us something more visceral than intellectual. Since the film premiered here in Park City, many comparisons to Braveheart have been bandied about. It's an apt comparison in some ways—like that film, The Birth of a Nation is a crowd-pleasing revolution epic from a passionate auteur—but Braveheart is ancient, discrete history compared to the scalding urgency and relevance of Parker's film. Many people will leave the film feeling inspired and encouraged, others will feel the burning shame of legacy and complicity. But Parker generously calls to all with his rallying cry of a film, a weighty invocation of past bravery that charges its audience with the essential, nation-defining mission of fighting for a better and more just future."—Richard Lawson, Vanity Fair
NOW:
"The problem is not that it didn't happen in real life: All historical movies distort the facts, some obscenely. The point is that it does happen — all the time — in crude, dumb melodramas. Given that The Birth of a Nation was developed at the Sundance Institute and was rapturously received at its festival last January, I was surprised by how closely it conforms, beat by beat, to the most ruthless Hollywood vigilante template. It's all about insults, emasculation. When a kind matriarch (Penelope Ann Miller) brings young Nat into her home to teach him to read, I waited for her to tell him that most of the books would be above the head of someone of his race. And she did. When, after the old master's death, Nat was moved from the main house back to the cotton field, I hoped Parker wouldn't show the boy promptly pricking his finger on a cotton plant — but he did, on cue. In life, the locals were upset with the preacher when he had the audacity to baptize a white man. In the film, they're not just upset; the new master, Samuel Turner (Armie Hammer), gives Nat a vicious public lashing, after which the overseer (whose name is Jethro) hisses in the ear of the bound, bloodied Nat that if Nat "comes out of this alive," he'll make what's left of his existence a holy hell. The crucifixion imagery seems inevitable, but I didn't think Parker would be so obvious as to play 'Strange Fruit' over images of dangling corpses. His postscript — a shot of black men in Union uniforms charging enthusiastically into battle — is ludicrous, a mistake."—David Edelstein, Vulture
"'It's only a movie' is not a phrase you are likely to hear from me. I believe in the moral force of art — and in the special power of film to write history in lightning — and also in the ethical responsibilities of artists and audiences. But my job is not to be your surrogate conscience, to tell you either that seeing this movie will affirm your abolitionist bona fides or that skipping it will affirm your solidarity with victims of sexual violence. Nor is it my job to judge Mr. Parker, except as the author and star of this film. In any case, The Birth of a Nation is not 'only a movie'; it's precisely a movie, an ambitious attempt to corral the contradictions of history within the conventions of popular narrative. It dwells, sometimes too comfortably, sometimes too clumsily and sometimes with bracing effectiveness, within long-established patterns of mainstream movie storytelling. In the context of Hollywood history, Mr. Parker is less a revolutionary than a revisionist, adapting old strategies to new purposes, inflecting familiar tropes of violence and sentimentality with fresh meanings."—A.O. Scott, the New York Times
"On the positive side, Birth of a Nation is admirably ambitious, and in today's risk-averse climate it is an accomplishment simply to get the film of this scope made with its story and point of view intact. You also have to admire the passion and emotionality Parker brought to Birth of a Nation, how deeply felt his performance and every frame shot by cinematographer Elliot Davis is. But emotional filmmaking runs the risk of being overdone, and that is a problem here. While there is agitprop fervor to spare in Birth of a Nation, situations tend to be presented in strokes so broad and ungainly they do not always resonate as deeply as they might. This lack of subtlety is most evident in the characterizations, especially those of the film's almost invariably clichéd and morally bankrupt white people. Even if these overwhelmingly sadistic, perfidious folks are historically accurate, they do not make for dramatically effective characters."—Kenneth Turan, the Los Angeles Times
"Is it without flaw? No. Parker shares the indulgences of many a first-time filmmaker who throws everything he can at the screen, and Nat's religious visions, weird portents that his mother (Aunjanue Ellis) warns him against, are crudely visualized. Too many characters come and go without being fully developed; Henry Jackman's score pushes when it needs to subtly persuade. 'Strange Fruit,' a song written in the 1930s to protest lynchings of blacks, is sung by Nina Simone over an image of a black child hanging from a tree while a butterfly flutters near his chest. Sure, it's too much. But, in a multiplex dominated by play-it-safe formula, it's hard not to cheer Parker for his exultant belief that maybe, just maybe, a movie can change things. Besides, the overreaching pales next to what Parker has accomplished – a movie of potent provocation and surging humanity that ranks with the year's best."—Peter Travers, Rolling Stone
"Our expected disgust mixes uneasily with the movie's reliance on revolution-fueled adrenaline, creating a nagging sense that the final-act rebellion and its cathartic violence is being pre-engineered for audience acceptance. (That we don't see slaughtered children tips the movie's hand.) The classic action-climax language may be enough for those who want a cinematic uprising that resembles the mythic crescendos of Braveheart, Parker's acknowledged favorite film. Watching Birth, you know you're seeing exactly what its creator wanted to make, even if everything doesn't quite work. A slow pullback to reveal black bodies hung from willow trees is horrific enough without the calculated add-on of Nina Simone singing 'Strange Fruit.' But whether in assessing this movie you choose to judge Parker, the flawed but talented messenger, or his flawed but interesting work, The Birth of a Nation and its burning vitality still stands as an achievement for black filmmakers telling their history their way."—Robert Abele, The Wrap
"The story was much more concisely catalogued in William Styron's 1967 novel The Confession of Nat Turner, which won a Pulitzer Prize. But powerful scenes on film are often diluted by artificial setups, and the uneven star performance is constructed out of heartless tin. It's eventually nothing more than a conventional Hollywood biopic, punctuated by a fury that sprays raspberry juice all over the camera with enough graphic slash and flash to turn your stomach. Flawed but worthy of attention, The Birth of a Nation is like an unpleasant doctor's prognosis: hard to accept but impossible to ignore."—Rex Reed, New York Observer