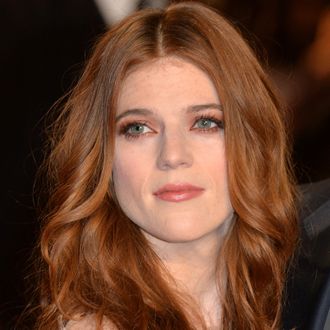 She's come a long way from being a maid who wanted to be a secretary.
Photo: Anthony Harvey/Getty Images
Rose Leslie is coming all the way from north of the wall to Chicago — or rather, The Good Wife's New York–shot approximation thereof. The Game of Thrones star has joined the cast of CBS All Access's Good Wife spinoff, which stars Christine Baranski and Cush Jumbo. Leslie will play Maia, the goddaughter of Baranski's character, Diane, who "joins her firm just after passing the bar, and is a key part of Diane's plan for the future." The series picks up a year after the events of The Good Wife, when a financial scam destroys Maia's reputation, wipes out Diane's savings, and forces them to leave Lockhart & Lee and team up with Cush Jumbo's Lucca at a new firm. Sarah Steele will also reprise her role as Marissa Gold, who becomes a secretary turned investigator. Good news: Since Leslie's only playing Baranski's goddaughter, she might get to keep her accent!