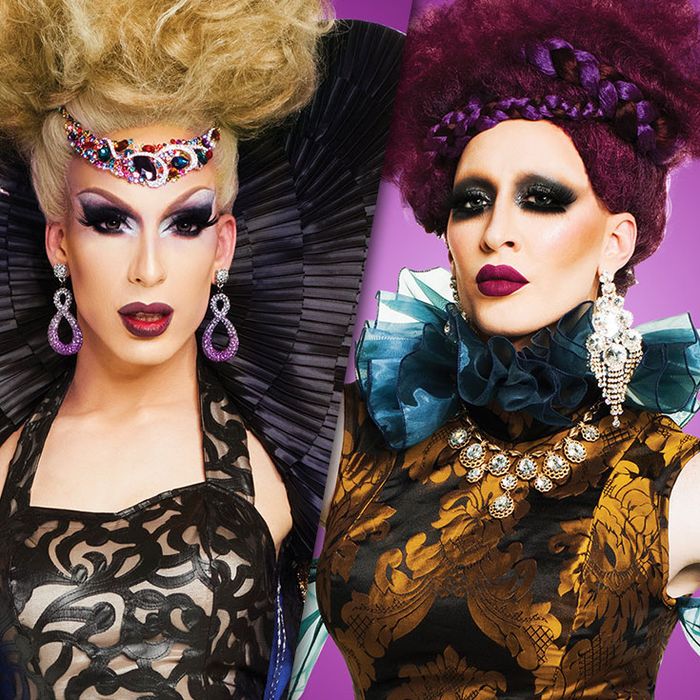 Last night, RuPaul crowned a second winner of RuPaul's Drag Race All Stars, putting the lewdest state, Alaska, into the CGI hall of fame. The mood, on Twitter at least, turned sour, with many claiming the show had been rigged (RIGGA MORRIS) for Alaska. A large contingent rallied around the likable Katya as the shoulda queen. In the last three episodes, there had been an abrupt sea change, with Alaska stepping into the villain role left so generously open by Phi Phi O'Hara. Alaska was not only winning constantly (nobody likes an overachiever), but also using the new elimination format to pick off fan favorites like Alyssa Edwards* and Tatianna — each time in favor of keeping perpetual bottom-dweller Roxxxy Andrews. (Thank you, RuPaul.) Was she just protecting her friend and Rolaskatox clique member? Or was she actually just using that as a cover to eliminate stronger queens? Either way, Alaska looked bad.
But did that mean that Katya or Detox (or in the darkest timeline, Roxxxy Andrews) should have won? As much as this Vulture writer adores Katya and Alyssa Edwards, their legacies are better off without the weight of the crown. There's a special love given to the underdog, the person who still has potential to be something else. And more to the point, Alaska had one of the most dominant seasons in RuPaul's Drag Race "herstory," winning four out of seven challenges. She was consistently funny, surprising, and strange. Her lip syncs, in particular, were astoundingly good: Just rewatch her performance of Cheryl Lynn's "Got to Be Real," which she did in character as Lil' Poundcake, a doll she made up during her original season. It was a surreal and clever bit of meta-TV — a reference of a reference — all played to a gay anthem about "realness."
As much as there are villains and heroes in reality television, it's important to remember that RuPaul's Drag Race isn't a personality competition. Likability is a small, and arguably insignificant, part of an art form that requires stage presence, fashion savvy, imagination, and humor. Alaska had all of that, and that little bit extra. It would have been a disservice to drag if RuPaul had crowned a winner other than Alaska. After all, as one queen so presciently said: "This isn't RuPaul's Best Friend Race!"
*Update: This post originally stated Alyssa Edwards was sent home twice by Alaska.