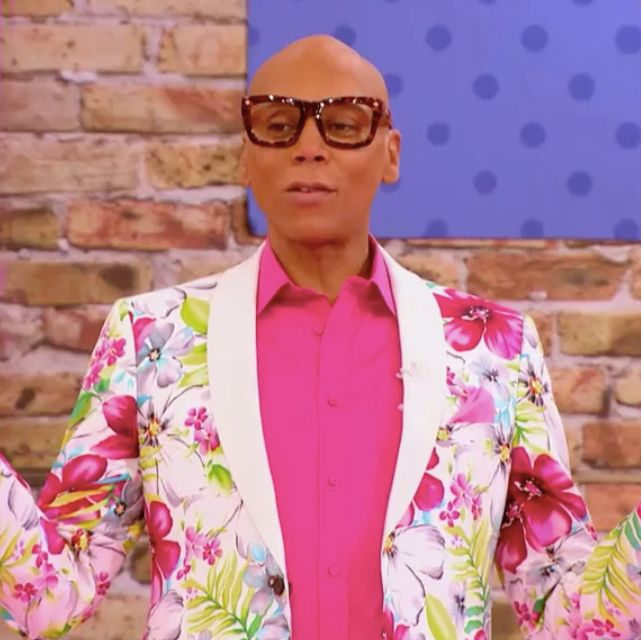 It's a little hard to believe this is the second-to-last episode, isn't it, kittens? At this point in the competition, we expect to get a real sense of catharsis before the crowning — usually inspired by a tic-tac luncheon or a villain's final attempt at giving a fellow queen the ol' heave-ho under the bus. I suppose these girls are All Stars, though, so none of that pomp and circumstance is necessary. But still, it felt a bit empty, narratively speaking.
That's not to say the producers don't make a go of it, desperately trying to shove in a few personal narratives before we cross the finish line. It would almost be commendable if it weren't for the nagging sense that somewhere behind one of those cameras, a 30-something television producer threw a triumphant fist in the air at the news that not one, but two queens were living through the anniversary of a parent's death. It must have felt like Christmas, until that producer realized that his soul had long since left his body and what remained was merely a husk of human flesh.
Judgement aside, it is rare treat to see the queens interact with their families. Normally, family members are relegated to onscreen Polaroid photos or a few grainy Skype calls throughout the season, but getting to meet someone like Katya's mom (the impeccably named Pat) gives us a quick glimpse into her life outside of drag. Pat helps us understand how someone like Katya could grow up to be "just your average, run-of-the-mill, Russian, bisexual, transvestite hooker."
Fortunately for Katya, her family life seems to be going pretty well. Unfortunately for the producers, she doesn't do much except hold her mother's hand, look into those Boston eyeballs, and lay out an oft-repeated line about confidence. It's not that I don't believe Katya struggled with her confidence during her season and even this year — there's evidence aplenty to back that up — I'm just not fully convinced that anyone really speaks about their confidence the way a reality-show contestant does. Katya seems very game to give the producers something juicy, but I don't get the sense that she really wants to chat with mom about this. Although story lines are the fuel that keep the reality-TV engine chugging along, Katya is unique because she's always entertained us while remaining almost completely drama-free. She manages to sidestep feuds while maintaining friendships with everyone, and she makes us laugh without malice.
Which is all well and good because hoo-boy is there drama buzzing around the rest of the workroom. I almost have to wonder: If this season of All Stars didn't have to deal with the Phi Phi of it all, what would they have done? Would we have heard more about Alyssa's recently departed mother? Detox's unresolved issues with her father? Alaska's newfound sobriety? Each of these threads would have been a long story arc in a normal season, but without the extra breathing room, it's laid out all at once here. We're left to sift through it like a table of dented soup cans sitting near the exit of a Jewel Osco.
Before we move on, we gotta chat about that "eyebrow tutorial" with Anastasia Soare, the eponymous Anastasia behind Anastasia Beverly Hills. I'm not sure if this kind of direct sponsorship marks the death knell we should all be worried about (it was all over for Project Runway once they started hawking HP tablets, after all), or if it signals something else entirely. Who knows, maybe RuPaul just wanted to grant a dying woman her last wish — to teach the world about eyebrows. Only time will tell.
In addition to this week's runway, we're forced to sit through yet another arbitrary dance component that RuPaul has made mandatory for the makeover challenges — lest any of us forgot the hilariously pointless "interpretive dance" sequences that accompanied our Oz makeovers last season. Yea, Kim Chi's brain-melting broom dance encapsulated the insanity that makes this show so precious, but the voguing simply felt like the afterthought it was.
Alyssa/Ava: Quintessential Haus of Edwards! Not a whole lot to dissect visually, as is often the case when it comes to Alyssa's looks, but the makeover is fun. It's a little hard to know what you want from a woman doing drag, but I guess my only complaint is that Ava looks almost too fishy.
Alaska/Hawaii: A whole lot of nothing. The first truly tacky and cheap-looking outfit Alaska has worn all season.
Detox/D-Rama: The Versace resemblance Carson clocks is spot-on, and the looks are both great, though maybe a bit too much to handle together. It took me a few watches to really appreciate them.
Katya/Svetlana: I'm not sure you could call any of Katya's looks memorable on their own merits this season, but her ability to tell a story on the runway is sort of unparalleled. This is fun!
Roxxxy/Raquel: This is Roxxxy's first opportunity to show off the construction skills that helped get her to the top in season five, and she doesn't disappoint. That bodysuit is killer and the fit is downright eye-popping. My own personal biases preclude me from praising leopard print, but otherwise this is a home run.
It doesn't take long during this judging session to realize that Alaska will be making her first-ever appearance in the bottom. And just like her many trips to the top, this doesn't feel a producer-rigged machination. Alaska really did perform the worst for the very first time in her entire Drag Race tenure. She sent her mother down the runway in flip-flops! That's almost enough to erase a season's worth of goodwill.
Now, if this were a regular season (or any other reality competition show for that matter), Alaska's performance history would leave her in a comfortable position. Sure, the producers might wink at us and force the judges to pretend they're seriously considering her removal, but we've all seen enough of these shows to assume that Alaska will be safe. Which is what makes the change in format so genuinely nail-biting this time around.
All Stars has shied away from making Alaska's clear front-runner status a part of her narrative this season, which makes her inevitable backstage  breakdown all the more fascinating. The reality of her situation hits hard — wouldn't you go a little insane too? It's uncomfortable to watch — and she nearly makes it through every stage of grief before the lip sync starts. (Even bargaining: She offers Detox one of her many $10,000 tips if she'll let her stay.) But all that unseemliness is exactly what makes for such good TV. It feels real. It feels honest. And moments before the winner was announced, it felt plausible that this one slip-up might cost Alaska the crown. Maybe Katya, in a surprisingly ruthless move, might remove Alaska to clear her own path to the crown.
Of course, the minute Ru declared Detox the winner, I knew Alaska was safe. Another frustrating decision, another dull lip sync. Did either of them really wow? It's difficult for me because I want Katya to win these things, but for all the talk among fans of her being robbed, I'm not sure I've ever been truly wowed by a Katya lip-sync performance this season. In any case, the song is bunk and this limp noodle of a performance is our very last lip sync of the year. What a shame.
Though Alaska's fate was clear, for one brief moment I hoped that Detox might have an ounce of integrity and send Roxxxy home. But no, Detox is that girl, so she saves her friend. It's a cruel joke, really. Can any of you picture Roxxxy winning this crown? No, of course not. At best, she's made it far enough to watch from the wings of that finale stage. She is the human embodiment of a gaping, oozing, pus-filled blemish on the face of this season's otherwise flawless elimination format.
Last week, I defended Alaska's choice as the calculated move it was. But looking at the bottom three this week, it's hard to say that Detox's decision wasn't mostly based on friendship. Had she been playing to win, she would have sent Alaska home and it would have made her a fucking legend. But let's all be honest: How can anyone feel like they really won that crown if they weren't competing against Alaska? In my eyes, I'm not sure any runners-up position that Detox might hope to win will mean very much without Alyssa.
As much as Alaska has been the clear front-runner all season, pushing the boundaries of drag and outperforming everyone by miles, Alyssa will ultimately walk away as the real star. If there were ever an award for All Stars Miss Congeniality, Ms. Edwards deserves that and much more. It's almost a better position to be in, that of the fan favorite gone too soon. Look at Jennifer Hudson, the boys of One Direction, even Katya herself — all of them forever earning the warm embrace of the fans and our unified conspiratorial whisper: It should have been you.
Logo would be foolish not to seize this moment and hand Alyssa the Dance Moms–esque reality show that I know we're all craving.
Of course, even had Ms. Edwards made it to next week's finale, I'm not sure an outcome exists where Alaska doesn't take the crown. Her work has been too consistently excellent. Even compared to fan favorite Katya, I'm not sure you can make a convincing case than anyone deserves it more, tantrums and all. It's still technically anyone's game as, unlike the rest of the season, next week's decision lands back in the hands of Ms. RuPaul herself. She could surprise us all. She's certainly done it before.