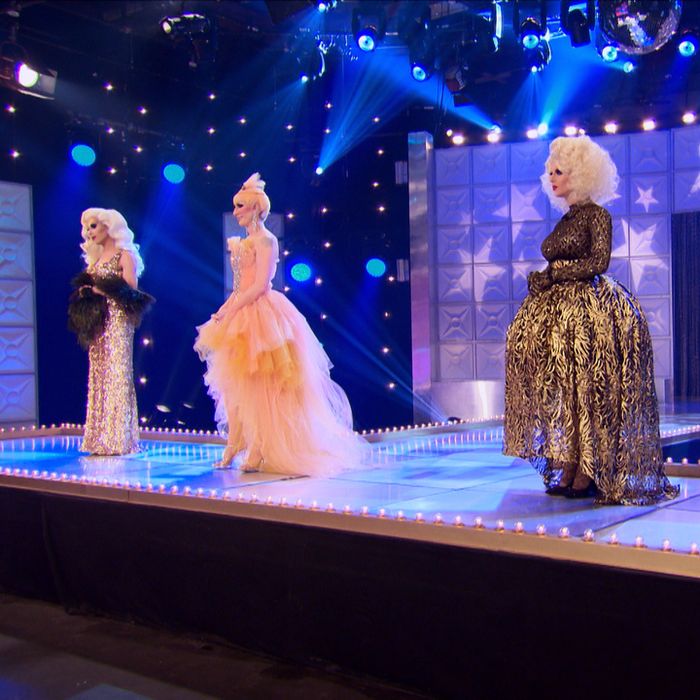 The finalists.
Photo: LOGO
Sweet God in heaven, it feels like the whole damn world has changed since the last time we got to chat about this show, doesn't it? All of a sudden, Bob Dylan is a Nobel Prize winner, pussy is an oft-repeated word on cable news, and Katya Zamolodchikova is the front-runner to win RuPaul's Drag Race All Stars!
Now, I'm not a complete idiot. I read the internet. I know that, for many people, Katya snatched the All Stars crown the minute she handed RuPaul that water bottle during the season-seven coronation. But she didn't truly step forward as a fan favorite until Alyssa Edwards left us last week, giving Katya the opportunity to nab the People's Queen title in her absence. Moving into the final week, it really felt like the memes had spoken and anointed Katya as the hero who would take down the many-headed beast that is RoLaskaTox.
The question is: How much of this will RuPaul take into consideration when choosing a winner? Assuming they filmed three alternate endings for the finale as they do in a normal season, Ru will be able to take into account all the fan warbling, which certainly doesn't help anyone but Katya. Nevertheless, it's not always so easy to tell which way the wind is blowing on social media (if that were the case, Bernie Sanders would have won the presidency six months ago), and Ru doesn't always have as short a memory as the fans seem to. It's still anyone's game. And to be completely honest, the screeners Logo sent us didn't include the actual ending of the episode, so I'm writing this paragraph as ignorant as all of you.
We begin this episode addressing the debacle of last week's elimination and yet another Roxxxy save. Of course Katya chose Roxxxy once again, surprising no one. Though, you have to wonder: How badass would it have been if she'd chosen Alaska? It's the kind of calculating move that would've lost Katya a lot of fans early on in the season, but at this point she could stand in the middle of Fifth Avenue and shoot somebody and not lose any stans.
Before we can dwell on this for too long, Aunt Michelle hobbles down the stairs in impossible heels to inform the queens of their final series of challenges before the crown. I'm never quite sure why Michelle gets to do this — is RuPaul busy? Does she just need something to do? It's weird to see Michelle standing and walking or doing anything remotely human, and I don't like that the show has demystified her twice this season, but whatever. They have to write their own rap (as part of RuPaul's new "bitch track," which I honestly didn't know was a thing before today), dance as a supergroup, and chat with Michelle and Ru on their podcast, What's the Tee. (It's a really great podcast, and I suggest you get on it immediately. It's like WTF in drag!) None of these challenges are mold-breakers by any means, but they set the stage for the all-important finale edit, and that's important!
The finale edit is that thing where they trick us into thinking that the competition could go any which way because AB Soto said something nice about Detox. It's certainly effective, isn't it? Out of the many competition reality shows I consume in any given year, Drag Race is the only one with a finale edit that puts a season's worth of strengths and weaknesses into focus in such a way that makes it feel like literally anything is possible.
Anything, of course, but a Roxxxy win. Going into tonight's episode, I had to wonder if they would even attempt to trick us into thinking Roxxxy had a chance. It wasn't until later on when the girls quite plainly state how "confused" they would be if Roxxxy won that you could sense the truth: Even the producers didn't have enough energy to make that seem plausible.
It's an awkward position for poor Roxxxy to be in, but you can't quite say she doesn't play it exactly the way she needs to. Roxxxy enters the finale episode with the perfect balance of cowed and confidence. A lesser queen might find herself completely shattered by one or two appearances in the bottom, let alone a historic five times, but Roxxxy plasters that pageant smile on her face and plows forward, knowing she'll have to pull out all the stops to snag a win. Had she played it as an early defeat, it would have been both a bad look (why even bother?) and bad TV, so Roxxxy wins a few points for handling a situation she never asked for so well.
On to the challenges. Detox excels at the rap, Katya wows in the choreography session, and Alaska, who's had a season-long winner's edit, grows more and more sure of her own impending failure. Although her RoLaskaTox breakdown in the workroom may look a bit like a rehash of her tantrum from last week, it also demonstrates Alaska's big strength: She knows the show and she knows that her clique could affect her chances at winning. If you remember, Alaska was fearful of the optics of RoLaskaTox back in her own season and pulled away then, too. Alaska's self-awareness may have failed her last week, but she's nothing if not a smart marketer. Her recent "Getting to Know Alaska" video is a master class in how to own an edit. Phi Phi O'Hara, take note.
In case anyone was actually invested in this friendship, the trio eventually makes up just in time for the final group performance. It's fun, they all look great, and they perform well together. To call any of this rapping is quite a stretch, but I don't have the real estate in this recap to get into that, so let's just move on to the runway.
Alaska: I understand what she's trying to do here, but I'm a bit disappointed by it as a whole. The gown is borderline, and it's a little too similar to the look that almost sent her home last week. The hair and makeup is beyond, though.
Detox: This is actually a more effective version of what Alaska is attempting, and it solidifies Detox as the runway queen of the season. It's elegant and glamorous without going over the top, but it still has impact, which Alaska's look lacks.
Katya: Glamour as seen through a Katya lens. I tend to agree with Michelle that the skirt is a bit ugly, but she manages to pull it off for the most part. That silhouette is oddly reminiscent of her Space Mom look that I didn't love from earlier in the season, but maybe she's just ahead of the curve.
Roxxxy: Stunning, if not a little underwhelming only because we expect runway glamour from Roxxxy, so she's playing a little bit more in her wheelhouse this week. The hair is a great change, though, and is giving me Timothy Dalton–era Bond Girl fantasy, which I am always here for.
The judging is as vague as it tends to be in the final episode of a Drag Race season, and the real action kicks in when the girls must answer that inevitable question: Why should you be crowned, rather than your competitors? Many a villain in seasons past put the emphasis too strongly on the latter, not the former, and suffered for it. (See also: Minj, Ginger.) But these girls are all stars, so nobody takes the bait. Instead, their season-long narratives really come into focus as they each make their case. Roxxxy is the reformed villain, Katya is the underdog who found her confidence, Detox is the queen for the weirdos (which honestly sort of came out of nowhere for me?), and Alaska is the Drag Race superfan.
It's all very standard stuff, and then in a surprisingly cathartic move, RuPaul wrests elimination control back from the queens and decides to send Roxxxy home before crowning a final victor. It's so close to the end of the competition, it almost seems cruel not to let Roxxxy lip sync, but the message is clear: You don't sit in the bottom for five weeks and make it to the end of this competition. To be honest, I don't think anyone should feel especially bad for Roxxxy. She made it much farther than she deserved, and of the two villains who entered this season, she's the one who walks away with a rehabbed image and a true rudemption.
So we end the season with one last Lip Sync for Your Legacy, and while ballads don't always make for the greatest television on this show (save for Latrice's legendary "Natural Woman"), the queens give it their all. Combined with their final confessionals, it all actually comes out to be very touching. This might not be the top three I wanted to see when the season began, but the show convinced me to root for each of them by the end.
And in the end, it's Alaska who takes the crown. They did their best to make it seem like it was anyone's game in the end, but tantrums or not, I'm not sure any queen deserved it more. Alaska has given incredible looks, made me laugh harder than anyone else, and has outperformed nearly every other queen on that stage. She brings everything to the table, sets the whole damn table on fire, and makes you eat the ashes.
It's not like any of these queens would have done a bad job as reigning All Stars champion — what do you think those responsibilities even look like? — but you'd be hard-pressed to find somebody who will take the role as seriously as Alaska. More than anyone else, she recognizes that RuPaul has created something special and bizarre, apart from drag as just an art form. Who better to reign over it all than the show's biggest fan?
It's a sad ending for Katya, though. One gets the impression that given a bigger break between seasons, she might have been able to take this whole thing. Who knows? Maybe Katya will be the Clay Aiken of Drag Race, the contestant who leads people to wonder, "Who really did win season two?" One thing's for sure: She should definitely run for office after this. Wait, what am I talking about anymore? I don't know. I'm so exhausted.
And so my time as your RuPaul's Drag Race All Stars recapper has almost reached its end. (Yes, I'll be back to talk about the reunion episode.) It's been such a blast, and it's been 90 percent nonsense. I hope you all realize that. See you all on the subreddits!