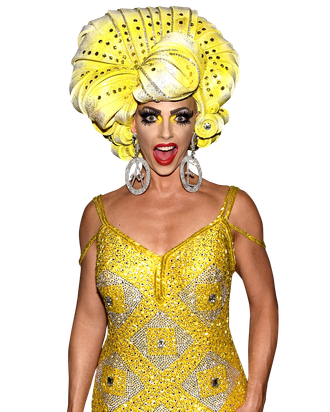 Photo: Jamie McCarthy/Getty Images
Well, Alyssa Edwards, you made a lovely fourth alternate. Although she's the drag queen who would make Narcissus jealous, Alyssa was sent home for a second time on the penultimate episode of RuPaul's Drag Race All Stars. As has been the case all season, the Rolaskatox clique from season five stood firm, with Detox eliminating Alyssa over Alaska and Roxxxy Andrews. Nevertheless, the queen from Mesquite, Texas, conducted herself with class and verve. Earlier today, Alyssa got on the phone with Vulture to discuss her emotional departure, dish on Phi Phi O'Hara, and defend the Drag Race producers.
Last night's episode was so emotional. I just wanted to start off by asking about your mom, Sherrie Ann.
I don't even know where I could start. When I got older, she said, "You know what Justin. We could've put a baseball in front of you and anything colorful and your eyes instantly went to that. I knew you were a creative, full of life, energetic little boy." She said, "You know you had this imagination that was beyond." And my mother, she really was a huge part of carving out the childhood that would make me into the man I am today. I don't want to say a huge part because that sounds inaccurate. I think she is the reason I am who I am today.
Did the episode with your sister help you process your feelings?
Oh, most definitely. You know what, because sometimes when you have to face it head-on, you have to talk about it. That is already therapeutic right there. Because what I said on the show was 100 percent true — after her funeral, the next day, I left. That was it. I never went back. I needed to stay far away from it. I needed to work as much as I could, because not only did I lose my mom but I lost her brother, my gay uncle, just a few months before that. So the two most influential people in my life had passed. I've always been the rock of my family. It was just the first time I felt like, "Oh my gosh." I didn't know who would hold me up if I fell.
Do you think you should've been eliminated? Either time?
It's hard to say because this competition is being judged by your peers. If Ru was judging, I don't think he would've sent me home. But I don't think it's fair for me to say, "I don't think I should have went home." It's a part of the game. It's the way that it's set up this season, which I think is great because it really refueled this series. People are now glued to their television sets on Thursdays. This is like the ultimate TV competition now. I will say this: I thought what I presented was worthy enough to be in the final four and I was prepared for that. But I also was prepared for the idea of, "Look, you may be sent home due to strategy and that's smart." You can't be mad at that.
Let's talk about the Rolaskatox clique. It feels like every time the weakest performer should've gone home, it never happened. Did you think that clique was in play?
Oh yeah, we're there. When Detox had won the lip sync, I didn't know for sure if Katya would choose me, but I definitely thought Detox would save Roxxxy. I don't think Alaska should've been a factor to go home because she'd done so well the whole season. This all goes back to exactly what I said in the very beginning: Consistency matters, because every entertainer will have an off night.
But that would've been savage if Detox had sent Alaska home.
Oh, my gosh. That would've been just … whoa.
Alaska really pitched a fit backstage. What happened?
I think when someone is so passionate about what they do, sometimes emotions come to the top and you just get to that boiling point where you have to let it out. It's like, you can't go see your counselor, your therapist, or call your boyfriend. So sometimes those things happen. I will say this: Being there has really shown me how much this truly means to her. She was torn up. She was beating herself up because of the way this judging is. It's frightening to think, "I've worked so hard. I've dreamed of this moment and it could all just be over tonight."
This season in particular, you seemed ready to play. What was different this time?
I think it's inevitable to evolve if we allow ourselves. I think it's the development of Alyssa Edwards, the character and idea. I've really welcomed that idea. I've really been open to that idea. So this time around, it was like what I said last time we spoke, my motto for this was exactly what I teach children every day: Winning isn't everything, but wanting to is. Worry less, laugh a lot. Ru obviously sees something extra in you and let that extra be showcased.
You certainly made us laugh a lot. There are people who technically win the competition, but others win in terms of the public eye. Have you seen all the memes of you?
I have and I love it. That's one thing I learned in season five, how to laugh at myself. If I could take one thing from this and it's being the people's queen, I will take it and I will hold tight to that, because that is mission accomplished. I don't know if you got to see my elimination video today. It was so sincere. I can see in my eyes that I really wanted to be there, I really wanted to compete and I really wanted to push for that opportunity to be in that hall of fame. Push myself. Push my art. Challenge myself and go for it.
Who should win?
In my honest opinion, I do think Alaska deserves it. I think he has been so focused and so dedicated. Beyond determined. I think that his work this year speaks for itself. He has been at the top and won over half of the season by himself. That's amazing.
Phi Phi and you had some words this season, and he seemed to misinterpret a lot of what was happening. He later blamed the editing. Do you think that was a factor?
Look, this is a produced reality series. Keyword is the "reality" — the events occurred. Whether he meant them — long-term or not, I don't know — these are obviously feelings he had in the moment. I've tried to remove myself from any issues with Phi Phi because it's taken a turn for the dark side. I wish him well. I've said it once and I'll say it again: He's very talented. He's creative. And if he'll allow himself to develop from the negatives in his life, he will see the positive light and the finished picture in the end. There's no side on my end. There's no side. This is a very one-sided issue. I don't hold a grudge against him.
This whole idea of editing, not one time I can tell you, not one time has a producer ever asked me to say something I did not want to say. I will also say this about Drag Race producers: I will stand by the show and the people there because they have changed so many people's lives for the better, and I'm one of them. These producers don't get a bonus for fights, like most reality shows. They don't get a bonus for sex and arguments and people getting drunk. There's no ulterior motive. There's no conspiracy to be on Drag Race to ruin anyone's life.
What do you hope to do next?
I mean honestly, my book of life is already written, it's just now being read out loud. I'm enjoying this chapter because I honestly didn't know that I would be doing drag full-time as a career when I first started. I thought it would be something I would do as a good time. Then it turned into an expensive hobby, because it's expensive. Now here I am, full-fledged Alyssa, a gal on the go. I will tell you what I'm hopeful for, to have Beyond Belief on your television. And so everyone stay tuned.
I'm forever grateful for this. I will be able to mark off my bucket list. That makes me an all-star. That's a winner, baby.
You make a lovely fourth alternate.
I broke the fifth alternate curse! As long as you're moving up the ladder in the game, in this idea of life, it's like The Jeffersons — moving on up!
This interview has been edited and condensed.