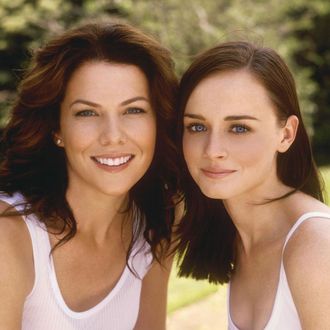 Grab a strong cup of coffee and start seething in jealousy, because many die-hard Gilmore Girls fans found themselves in Washington Depot, Connecticut — a small town that in part inspired Stars Hollow — last night for the first day of the inaugural Gilmore Girls Fan Festival. The evening's highlight was TVLine's Michael Ausiello leading a behind-the-scenes panel featuring dialogue coach George Bell, costume supervisor Valerie Campbell, casting director Mara Casey, writer and producer Sheila Lawrence, casting director Jami Rudofsky, and consulting producer and writer Stan Zimmerman.
During the hour-long discussion, the most surprising revelation was an audition tale: Responding to a question about whether there are any actors she sees as "the one who got away" in terms of casting, Rudofsky told a story about a handsome young star she'd cast in an independent film before she began working on Gilmore Girls. Before seeing him audition, she said, "I rolled my eyes because he was late, and he was blond." She soon saw, however, that he was "amazing" and was simply auditioning "in character." So, she brought him in to audition for a small role ("a football character"), but sadly, the audition fell flat and everybody thought she was crazy for thinking this kid was any good. ("Everyone was like, 'Really, Jami?'")
That kid? Ryan Gosling. What could have been.
Another panel tidbit involved George Bell, who played Yale University's Professor Bell. He also, in fact, served as the show's dialogue coach. Huh! Maybe you already knew that, and that's fine — I'm happy for you and not threatened by your knowledge. Turns out he began working in that capacity during the third season and explained that his job largely consisted of requesting more and more takes until the cast could properly "Gilmore-ize" their pace, which annoyed actors and crew members alike. "But later, as the crew saw the overtime in their paychecks growing larger and larger," he joked, "they grew to love me."
Though she wasn't on the panel, the night's most crowd-pleasing moment went to Liz Torres — Miss Patty on the show — who popped up on the balcony overlooking the Town Hall to chime in about the fast-paced dialogue and to heckle Ausiello. "I wanna take you home," she cooed after Ausiello jokingly chided her about the interruption. "I promise I won't hurt you." She also praised the show's writers, saying, "You didn't have to act it, you just had to learn it, and say it, and lean on George."
What else? Oh, the entire panel was Team Jess, though some had to be pushed to make a decision, and a clapping poll of the audience showed it was composed of about 60 percent Team Jess, 35 percent Team Logan, and 5 percent Team Terrible Dean. Seems correct. The panel closed with Edward Herrmann's wife and daughter joining the group onstage to share memories of the actor — who portrayed the Gilmore family patriarch, Richard, and died in 2014 — who they said "loved this show" and was desperate to see its return. He was in good company.