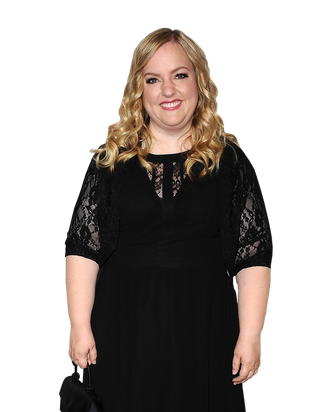 You probably know Sarah Baker from her scene-stealing don't-tell-me-I'm-not-fat monologue opposite Louis C.K. on Louie, as the clueless fast-food worker held up at fake gunpoint by Melissa McCarthy in Tammy, and as the single cat lady attending grief therapy with Matthew Perry in the short-lived sitcom Go On. Lately, Baker seems to be specializing in unhappy housewives, with turns as miserable Mormon Trinity on last night's Better Things and seething cuckold Mindy in Christopher Guest's mocumentary Mascots. We spoke to the actress about her reunion with Pamela Adlon, improvising with Guest, and writing gags for McCarthy's upcoming Life of the Party.
I assume you didn't have to audition for Better Things, since Pamela knows you from Louie? Was Trinity written for you?
No, I didn't have to audition for this one. Pamela was actually there for my Louie audition, and definitely played a role in my getting that part. I was thrilled when she called and asked me to do this. The show draws on things at least partially from her life, so I don't think she wrote it for me. But she asked me to play it so that was pretty cool [laughs].
Your background is in improvisation. Was anything unscripted, like the tête-à-tête in the park, or the final phone-call scene where Trinity talks about the chorus dad's cock?
With both the Louie episode and this one, the scripts are worded so perfectly that I'm never going to step away from them, unless I'm invited to. I don't think you need to. With comedy, it's more of a natural thing. I guess I did improvise a little bit on Louie, but for this role, we kept it pretty scripted. This may be the show I skip telling my parents about. I just can't visualize them hearing me saying that word. I don't want them to even know I know that word.
Turns out Trinity's not as pious as we think.
Pamela and Louis are such geniuses at making the audience figure something out through their characters. Pamela wants you to see that Sam was judgmental of this person, too, in anticipation of being judged by her. But she's the type of character who's also open and kind, as Trinity reveals herself.
You're also Mindy Murray, a.k.a. "Tammy the Turtle," in Christopher Guest's Mascots (opposite Zach Woods). You already knew him from a commercial he directed. I read you don't do commercials, but made an exception for him.
About a year ago, I got a call asking if I'd meet him, and I said, yes, of course. They said it's just a conversation, there's no material, no actual audition. I thought there would be other people. So I did that thing where it was a small room, and I stood really close to [him], anticipating more people were coming. Then all of a sudden I looked, and the door was closed. And it was just the two of us, and I was standing so close to him. I thought, Great start. We clicked, and I did an ad for PetSmart, which he very humorously explained was a large store where they sell goods for pets. I was like, Yes, I know what it is; I live in the real world. That summer, I got a call that he was writing a part for me.
When he told you you'd sometimes be wearing a big furry turtle costume, you didn't have second thoughts?
[Laughs.] No, I would wear anything to be in one of his movies. Honestly, just doing the commercial, I was like, I can cross that off my list of life goals. So I was thrilled I got to be in his movie, and have a substantial role. Fortunately, we didn't have to do that much in the costumes. Stunt people and dancers-gymnasts did most of the mascoting. Our stuff was more fight-oriented.
Would you say the Louie part changed the trajectory of your career?
As a comedic actor, and as a character actor, you don't usually get a chance to say that much, much less tackle such an interesting subject. That last scene, which was a monster monologue, was huge. [While] not a dramatic role exactly, it was more than a comedic role, and an opportunity for me to show more range.
After it aired, you said you made a point to take roles that had nothing to do with weight or looks. Actors often get typecast. Did that happen afterward, and how do you deal with Hollywood's size-zero mentality?
Truthfully, it wasn't that much different after than it was before. Those parts always come my way. I think things are getting better. I don't think that's as much of a focus anymore. But people tend to be very [unimaginative]. Every one of my friends who's an actor has something: It might be that because they're pretty, they always have to worry about playing the boring girlfriend; or they're kind of sexy, so now they're being asked to play wild, sexual characters that don't have a lot to do with what real women are like. So, yeah, those parts still come my way. But I'm interested in playing normal, complex women. Usually, somebody's size is not even in the top five things they would say about themselves. Because there's so much more going on than if they have blonde hair or are a size 12.
You're filming Life of the Party with Melissa McCarthy now. You said with Tammy, Ben Falcone [McCarthy's director husband], whom you know from The Groundings, simply called you with a part. Was it the same this time?
I actually just finished. I was "alt writing" on set, and also did a little part in the movie. For comedies, they have a few people on set to pitch alternate lines to keep it fresh. I was there for three weeks pitching jokes, and I also played a particularly nerdy partygoer in a scene with Nat Faxon.
You're also in the upcoming HBO series Big Little Lies, with an all-star cast, including Reese Witherspoon, with whom you worked on The Good Lie.
I think I have Reese to thank for that role, along with the casting director for Mascots. I play this woman who's part of what we though of as a Greek chorus of men and women who feel free to gossip and make snarky comments about the main characters. I haven't seen it yet, but the feeling they were going for was darkly comic.
Finally, for a recent Twitter hashtag to #DescribeYourselfAs 3FictionalCharacters, you tweeted Fozzie Bear, Radar from Mash, and Dee from What's Happening. Care to explain?
Fozzie's the comedian, the one who wants to make everyone happy; Radar is the part of me that's super nerdy and detail-oriented and also kind of childlike; and Dee is sarcastic.
This interview has been edited and condensed.