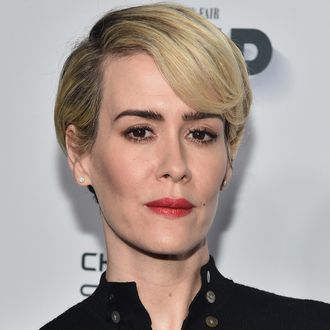 Dear Theodosia, what to sayyyyyy to you?
Photo: Alberto E. Rodriguez/Getty Images
Here is a nice excerpt from a Los Angeles Times profile of Sarah Paulson and Mark Duplass, during which the two actors discuss the melancholy feeling that comes with getting older, which Duplass describes as the core of their film Blue Jay:
Paulson occasionally revels in that kind of sadness, usually while listening to "Dear Theodosia" from the Hamilton soundtrack in her car. But she doesn't quite live in it the way Duplass does.
Of course, we're willing to believe Sarah Paulson sits in a car crying to the Hamilton soundtrack like the rest of us, but we're not sure when she has the time to do so.