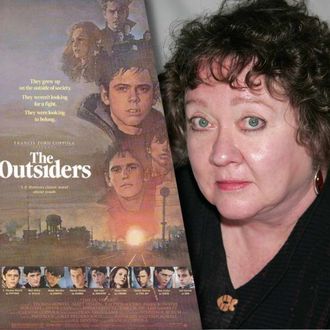 S.E. Hinton and her book.
It's fall, and that means the school library is definitely open, and middle-school students across the country are reading the classic young-adult book The Outsiders by S.E. Hinton. Meaning, a younger generation empowered by Twitter and unencumbered by stupid things like heterosexism is reading the book with fresh eyes. So naturally, one young reader had a question about whether the characters Dallas and Johnny Cade were actually gay lovers. Both of them are street toughs, and Dallas, the coolest, baddest-ass greaser of them all, is especially protective of Johnny, who comes from a home filled with abuse, alcoholism, and neglect. Was this a gay relationship that couldn't be explicitly rendered as such back when the book was first published in 1967? Well, the reader thought to ask the author, S.E. Hinton, on Twitter:
While the conversation could have (should have?) ended there, it didn't.
Predictably, everything else spiraled from there, with other users jumping in:
Hinton says that she has gay friends (uh-oh), but ultimately just decides to agree that while others can have a different reading of the book, she simply didn't write the characters that way.
But surely we can at least all agree that the movie is super-gay, right?