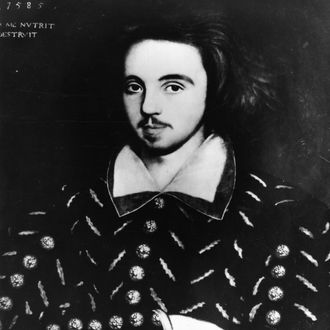 Photo: Keystone/Getty Images
What's in a name? That which we call Shakespeare by any other name would still be a masterpiece, but that doesn't mean another author's name attached to a Shakespeare play wouldn't shake up our understanding of the English language's most celebrated playwright.
On Monday, the New York Times reported that the upcoming New Oxford Shakespeare edition of Henry VI Part 1, 2 and 3, will give Shakespeare's contemporary Christopher Marlowe a co-writing credit. For centuries, scholars have debated how much Shakespeare may have collaborated with Marlowe, a rival of his, and other playwrights, but it wasn't until the New Oxford editors saw data-driven evidence of Marlowe's writing that the publisher felt confident enough to be the first edition to give a definitive byline. According to the Times, the scholars were able to determine Marlowe's involvement by running text-analysis tests of his writing style — certain commonly used words, phrases, and articles, and their placement within a line, distinctive to Marlowe's voice — and then applied them to other texts he was not credited for. The result, in the New Oxford's study, revealed that Marlowe was likely the primary writer on Henry VI Part 1, while Shakespeare was mainly responsible for Part 3; Part 2's full authorship is unclear.
The volume's general editor, Gary Taylor, told the Times that the plays were likely written in the way that movies often are today. While one playwright would get the credit and the large financial advance based on a plot or outline, other writers would pick up certain scenes. It is also believed that sometimes plays were written, at least partially, in the pub with ideas and scenes coming from frequent collaborators. It is likely that this editorial decision will lead to more 16th- and 17th-century plays getting the same analysis. Yet, regardless of who receives the final author credit on Romeo and Juliet, don't expect eighth graders to get out of reading that one any time soon.