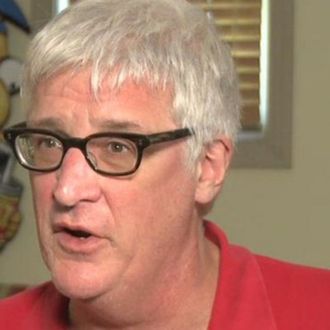 Kevin Curran, a six-time Emmy Award–winning writer and producer who spent 15 years working on The Simpsons, died on Tuesday. He was 59. Throughout his career, Curran wrote for groundbreaking comedic shows including Married: With Children and Late Night With David Letterman, the latter for which he received three consecutive Emmys ('85–'87). According to The Hollywood Reporter, Curran is credited with writing the first Top Ten list for Letterman, a segment that would remain popular throughout the late-night host's many decades behind the desk.
Before becoming a television writer, Curran went to Harvard College where he served as editor of the Harvard Lampoon. While at the university he met future Simpsons showrunner, Al Jean. Jean told THR, "Kevin Curran was a sweet, brilliant man who said many hilarious things, some unprintable, others which will live forever in a children's cartoon."
Curran joined The Simpsons staff in 2001, and during his time there wrote several well-known episodes, including "The Island of Dr. Hibbert," which was the 2002 installment of the series's Treehouse of Horror tradition. Most recently, Curran served as the long-running cartoon's co–executive producer.
Curran is survived by a son and a daughter, Dashiell and Romy, that he had with his former partner, Helen Fielding, the author of Bridget Jones's Diary.