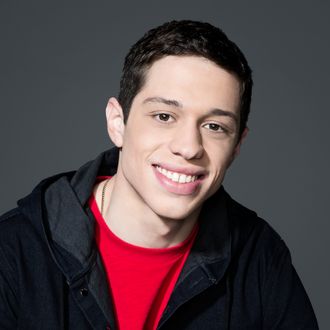 In the years before Kid Cudi was seeking help for his own depression in rehab, the rapper was helping others through their dark times with his music, including Saturday Night Live cast member Pete Davidson. On Tuesday morning, while promoting his upcoming comedy special, Davidson, 22, talked about his favorite rappers on morning show The Breakfast Club, and said, "Cudi is the best out of all of them." He went on to explain his loyalty: "He saved my life. I would've killed myself if I didn't have Kid Cudi. If you're 25 and under, I truly believe that Kid Cudi saved your life." The comedian continued, "I truly believe if Man on the Moon didn't come out, I wouldn't be here."
Davidson's respect for Cudi extended to the rapper's decision to self-admit into a treatment center for suicidal urges. "It's comforting to know your hero goes through the same stuff you do," Davidson said, while relating Cudi's experience to one faced by Davidson and other Millennials. "I think that's why a lot of kids my age can relate to Cudi and people love him so much is because he's a very emotional dude, and he saves all of us." Davidson has been in contact with Cudi recently, and says the rapper "is in really good spirits" in rehab.

Watch Davidson's full appearance, complete with his thoughts about the Drake and Cudi beef, below. Davidson's remarks about Cudi began at the 10:42 mark.