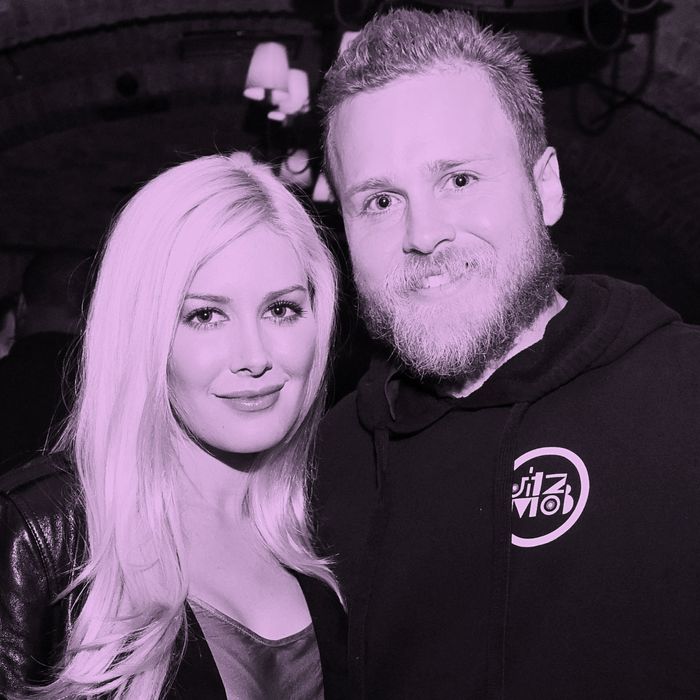 Heidi Montag and Spencer Pratt.
Photo: Vivien Killilea/Getty Images
For the next three weeks, Vulture is holding a TV Couple Scuffle to determine the greatest couple on television in the past 30 years. Today, we talk to one of the most well-known couples in reality-TV history: Speidi.

When Spencer Pratt and I first set up a time to talk, the reality-TV star has to push the call back to take his dog, who is dying of cancer, to the vet. "Prob not best time for lovey dovey talk," he says over email. "I think this week's nightmare is only starting," he adds in another. When Spencer Pratt answers the phone one week later, it's 1 p.m. on a Tuesday in California, and he's just been watching Independence Day on his Apple TV. Midway through the conversation, a few other dogs, who have been lazing about in the other room, amble in noisily, until Spencer gets up and shoos them out of the room. As we wrap up, Spencer quickly offers to put Heidi Pratt (née Montag), who calls in as she's driving home, on the phone as well. Their lives are so normal, it's surreal.
When Spencer and Heidi were on The Hills, they appeared to be in a relationship that fed on the kind of drama that doesn't last. The Hills, as it turns out, didn't last, but Speidi did. Those characters, Spencer insists, were an act, mostly. "We're career reality personalities," Spencer explains. "We've been on like eight shows because we continue to do what the producers want done." After The Hills ended, the most hated couple in America brought their act to the likes of Celebrity Big Brother and Marriage Boot Camp, with diminishing returns. But despite everything, they were still in it together, even if a slow, well-documented slide away from fame seems like the worst possible outcome for people who fell in love chasing it.
As much as Spencer and Heidi are happy to rehash their thoughts on The Hills and all that followed — Spencer, an active tweeter and Snapchat user, has a lot of thoughts about social media — we're here for the lovey-dovey stuff. When it comes to love and reality TV, there are no better experts. Their advice, compiled and edited together from separate conversations with Spencer and Heidi, applies to a tiny percentage of human relationships, the kind that, as Spencer points out, are nearly always fake. But future Bachelor contestants, YouTube sweethearts, and aspiring Speidis of all stripes would do well to take note.
On what drama was fake and what was real   
Heidi: I'd say everything with Lauren was real. She really didn't want me hanging out with Spencer anymore and she really wanted me to be with her a lot, all the time. That was really challenging for me. I wasn't sure with Spencer. Because he just came from producing and I was in on it and I didn't really know. I mean, I'm just a small-town girl from Colorado pretending to get it. But our relationships were real. I wanted to take a leap of faith with Spencer because in my gut, I loved him and I thought, I'll put everything on the line for him. If it doesn't work out, at least, for the rest of my life, I know I tried and I won't have the regrets.
On trying to stay in love through all the drama
Spencer: One hundred percent. I would tell Heidi, "Okay, we're going to go out to the club tonight. I'm going to bring these playmates." And once Heidi had some drink in her and she saw me with these playmates, she'd really start crying. And it's like, "You knew this was planned." That's where people have real emotions. Everything that I did on the show, I think, still bothers her — even though it's like, "Oh, I did that for the show." It's still like, "Well, I wish we could've just been holding hands in the park and going on a rowboat." Where I was just like, "We need story lines." When you're chasing story lines, it's very challenging. It's hard enough to have a relationship in any case, let alone one where you're trying to make fiction. It's like balancing two different authors.
On the advice they'd give a couple on reality TV
Heidi: Communication is the most important thing. Spencer and I did do a really good job communicating, whether we had fears or doubts or bad intentions. So I think communication is very, very important. And prioritizing each other. Spencer and I really did always prioritize each other, and that's the only way to really make a relationship work, let alone one on TV. We prioritized each other over producers and cast members and family members and anyone. That's the key ingredient on my mind. You have to be on the same page.
On the reality-TV couples they believe in
Heidi: I love Jax and his girlfriend, they are super cute on Vanderpump Rules. I love Trista and her husband, I think that they're obviously the real deal from The Bachelorette. I love Natalie Nunn and Jacob, obviously they're friends of ours, but I think that they're the real-deal couple. I think that Aviva and Reid are actually a great couple as well, from the Housewives. I watch so much reality TV, it's a little overwhelming. Oh! My favorite is Jessie Decker and what's his name, Eric [of Eric and Jessie: Game On]. You can see — just the way that they look at each other and how much fun they have together. I feel like they're one of the only couples that didn't have to fake fighting drama between them. So you can just see the real love between them. As a viewer, I love watching — I don't always love watching conflict and fighting, that's not what I enjoy personally.
Spencer: Let me think here. Ray J and Princess on Love & Hip Hop: Hollywood. I believe in them. I don't think Ray J needs to fake marry one of these girls for show. I want to believe in Kaitlyn Bristowe and Shawn [Booth] from The Bachelor, but I don't think they got married yet. Some of these couples that I watch, I follow them on like Snapchat and I'm like, "When is this wedding going to happen?"
On how a relationship changes when you go off TV
Spencer: I think it got one billion times better because I never need to feel like I have to get drunk and fake flirt with the bartender to make drama for five episodes. The only fighting now is about where we're going to eat or what we're watching on Netflix. It comes back to way more realistic problems. Not like, "Why would you do that?" "Oh, I want our checks to keep coming." And we can't keep yelling at each other about your sister living in our apartment or whatever. Our relationship post-reality TV has been so much easier. You don't have all these other people, these leeches all surrounding you, and trying to make you guys fight and trying to screw things up.
On how TV affects your relationship with your family
Heidi: My family loved Spencer. The minute they met him, they loved him and they were so excited for me. And when the producers asked them to not like him on-camera and Spencer was like, "Yeah, go ahead, whatever, it's fine in the moment." But then when it plays back, it hurts a little bit more than everybody realizes. It feels a little more real, and people go off-script — it's never really a good idea to pretend to not like somebody on TV. It becomes almost real. I think we should've not listened to the producers with that, and I wish we would have just left my family out of it. They really did and do love Spencer.
On who succeeds in reality TV      
Spencer: People would say, "LC is so authentic." No, she's not. I was around the real LC a lot more than any of these so-called fans that think they know her. What she was good at was being authentic to what she thought her audience wanted. But I think the real LC was way more entertaining, way more opinionated. Somebody who I do think is pretty damn authentic is someone like Kim Kardashian. Lauren could've been bigger than Kim Kardashian if she felt more real, but she is this Mary Tyler Moore avatar that they created for her, and she tries to fit into that formula that works. Obviously, she's a millionaire. I'm not saying she failed. I'm saying Kim's making millions a day. Lauren was way ahead of Kim, light-years.
On whether most reality-TV couples are in love
Spencer:  I love The Bachelor, and I love Bachelor in Paradise, but if you try to tell me that every single person on-camera there doesn't have an agenda besides like, finding love, that's great. My goal was not to get married to Heidi through a reality show, but life's crazy. People are like, "Look at these people. They're still together from The Bachelor." But it's like, how many are not together? You do enough of these reality shows, there are going to be couples that are created out of them. But I would say 99.9 percent of these participants are trying to sell diet teas once they get off the season on their IG [Instagram accounts].
On what they would've done differently  
Spencer: Looking back, I definitely think I would've … It was impossible because Lauren has such an alliance with [producer] Adam DiVello that I couldn't get in and become best friends with Adam. Maybe I would've tried to kiss Adam's ass like crazy like everybody else. The problem is the show became a hit once I was the bad guy, and there was drama between Lauren and Heidi because of me. If I had done anything differently, maybe the show would've just ended right when I came on and there would've never been a Hills that people talk about. In an ideal world, I would've loved for everyone to be like, "Oh, Spencer. He's so funny and likable." But I don't think even if I had a time machine and I went back right now … If anything, I should've been a way bigger villain, you know, like way more drama.
Heidi: I mostly wish I'd saved my money. That's the biggest thing. I was so young. I'm so thankful for where I am right now that I'm sure I do have a lot of things that I would change, but at the same time I'm really thankful for where I am with my family and my friends and with my husband. So at the end of the day I don't think I really would change it much.