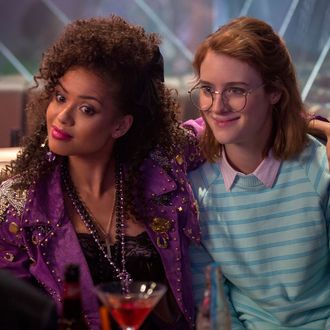 Black mirror, black mirror, on the wall.
Photo: Laurie Sparham/Netflix
You can now stream the soundtrack for the fifth episode of Charlie Brooker's Black Mirror, "Men Against Fire," which was released today on Netflix. The soundtrack was scored by Portishead's Geoff Barrow and Ben Salisbury (who also collaborated on the Ex Machina soundtrack and are working on Alex Garland's Annihilation) and is available for streaming and purchase through the Invada site. Other composers for this season of Black Mirror include Max Richter, Martin Phipps, Bear McCreary, and Clint Mansell. But you can start streaming this synth- and string-heavy score now if you really want to heighten the terror of your internet experience at the office today.