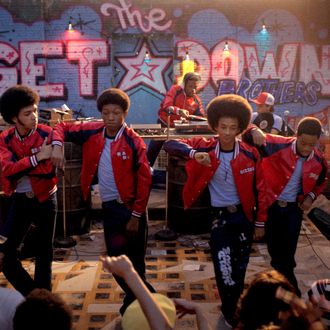 Photo: Courtesy of Netflix
It's no secret that Baz Luhrmann enjoys a bit of extravagance when it comes to his films (see: Moulin Rouge! and The Great Gatsby). It's also no secret that Luhrmann's current musical-drama series for Netflix, The Get Down, has cost the streaming network a very pretty penny for its current debut season. (The first half of episodes premiered in August, with the rest of the season expected to air next year.) According to an initial report from Variety earlier this summer, the series greatly exceeded its original budget by about $7.5 million per episode, and wound up costing Netflix at least $120 million overall. However, a Deadline report alleges that the amount is even higher — the publication is reporting that The Get Down is actually costing $16 million per episode, or $190+ million overall, solidifying it as Netflix's most expensive series of all time.
Deadline writes that the primary reason for the high cost was the fees incurred for the services of Luhrmann, his wife, and creative collaborator Catherine Martin, Pulitzer Prize–winning playwright Stephen Adly Guirgis, hip-hop historian Nelson George, and rappers Nas and Grandmaster Flash, as well as additional costs for "start-up, visual effects, music rights, and production design." Also factoring in the "final production expenses per episode," the staffing changes, and script rewrites, the number easily ballooned to $16 million per episode. Netflix has yet to formally comment on the matter. But the moral of this story? Netflix would really, really like you to watch The Get Down.