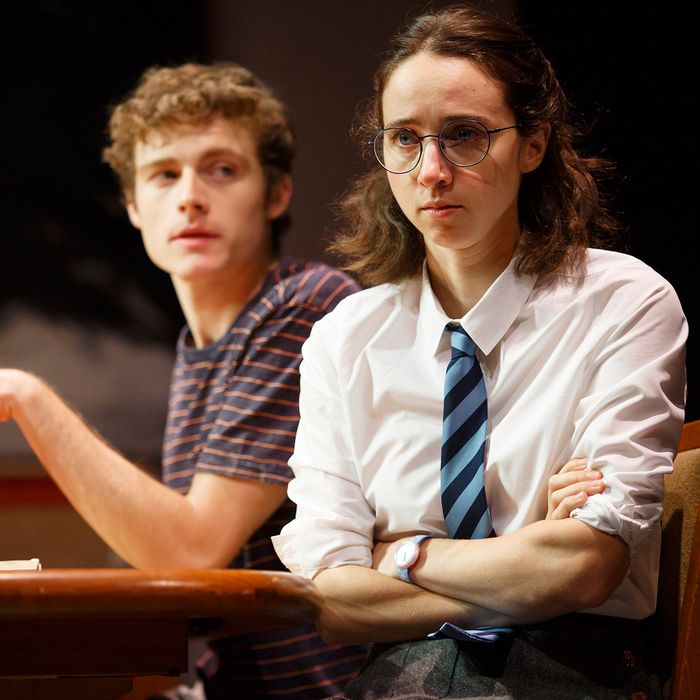 From Love, Love, Love, at the Laura Pels.
Photo: Joan Marcus
The Beatles debuted "All You Need Is Love" on June 25, 1967, at the end of a television spectacular called Our World that was watched by hundreds of millions. We hear a bit of the song as broadcast live that day during the first act of Mike Bartlett's Love, Love, Love, which draws its ironic title from the lyrics. Kenneth, a 19-year-old Oxford wastrel, slumming in his brother's grotty north London flat, sets out to enjoy on the telly the strange phenomenon of rebellious youth culture going mainstream. The brother, Henry, four years older, isn't interested; he's already been co-opted by the Establishment. (He wears a cardigan and tie beneath his leather jacket.) But, boy, is he pissed about it. For the first 20 minutes, the brothers' enmity, and then the sexual struggle that takes over when Kenneth hooks up with Henry's leggy mod girlfriend, makes it seem as if we're in for a gloss on Joe Orton or John Osborne. No such luck. The tone of Love, Love, Love — which follows Kenneth and the girl, Sandra, over the next 44 years, as they marry, spawn, and destroy their offspring — is less Angry Young Man than snarky midlife crisis.
That the play, which opens tonight in a Roundabout production, is little more than a stunt dawns on you only gradually. In the 1967 act, you might be blinded by the brightness and sitcom speed of Michael Mayer's high-gloss production, or by the fun sound of the Carnaby Street pop, or at least by the shocking pink and tangerine panels of Sandra's Mondrian tunic dress. (The on-the-nose costumes are by Susan Hilferty.) You may even be amused by Sandra (Amy Ryan) herself; also down from Oxford, she has a lot of rich-girl theories about free love, and is firmly convinced that anything she wants will of necessity make other people, to the extent she thinks about them, happy. The narcissism that fuels some forms of idealism is an intriguing subject, but soon the fact that neither she nor Kenneth (Richard Armitage) are the least bit credible as characters starts to distract from that, and grate. Then, when the second act leaps ahead 23 years, the bottom falls out.
It's now 1990, and we see immediately from Sandra's Nancy Reagan–red dress and Kenneth's Gordon Gekko suit that these people are meant to be symbols of a generation whose communitarian values were corrupted by easy wealth. Free love, too, has curdled into smarmy garden-variety infidelity, and lazy laissez-faire-ism has made family life obscene. Their 16-year-old daughter, Rose, a whiny, violin-playing nerd, accurately calls Sandra and Kenneth the "shittiest fucking parents." They are cosmically neglectful and, in the case of their 14-year-old son, Jamie, even worse; they all but push him down the road to mental illness and substance abuse. By the third act, set in 2011, he's a basket case, and 37-year-old Rose, unable to sustain a musical career in the aftermath of the 2008 recession, feels that her parents and their generation have gypped her out of a life. "What have you lot done?" she seethes. "Climbed the ladder and broke it as you went."
The problem is not only that these sweeping condemnations are overfamiliar and overbroad but that the play in no way supports them. The outrageous and cliché behavior, meant to keep the tone comic even when it shouldn't be, prevents the possibility of our taking seriously any intended argument about, say, the damage done to children, and society generally, when barriers to selfish behavior come down. Instead, we can only tut at the characters' shenanigans and conclude that crazy people do crazy things, at least in facile plays.
Craziness is fun to watch, until it isn't. Ryan and Armitage, though never convincingly any age but their own, give deft comic performances that resist as long as possible the material's push toward overstatement. As the kids, Zoe Kazan and Ben Rosenfield aren't as lucky, but, along with Alex Hurt, as Henry, they solidly represent the playwright's broad intentions. That's really the problem though: There are nothing but broad intentions. This is the kind of play that seems to have been written in reverse, starting with a slick structural concept and heading, somewhat haphazardly, back toward human portraiture. All of Bartlett's plays that I've seen — including Cock, Bull, and the "future history" play King Charles III — have that diorama-like quality: big statements and cardboard people. But this is the first time the balance has gotten so out of whack as to make me feel like a witness to character assassination. Turns out that "All You Need Is Love" is wrong on several scores: the title of course, and the opening line. There are some things you can do that can't be done.
Love, Love, Love is at the Laura Pels Theatre through December 18.