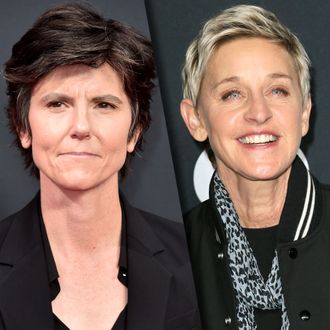 All week on Vulture, we're examining '80s pop culture and how it lives on today.
With Vulture doing a week of stories about the lasting influence of the 1980s and Tig Notaro set to play Carnegie Hall on November 5 as part of the New York Comedy Festival, we asked the longtime comic to name something from that decade that had a lasting impact on her. The stand-up unsurprisingly picked another stand-up: Ellen DeGeneres.
DeGeneres started doing comedy a little after 1980, performing in clubs in and around New Orleans and then Los Angeles. She kept on building an act and a fanbase relatively quietly, until her breakout set on Johnny Carson's Tonight Show, after which he called her over to the couch — a near-unprecedented occurrence for a first-time performer on the show.
During that time, Notaro was a teenager growing up not too far from New Orleans, in Jackson, Mississippi, and she loved DeGeneres. "I've been a fan of Ellen's for decades — before I even got into comedy," Notaro told Vulture over email. "There's a silliness to her that I always related to, and as much as I enjoy some of the edgier, dirtier, and darker comedy out there, I always liked how for the most part she veered completely opposite of that."
But as Notaro explained, it was more than just DeGeneres's material. "Knowing she was gay before she even came out gave me a feeling and idea that I could maybe do what she was doing, too." If it wasn't for DeGeneres, Notaro may never have considered stand-up a possibility. "She made stand-up seem accessible," Notaro explained. "She made it seem like something within my reach."