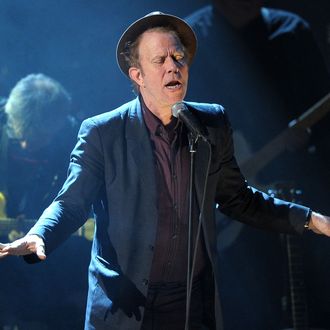 Photo: Michael Loccisano/Getty Images
Tom Waits is living out all our worst nightmares, finding himself in a legal battle with a French circus. Bartabas's Circus Zingaro's latest show, called On Achève Bien les Anges, is an equestrian opera and features 16 songs by Tom Waits. According to Pitchfork, Waits claims that he didn't allow the show to use his songs, and he is now suing Bartabas over rights violations. Although last month a French court rejected Waits's request to shut down the show in France, his second civil court claim could prevent Bartabas from touring in the U.K. Waits insists that his songs make up "the narrative heart and soul" of the show, and in his complaint added:
I turn down all commercial product endorsement offers and rarely collaborate or lend my name or work to other endeavours. It is my choice to get paid or not to get paid. And that value has been taken and exploited for the profit and promotion of Bartabas's career and for his religious and political ideology, which neither the songs nor I chose to express. In short, it violates the integrity of my work. … Bartabas hitches a free ride to the marketplace on this misperception … and the whole thing just really burns me up.
Bartabas claims that he attempted to contact Waits's agent for permission to use the songs, and that he paid Waits €400,000. Waits and his co-writer (and wife) Kathleen Brennan are asking for €500,000 in damages. Watch a video of the circus below.