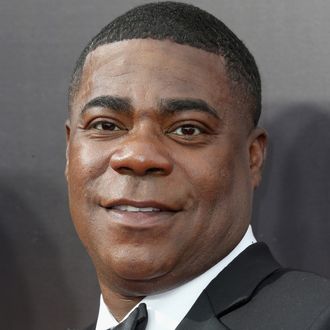 Photo: Frederick M. Brown/Getty Images
Tracy Morgan's long-awaited TV comedy return is finally happening. The former 30 Rock and Saturday Night Live star is headed to TBS, where he'll team with creators and executive producers Jordan Peele and John Carcieri (Eastbound & Down) for a still untitled single-camera half-hour about an ex-con trying to fit back into society after 15 years in prison. TBS has given a ten-episode order to the project, which had originally been in the works at FX. The latter network ordered a pilot script for the Morgan-Peele show back in January, but according to two people familiar with the situation, opted against ordering a series after reading the finished project. TBS then stepped in to snag the project, securing it with a series order. In a press release announcing the pickup, Brad Weitz, who heads up programming at TBS, called Morgan and Peele "two of today's most sought-after and authentically funny comedians" and said their new show "captures all the hilarity you would expect" from the duo. TBS didn't announce a timetable for when the show would premiere, but a mid- to late-2017 bow seems logical.
TBS's order of the Morgan project marks the end of a three-year attempt by FX executives to get Morgan on their network. The first stab came all the way back in 2013, when FX ordered a pilot for something called Death Pact, a comedy in which Morgan would play a "formerly lazy, pot-dealing assistant high-school coach, who returns to his hometown as a decorated war hero." That idea didn't work out, however, and in spring 2014, the network said it would team Morgan with the brain trust behind OG FX comedy It's Always Sunny in Philadelphia. Sadly, that project came to a halt following the actor's June 2014 auto accident. The project with the Sunny gang ultimately went away, but FX honored its commitment to remain in development with Morgan, announcing the project with Peele last winter. While the final effort didn't pan out, Morgan and FX appear to have parted ways amicably, and Morgan has landed at TBS, which finds itself in the middle of a massive comedy brand makeover. Series such as Angie Tribeca and The Detour have generated decent ratings and reviews, and the buzz on pending debuts such as Wyatt Cenac's People of Earth and the Alia Shawkat–led Search Party has been positive.
As for the specifics of the Morgan-Peele show, TBS says Morgan will play a newly released prisoner named Tracy who "is shocked to see just how much the world has changed in his absence. Returning to his newly gentrified Brooklyn neighborhood, Tracy discovers that his former girlfriend has married an affable, successful white man, who is helping raise his twin sons he never knew existed. Wanting nothing more than to connect with his kids, but having neither the money to support them nor himself, Tracy falls back on the skills he learned in prison to make ends meet while treading on unfamiliar territory." Morgan will serve as an executive producer on the show, as will Eric and Kim Tannenbaum (Two and a Half Men) and Joel Zadak (Key & Peele).