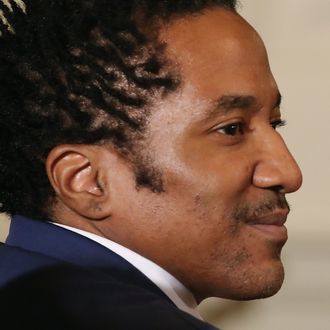 Q-Tip, noted note writer.
Photo: Mark Wilson/Getty Images
A Tribe Called Quest rises again, one last time. Via a series of tweets on their official account Thursday tonight, Q-Tip announced the circumstances leading up to what he calls "the pure, unstepped on pure" that will be the "final" Tribe album ever. (As ATCQ fans may recall, L.A. Reid tipped the possibility of a new album back in August.) In true Tip fashion, the tweets were actually a series of beautiful, handwritten notes in black and gold ink addressed "To All Good People Worldwide." In them, he states that it was the band's invigorating appearance on The Tonight Show last year — their first television appearance in 18 years — plus a "blueprint" left by the late, great Phife Dawg, that set them on the path to the record. Read Q-Tip's notes, below, and on November 11, we'll all get to hear just where the long, rhythmic path has led.