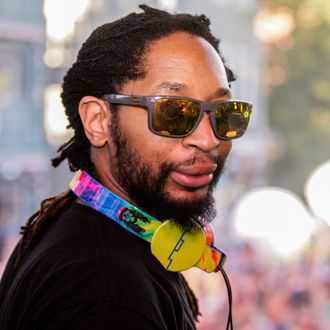 Photo: Nick Tininenko/Getty Images for Bud Light
The Trump news train keeps on rollin', and this time it sort of feels like if a 30 Rock joke had been written by your racist uncle. In an interview with The Daily Beast, Celebrity Apprentice staff members claim that Donald Trump repeatedly called hip-hop star Lil Jon "Uncle Tom" during the taping of an episode, which aired in 2013. At the time, the rapper was wearing an Uncle Sam costume for the episode's challenge. The staffers say Mr. Trump didn't appear to understand why the joke was offensive, and wouldn't stop saying it when asked by producers to stop. Arsenio Hall, who was a guest on the episode, also voiced his concerns. Trump allegedly couldn't be swayed, however, and at a certain point the producers gave up. "When [Trump] decides he wants to do something, that's his way," a producer said.
The Daily Beast also revealed claims that Trump frequently mocked Marlee Matlin — who was participating on the same Celebrity Apprentice season — for being deaf, in addition to making other sexually inappropriate comments towards her. "It's not about insults or taking each other down," Matlin later said in a statement. "As a person who is deaf, as a woman, as a mom, as a wife, as an actor, I have a voice. And I'm using that voice to make myself heard … and vote."

Lil Jon has now issued a statement regarding the incident, in which he confirms the story's veracity and says Trump actually ceased using the term once he was alerted about its highly offensive nature. "When this 'Uncle Tom' incident happened on Celebrity Apprentice in the boardroom, several of my castmates and I addressed Mr. Trump immediately when we heard the comment," he wrote on his Twitter page. "I can't say if he knew what he was actually saying or not, but he did stop using that term once we explained its offensiveness. I also want to be clear that I don't agree with many of the statements Mr. Trump has said during his current run for president." Somewhere, meanwhile, Mark Burnett is attempting some deep breathing exercises.
This post has been updated throughout.