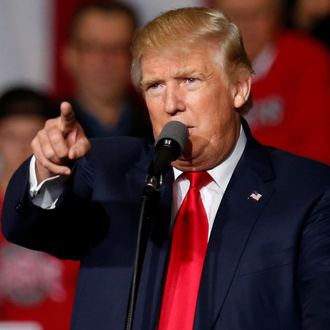 You're sued!
Photo: JAY LAPRETE/AFP/Getty Images
It was the hot mic heard around the world, and Donald Trump wants vengeance! Maybe. Bill O'Reilly hosted the Republican presidential candidate on The O'Reilly Factor last night, where they discussed, among other things, the leaked tape in which Trump can be heard telling Access Hollywood's Billy Bush how his celebrity allows him to get away with sexual harassment. Trump argues that the recording was "certainly illegal, no question about it" because it occurred in a "private dressing room." (They were on an Access Hollywood bus.) When asked whether he would actually sue NBC, Trump replied, "You'll see, you're going to see after the election. We are going to find out soon enough, I will tell you."
In the state of California, both parties must consent to a recording for it to be legal, though there are exceptions in situations "in which the parties to the communication may reasonably expect that the communication may be overheard or recorded." Now, we're not lawyers, but being miked and later on camera for a national entertainment news show would certainly seem to qualify as a situation where one could reasonably expect to be recorded, but perhaps Trump will take the matter up in court — or perhaps not. Add this threat of legal action to Trump's already long list of targets, which includes everyone from Republican Ohio Governor John Kasich ("just for fun,") to the New York Times, to the Kasbah, a nightclub in England.