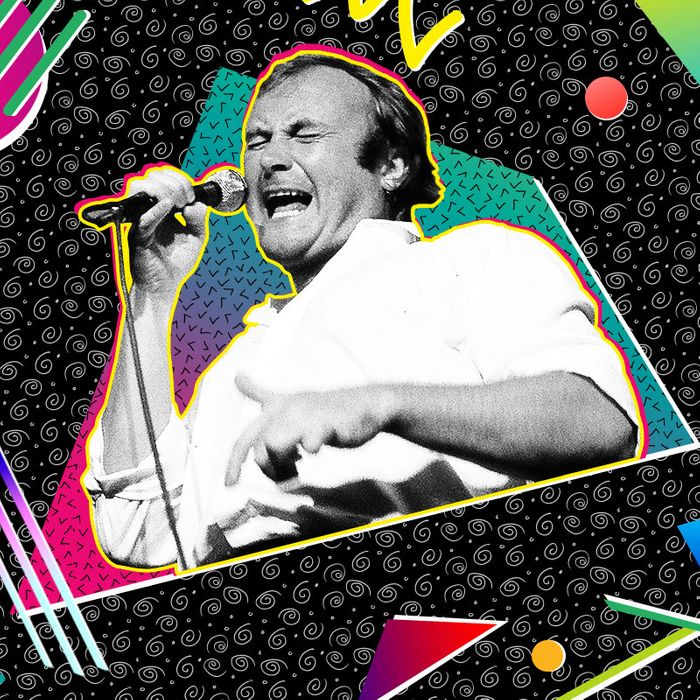 Photo-Illustration: Maya Robinson/Vulture
Before The Sopranos series finale famously cut to black, Tony Soprano made a choice. He flipped through the options in a diner jukebox and decided to play Journey's 1981 anthem "Don't Stop Believin'."
That wasn't the first time a TV show featured one of Journey's songs, or even that song in particular. Family Guy, Laguna Beach, and Scrubs had all taken midnight trains goin' anywhere before The Sopranos did it in 2007. But experiencing that track in such a widely watched episode of one of the most revered dramas in TV history changed the way some people perceived it. After that diner scene aired, "Don't Stop Believin'" got an adrenaline shot of renewed popularity, and Journey, a band often dismissed as purveyors of Velveeta rock, basked in a bit of credibility.
In the near-decade since that jukebox moment, '80s songs have played an increasingly prominent role on television. As more years have passed and the decade has been put in more nuanced context, the diversity and quality of its pop music has become more widely acknowledged. Series that are set in the '80s, as well as some that are not, now frequently incorporate the era's radio-friendly hits into their soundtracks in ways that infuse them with fresh meaning, while a number of shows, especially period pieces like The Americans and Halt and Catch Fire, keep digging further into the vinyl vaults to highlight deeper and deeper tracks from the time. All of this confirms that the early MTV landscape, once perceived as the epicenter for disposable one-hit wonders and artists who cared more about their lip gloss than their lyricism, is actually a pretty rich field to mine for enduring and meaningful melodies.
"We've had decades of listening to Led Zeppelin," says Lori Majewski, co-author of the book Mad World: An Oral History of New Wave Artists and Songs That Defined the 1980s, as well as the co-host of the SiriusXM music talk show Feedback. "You know: 'Sympathy for the Devil' [by the Rolling Stones] was used in everything, right? We've heard those songs over and over and over. Now people who are in their late 30s through early 50s, they're running the shows, literally. That's why this cool music is being heard."
Ben Zales, music editor for Mr. Robot, which weaved in a number of choice '80s cuts during its most recent season, echoes that sentiment. "I'm seeing some showrunners and writers who grew up in the '80s and have an attachment to that era of music," he says. "And now they're in a position to inject their tastes into what they're writing into their show."
The very notion of building a TV soundtrack around pop music was actually pioneered in the mid-'80s, when Miami Vice became the first scripted series to commit to it as part of its modus operandi. Back then, though, the public was more inclined to take a Phil Collins or Glenn Frey track seriously. After the 1980s ended and we began the process of looking back at it, the decade's pop music was often characterized as one massive, ridiculous, retro giggle. And, to be fair, some of it was ridiculous as hell. Have you listened to "I Wanna Be a Cowboy" recently? There's a reason why that song will never be in an episode of Westworld.
But when resurfaced in the proper context, the ridiculous can become infectious, poignant, and potentially even sublime. Glee put a lot of '80s favorites on the radar again by reconnecting with the sentimentality and/or sense of fun in tracks by REO Speedwagon, Madonna, Michael Jackson, and, yes, Journey, among others. Both This Is Us and the CW's No Tomorrow recently worked in a similar vein by illustrating moments of empowerment by having a character perform an '80s smash in front of an audience. (On This Is Us, that happened when Kate crooned "Time After Time" at a retirement home, while Evie on No Tomorrow let her headbanger chick out to play during a live karaoke rendition of Whitesnake's "Here I Go Again.")
Things get even more interesting when a series takes an incredibly familiar '80s tune and flips the script on its tone or meaning. This season, Mr. Robot used a song that you can barely scan a radio dial or enter a grocery store without still occasionally hearing — "Everybody Wants to Rule the World" by Tears for Fears — and, once again through the power of live karaoke, turned it into a haunting commentary on the emptiness of both Angela's and f society's quests for power.
One of the strongest music cues in Stranger Things, aside from its chilling synthesized score, happens at the beginning of episode three when Foreigner's "Waiting for a Girl Like You" — the jumping-off point for many a slow dance in 1981 — underscores both the first sexual encounter between Nancy and Steve and the dragging of poor Barb into the Upside Down by some otherworldly creature. Under such tense circumstances, a song that once sounded overly sentimental suddenly assumes a sinister quality. Who, exactly, has been waiting for a girl? Steve, or the creature from the Stranger Things lagoon?
Sometimes music supervisors and showrunners use a song in a way that's simultaneously obvious and sly. While talking to Damon Lindelof about season two of The Leftovers last year for a New York Times piece, he mentioned that "White Lines," which blasts while Liv Tyler's character does cocaine in a restaurant bathroom, took on a dual meaning. "I was listening to that song on the radio and I was like, this song could just as easily be about the Guilty Remnant as it is about cocaine," Lindelof said, referring to the drama's white-clothing-clad cult, to which Tyler's Meg belongs. By incorporating it into a moment when Meg is literally snorting white lines, its "on-the-nosedness becomes this other thing, and you end up playing against playing against picture." That's a lot of layers for a Grandmaster Flash–Melle Mel track to unpack.
But perhaps the best recent example of building layers on top of a breezy chart-topper happens in the "San Junipero" episode of season three of Black Mirror, which is intentionally wallpapered with stereotypically 1987 sights and sounds, to a degree that makes the viewer wonder whether the story is taking place in 1987 or some facsimile of that year. Musically, its highlight is Belinda Carlisle's "Heaven Is a Place on Earth," a slight but catchy piece of pop that slowly morphs into a clever and touching work as the nature of this particular Black Mirror world is revealed. (Added wink-wink bonus: Mackenzie Davis, star of Halt and Catch Fire, whose season-two finale was called "Heaven Is a Place," happens to be in this episode.)
Majewski says her Mad World co-author, Jonathan Bernstein, was so wowed by the song's use that he called her shortly after viewing "San Junipero." "He was like, 'Okay, you are never going to hear Belinda Carlisle's "Heaven Is a Place on Earth" the same way after you watch this episode of Black Mirror,'" she says. That's what is happening on a lot of these shows; they take these '80s songs we've heard a million times and enable us to hear them again for the first time.
Some music supervisors and showrunners take the '80s pop road less frequently traveled, unearthing tracks that have disappeared almost entirely from the audio Zeitgeist. The Americans is the reigning master of this approach. Its action sequences and other musically heightened moments are scored in ways that have been wonderfully surprising right from the beginning of the series, when the drumbeat of Fleetwood Mac's lengthy "Tusk" provided the racing pulse for the pilot's opening sequence.
"We do our best to avoid anything that is an 'obvious' period statement, whether it's music or wardrobe or cultural reference," showrunners Joe Weisberg and Joel Fields said via email. That's why "Rough Boys" by Pete Townshend, several selections from Yaz's Upstairs at Eric's, and Ultravox's "Vienna," among many other gems, have won such prominent roles on the show.
In part to stay in line with the cutting-edge sensibilities of Cameron, the programmer played by Mackenzie Davis, Halt and Catch Fire has pulled out some pretty obscure post-punk songs over the course of its three seasons, including "Last Words" by 23 Skidoo and "People Going Nowhere" by little-known Washington, D.C., band Crippled Pilgrims.
"These songs have never been played on American TV before," Majewski says. "I think what these showrunners and music supervisors are doing now is saying, 'Wow, there were some incredible synth-pop songs, New Wave songs, post-punk songs, during the '80s, particularly '80 to '85, that were dark.' It was a special moment where the underground was overground … and I think that's why it's mined for all these TV shows."
The best uses of '80s music fire up the synapses in our brains in a way that allow us to simultaneously feel a surge of remembrance and a surge of empathy for the characters we're watching. Sometimes they even call to mind the use of '80s music on '80s TV shows. To bring this back to Miami Vice, both Mr. Robot and Halt and Catch Fire have used Phil Collins songs ("Take Me Home" in the former case, "In the Air Tonight" in the latter) that were famously played at great length during moments involving Vice's Crockett and Tubbs. Those songs worked beautifully to enhance the tension on both of those current shows, but, for those who still remember Miami Vice, they also functioned as an homage. They said: "Remember when Miami Vice used to incorporate these '80 songs so damn well? We're still doing that on TV. Maybe these days, we're even doing it better."