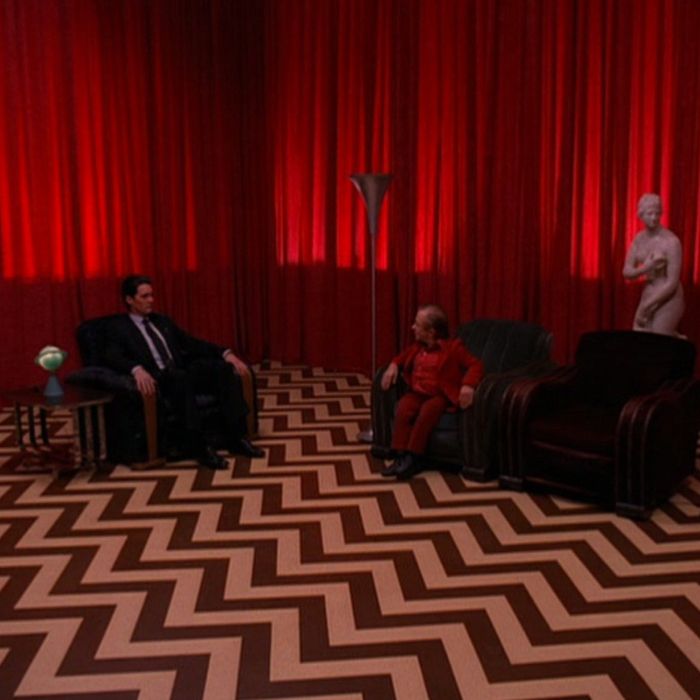 This post originally ran on Oct. 18, 2016. We are re-running it ahead of the Twin Peaks revival. Spoilers ahead for the series finale of Twin Peaks, as well as Mark Frost's new novel, The Secret History of Twin Peaks.
The second-season finale of the seminal, kooky TV drama Twin Peaks — which later turned out to serve as the show's series finale — capped off with inarguably one of the most frightening ending scenes in television history. Special Agent Dale Cooper (Kyle MacLachlan), now possessed by the demonic entity known as BOB after narrowly escaping the Black Lodge, calmly squeezes a tube of toothpaste into a bathroom sink before smashing his head into a mirror, where BOB's diabolical reflection stares back at him. (In the process, he coins a chilling catchphrase: "How's Annie?") Aside from that nightmare-inducing sequence and its unknown aftermath, though, there were other potential plotline outcomes to unpack: What happened with the explosion at the bank? Were Ben's injuries life-threatening after Doc Hayward whacked his head against a fireplace? Did Leo ever escape Windom's pesky tarantula trap?
In his novel, The Secret History of Twin Peaks, series co-creator Mark Frost gives us an extensive and fascinating look at the history of the northwestern town and fills in some characters' backstories. In the process, he also clears up a few questions about what happened after the events of the finale. Here are five new things we learned from the book, though we'll have to wait until the new season begins on Showtime Sunday to find out how it all turned out.
Audrey was the only survivor of the bank explosion.
This was probably assumed by most fans — given that the actors who played Andrew Packard, Pete Martell, and bank manager Dell Mibbler have been dead for many years, and Sherilyn Fenn, who portrays Audrey, is confirmed to appear in the upcoming series. But the details surrounding the explosion are expanded on in more detail in the book. "After the blast, Miss Horne was found unconscious but alive in the rubble of the basement," an article in the Twin Peaks Post reads. (Frost himself does not narrate the novel. The town's story is told through fictional letters, newspaper clippings, government correspondences, and detailed notes by an unknown "archivist" and modern-day FBI agent.) "She has been transported to the ICU at Calhoun Memorial Hospital, where she is listed in critical condition … a first responder later confirmed to this reporter that Miss Horne has been found near the open vault door, but that it may have shielded her at least partially from the explosion. He also confirmed that Miss Horne may have been intentionally shielded by one of the victims of the blast, Pete Martell, who was found lying on top of her." She ended up having a slow recovery.
Audrey had left a note for her father, Ben, at the Great Northern Hotel's front desk the morning of the explosion, in which she chastised him for his role in "destroying" the town with his plans to turn the forests into shopping centers and apartments. (She even brought secret copies of her father's development ideas with her to the bank, which she wanted to share with news sources. They were destroyed in the explosion.) Consumed with guilt and sadness, Ben didn't leave Audrey's hospital bedside for days, although he still proceeded with his plans — he bought the Packard Mill and parts of the Ghostwood National Forest from Catherine.
The aftermath of the bank explosion turned Catherine into a recluse.
As Andrew and Pete had died in the explosion, Catherine was officially given sole ownership of the Packard Mill and all of its associated properties. With her husband, brother, and sister-in-law, Josie, dead — and with no living heirs or relations — she grieved the loss of her family and became a recluse for the remainder of her life, choosing to never speak or write about what happened. She ended up abruptly closing the mill and, as mentioned, sold it and its properties to Ben — her former lover — after a mysterious fire gutted its central facilities. Piper Laurie, who portrayed Catherine, will not be appearing in the upcoming series.
Hank was killed in prison.
Norma's husband was last seen in prison, where he was brought in for parole violations related to international drug trafficking, assault, and attempted murder. He also tried to bribe Norma into giving him an alibi in exchange for a divorce, but she refused. Hank ended up pleading guilty to the charges and was sentenced to 25 years in the Walla Walla state penitentiary. Three years after his sentencing, Hank was fatally knifed in the prison weight room by a distant cousin of the Renault family. On his deathbed, he wrote a letter confessing to his various crimes, which included his role in helping fake Andrew's death. "You all tried to help me so many times, and get me back onto the way of what's good and right," he wrote. "I'm so ashamed to admit that I betrayed you all so many times. I knew better. I knew I was doing wrong and couldn't help myself. No excuses. I have nothing left to give except to say how sorry I am for any hurt or sorrow I ever caused you." Shortly after writing the letter, he died in the prison hospital.
Dr. Jacoby was suspended from practicing psychiatry in Washington.
Visiting Kauai to scatter his brother's cremains in the ocean, Dr. Jacoby finalized his case notes on Laura Palmer's murder. At this time, his treatment of her had been under review by the Washington State Medical Association. He wrote that he holds himself "responsible for all that followed" after he began treating Laura and expressed regret that he didn't bring up the concerns he had with her family (he specifically knew about Leland's sexual abuse) to law enforcement sooner. After consideration of his case, the State Medical Review Board chose to indefinitely suspend his license to practice medicine as a psychiatrist in Washington. "Please be aware that any violation of this revocation, of any subsequent attempt to practice medicine without a state-issued license, can and will result in criminal charges," the association's chairman wrote to him. No longer a doctor, he decided to move to Hawaii (presumably with his wife) to work on his memoirs.
The events following Agent Cooper's mirror-smash become even more mysterious.
Major Garland Briggs — who, in the novel, becomes quite a pivotal figure in the otherworldly folklore of the town — sheds light on what happened after Agent Cooper smashed his head into the bathroom mirror. (As explained in the book, Briggs had been recruited to track and analyze extraterrestrial activity in the northwest by Douglas Milford, who spearheaded highly classified government programs related to UFOs and alien lifeforms.) Waking up from a dream that made him realize Cooper held the answers to the mysterious events surrounding Twin Peaks, Major Briggs attempted to contact him before being alerted by Sheriff Truman that he had gone missing in the woods the prior evening. In a frenzy, Briggs began to prepare elaborate "mayday" protocols at the Listening Post Alpha ("LPA"), which was the secret code name for the equally secret building where he searched for intelligent life. Shortly thereafter, Truman called Briggs to let him know Cooper had returned safely and was resting in his Great Northern Hotel room; Briggs asked him to tell Cooper to call him immediately. As written in Briggs's final dossier entry:
Only moments ago, while writing the previous passage [in his dossier], Cooper called, as I had requested. He's on his way to the house right now – the bell just rang, he's here. Betty is letting him in …

12:05 PM MARCH 28, 1989

He just left. Something's wrong. The message holds the answer, just as I thought, but I've misinterpreted it. Protocols are in place. I must act quickly. I'm heading to the LPA alone.

* M * A * Y * D * A * Y *
The FBI agent in charge of analyzing the case — in 2016 — wrote that whatever happened next to Major Briggs and Agent Cooper was never publicly known. Their respective files are designated as "many levels above top secret."