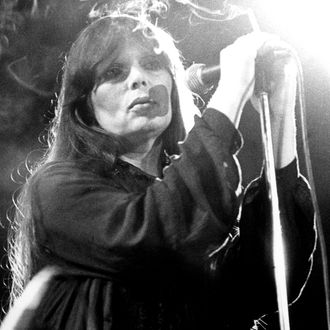 This is very on-brand.
Photo: Kerstin Rodgers/Redferns/Getty Images
If in your music biopic pool you've been betting on Lou Reed's life making it to the big screen before the rest of the Velvet Underground, prepare to cough it up. Variety reports that the band's early collaborator, Andy Warhol muse, and elusive German femme fatale Nico is getting the biopic treatment before all the rest. True to Nico's status as a European icon, Italian director Susanna Nicchiarelli will helm the film, Nico, 1988, about Nico's final years before her death at 49 in 1988. And she'll be played by Danish actress Trine Dyrholm, who won the Silver Bear for Best Actress at this year's Berlin International Film Festival. Though Nico is remembered as a cult figure when she was in her prime, the film will look to study Nico's life after fame — and the heroin addiction that derailed it — in her forgotten years. The story will rely largely on interviews with Nico's son Ari and last manager, Alan Wise; it'll also use flashbacks, dreamlike sequences, and the music that inspired Nico, plus her own songs performed by Dyrholm and not Drake (sorry). As for that Lou Reed biopic, well, uh, there's always Prozac Nation.