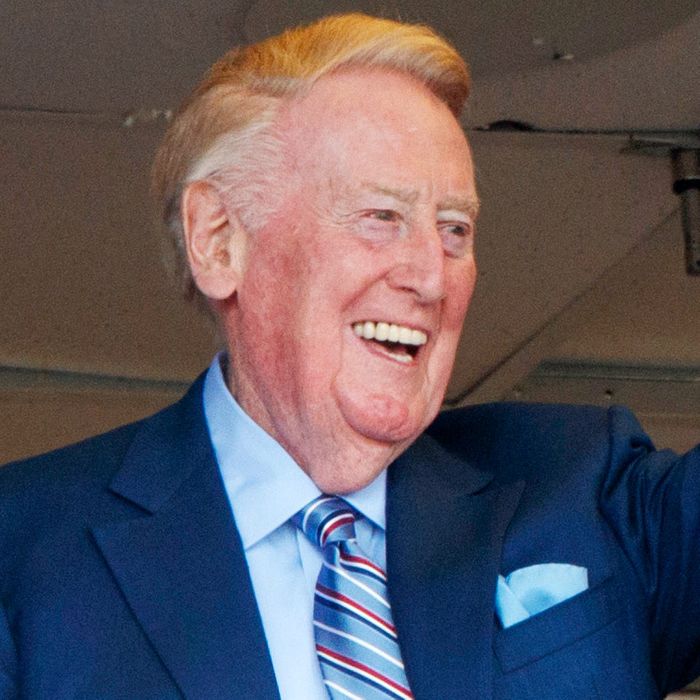 Photo: Jason O. Watson/Getty Images
Vin Scully spent 67 years as the voice of the Los Angeles Dodgers. Sunday afternoon in San Francisco, when the Dodgers closed the regular season with a game against the Giants, the many admirers Scully earned during that historic run got one last chance to hear the broadcaster's soothing voice. Willie Mays came up to the booth, and every baseball fan instantly wished for three hours of two legends swapping stories. The Giants, Scully's childhood team (when they were in New York), beat the Dodgers 7–1 to complete a three-game sweep and secure a playoff spot, with Scully offering a simple sign-off at the end: "I have said enough for a lifetime, and for the last time, I wish you a very pleasant good afternoon." And then, a final on-camera essay: "When the upcoming winter gives way to spring," he said, "rest assured it will be time for Dodger baseball." Scully addressed us all as friends one last time, told us everything would be okay after he's gone, and we believed every word.
Many of Scully's most famous calls — Sandy Koufax's perfecto, Kirk Gibson's World Series home run for the ages — were of Dodgers games. It's nearly impossible to last that long in one job and not make an impression, but Scully's legacy was towering, and went far beyond calling balls, strikes, and hits. Sports Illustrated once published an article describing Scully's impact on his adopted hometown of Los Angeles. Since L.A.'s driving culture is so ingrained, and Scully's place in Angelenos' hearts so essential, you could hear his voice everywhere: out of car windows, on front porches, even inside Dodger Stadium, where opposing players would experience the weird sensation of hearing their own pitches and at-bats described in real time. That article describing Scully's indelible presence in Southern California was published in 1964; he still had more than a half-century of telling people "It's time for Dodger baseball" ahead of him. But here's the thing about becoming the most famous and accomplished sports announcer who ever lived: Along the way, you get lots of other gigs, too.
He was there the day Henry Aaron made baseball history. A man of letters, Scully understood that Hammerin' Hank's 715th wasn't just a special moment for the sport. It was a seminal moment in the history of America, a black man making the biggest of all baseball records, one that had been held for decades by a white man. Scully understood both the elation and resentment that would come with the moment, and deftly handled both, using his unparalleled ability to both craft the perfect words at the right time, and to know when to shut up, lay out, and let the moment breathe.
"There's a high drive into deep left-center field, Buckner goes back … to the fence … it is … GONE! [27 seconds of silence] What a marvelous moment for baseball. What a marvelous moment for Atlanta, and the state of Georgia. What a marvelous moment for the country and the world."
He was there the day Red Sox first-baseman Bill Buckner messed up against the Mets in the 1986 World Series. Scully had a keen sense of history, and knew full well that Buckner's error would go down as the most painful example of the supposed curse lingering over Boston for 68 years. But he also grasped the flip side of the moment, that a loaded and charismatic Mets team had just pulled off an incredible comeback. In the end, the right call on such a fast-moving and wildly unlikely play was to call it as he saw it, then raise his voice to match the delirious screams of the Shea Stadium faithful.
"Little roller up along first … BEHIND THE BAG! IT GETS THROUGH BUCKNER! HERE COMES KNIGHT, AND THE METS WIN IT!"
Even the greatest broadcasters of this generation (and of the last), marveled at Scully's ability to get it right every time. When Scully would launch into one of his trademark stories, he'd make sure to call every pitch, the old radio voice in him never forgetting that description of the game took precedence over all else. His admirers joked that the game would slow down for him, the batter with two outs inevitably fouling off ten or twelve pitches so the audience could hear the end of the gripping tale of the utility infielder and his beloved cow Bessie.
The biggest takeaway was always Scully's ability to find le mot juste when the stakes were highest, even as the rest of us struggled to properly articulate our thoughts in the easiest, most mundane settings. As Gibson fist-pumped his way around the bases in '88, Scully waited, waited, and waited, then delivered a line so perfect, no one else could conjure if they had a month to think about it: "In a year that has been so improbable, the impossible has happened!" When the incomparable Koufax finally reached perfection, Scully again laid out for an eternity, letting the roars of the crowd wash over the listeners. After describing the feat in simple terms, he fired another verbal fastball, 100 mph and right on the black. "Sandy Koufax, whose name will ALWAYS remind you of strikeouts, did it with a flourish. He struck out the last six consecutive batters. So when he wrote his name in capital letters in the record books, that K stands out even more than the O-U-F-A-X."
Scully represents a final link to radio's golden days, and to the long-gone ideal of broadcasters as Renaissance men. Whether on that medium or on television, he called games in a way that few even dare try today. Younger play-by-play announcers who try to tell a rich story in the span of a half-inning almost inevitably fail at the task. Only Scully could call a humdrum Dodgers–Diamondbacks game in April; fixate on a light-hitting outfielder named Socrates Brito; jump to the Greek philosopher Socrates; tell the story of the time Socrates drank hemlock; explain the origins and effects of hemlock; then when Brito smacked an RBI triple, tie it all together in his melodic voice by saying, "Socrates Brito feeds the Dodgers the hemlock."
Today's top announcers do an excellent job of describing game action crisply and entertaining us as best they can when games turn into blowouts. No one else dares try to turn his broadcasts into a liberal-arts seminar, much less do so knowing that his listeners (or viewers) will eat up every word. Even some of the other sports-broadcasting giants in American history couldn't quite match up to Scully. Mel Allen had the voice, but not the same storytelling chops. Howard Cosell had the deep intellect and a knack for biting social commentary, but seemingly as many critics as fans. Jack Buck, Ernie Harwell, Dick Enberg, Al Michaels, Bob Costas, Curt Gowdy, Keith Jackson, Mike Emrick, Harry Kalas, even his old Dodgers broadcast partner Red Barber … none of them could match Scully's combination of fan impact, universal adoration, total command when the stakes were highest, and the ability to make us wish he could call everything from the big game to the fourth-grade bake sale.
I am a non–Dodgers fan, and so the Scully moment that will forever stand out to me involved another team (my beloved and now deceased Montreal Expos) and my favorite player of all time (Tim Raines). Following the 1986 season, Major League Baseball's owners colluded against that winter's free-agent class, in an effort to pay less for labor. One of the players hit hardest was Raines, a 27-year-old star in his prime. Raines waited for months for even a semi-respectable offer, never got one, re-upped with the Expos for millions less than fair value, then had to sit out all of April 1987. On May 2, he made his season debut at Shea Stadium, against the Mets. As luck would have it, that was NBC's Game of the Week, a momentous occasion for an Expos club that rarely got national attention in the States — doubly so with Scully on the mic. Raines was unstoppable that day. On the first pitch he tripled. His second time up, he walked, stole second, and then scored two batters later. He singled in the sixth, then singled and scored again in the ninth. With the bases loaded and the game tied in the tenth, Raines came to bat against Mets closer Jesse Orosco. Then came the magic, as called by Scully:
"High drive into deep left field, McReynolds watching … WOULD YOU BELIEVE A GRAND SLAM FOR TIM RAINES?! That has to be one of the most incredible stories of the year in any sport. The first day back!"
Setting personal fandom aside, the moment wasn't extraordinary by historical standards — but Scully had a way of making even relatively mundane games feel unforgettable. That was what made the Voice of Baseball so great. He could take a random game in early May, perfectly capture every little crackle of electricity in the ballpark, and leave a 12-year-old hoser with a memory that will last a lifetime. Whether you were a Dodgers fan or just a lover of baseball, you hoped and prayed that he would someday call a big moment for your team. That somehow, some way, you'd get to claim a piece of Vin Scully as your own. When that blessed opportunity finally arrived, he always delivered.