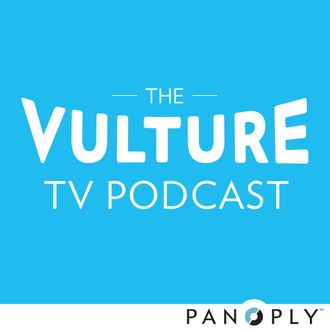 On this week's Vulture TV Podcast, we're joined by the stars of two fall shows premiering this week: Divorce's Thomas Haden Church and Fresh Off the Boat's Randall Park. In their premieres, both shows deal with an identity crisis: For Church's character, Robert, it's brought on by his wife, Frances (Sarah Jessica Parker), telling him she wants a divorce. For Park's Louis Huang, it's the feeling of returning to your homeland years later, only to discover neither it nor you are the same. Listen to our conversations with both actors, and read highlights from both conversations below.
Park on playing a Taiwanese-American as a Korean-American …
It was a problem for me, for sure. And early on I talked to the producers about it. I remember having that conversation, I think with Melvin and definitely with Eddie [Huang], because Eddie was more a part of the show at the time. I remember going into his office and saying, "I don't know if this is right. I don't feel right playing this character." But he was so supportive, and the fact that it was his father that I was playing, and I remember him saying, "No one else can play this part but you." I really took that to heart. I took that and held that close to me, especially early on when I was having trouble with that. But you know, I still have a little trouble with that at times. I guess the goal is that, eventually we can be at a place where we won't see white people playing Asian people anymore. We're not there yet [laughs]. But in an ideal world you won't see a Korean-American playing a Taiwanese character, especially an immigrant character.
… and feeling out of place growing up:
When I would experience something — you know, challenges or forms of racism that really got me down or made me feel like, Gosh, there's no hope for me in this situation, I remember distinctly thinking, Why did my parents come here? They always say it was for me. They always say it was for their kids, and they put us in these situations where we have no control over how we're being treated. There's a line in the show where Louis says — it's one of my favorite lines in the show, where he's regretting having made the move to America — to his brother: "We are the white people here." [Laughs.]
Church on who Robert is when we first meet him …
He's a lost guy. She kind of blindsides him. But it's a blindsiding that, to some extent, he's accountable for out of just emotional desertion. Somewhere along the way, they just started drifting. And at various times it was like, "Hey, we're drifting apart!" or she was like, "Hey, come back here! I feel like I'm losing you." But I think that, maybe with a lot of couples that end up in divorce, there's a desensitizing, and they probably aren't aware of it because everybody's like, "I don't want to hurt your feelings." But along the way somewhere, you're too far apart and you just can't get the lifeline back over there. One of my favorite lines is in a Crosby Stills and Nash song, "Southern Cross": "We never failed to fail because it was the easiest thing to do." I think a lot of times in divorce that's what happens.
… and how marriage can complicate a relationship:
 I've never been married. I've been engaged a few times. And, you know, in those relationships, it seemed like as soon as "Will you marry me?" was introduced into the dynamic, unfortunately in those relationships, it wasn't so much you start going downhill but it immediately brought a whole bunch of other sort of expectations and challenges, I think on both sides of, "Do you really mean it? Is this really what you want?" And do you really mean it? and is this what you really want? are very hard questions if you're having some instability in other areas, like family or career. And both of those engagements ended for that very reason. Looking down five years, ten years, Are our goals going to stay the same?  I think that with marriage, people go ahead and pull the trigger and get married after a yearlong relationship or a two-year relationship. And sometimes those questions get answered in a very positive, loving way. And sometimes those questions become bigger and bigger unknowns and uncertainties.
Tune in to the Vulture TV Podcast, produced by the Slate Group's Panoply, every Tuesday, on iTunes, or wherever you get your podcasts. And please send us your burning TV questions! Tweet us @Vulture, email tvquestions@vulture.com, or leave us a voice-mail at 646-504-7673.