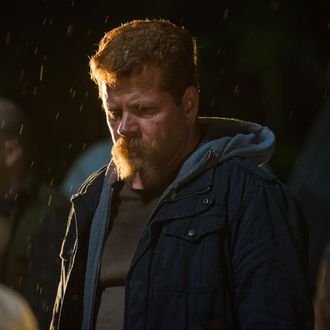 So long, Sarge.
Photo: Gene Page/AMC
There are spoilers ahead for the season-seven premiere of The Walking Dead.
The season-seven premiere of The Walking Dead has come and left two bodies in its wake: Negan's bat claimed Glenn and Abraham. When Abraham takes a blow, he has enough wherewithal to deliver some final parting words: "Suck my nuts." During a conference call with reporters Monday, the actor who plays him, Michael Cudlitz, said that those were his final words because "Abraham almost always says almost what you expect him to say." Less expected, though, may have been the little exchange between Abraham and Sasha.
For viewers who were able to keep their eyes on the screen, Abraham Ford flashed a final good-bye to Sasha (Sonequa Martin-Green): a peace sign. Greg Nicotero, the episode's director and executive producer of the show, said that they were trying to figure out a way for Abraham to communicate to Sasha without turning his head or adding any dialogue. "That was something Michael added," said Nicotero. "It was a beautiful moment." Cudlitz expounded on the gesture, which was used between the two characters throughout season six:
It was to Sasha. Nothing is to the audience ever. Everything is for the audience, but nothing is to the audience. For those paying attention, the peace sign is something that was between me and Sasha throughout the series. It was an unspoken, very loaded peace sign. We had to find a way for Abraham to connect with Sasha for him to say good-bye specifically to Sasha. We had already established in the finale of last year that eye contact was not broken. He got knocked down, he came back up. We could add dialogue, but there was no way for him to turn away or nod nothing to Sonequa. Going back into it, we had to figure out a way to tell Sonequa, tell Sasha, that everything would be okay and to say good-bye. That was what we came up with.
Here's the moment caught by some Twitter users in case you missed it:
Peace, Sarge.