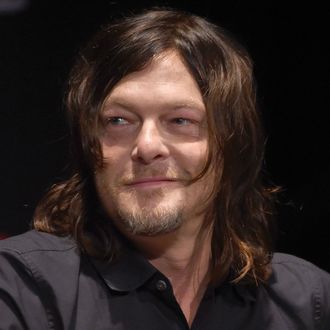 Your move, Daryl.
Photo: Anna Webber/Getty Images
Since the story lines on The Walking Dead can get pretty heavy, the cast tries to keep things light with a pastime that would make George Clooney's face light up with crow's feet: pranks! Much of the main cast of The Walking Dead assembled at New York Comic Con at Madison Square Garden on Saturday night with one major exception: lead star Andrew Lincoln. And while Rick Grimes wasn't there, that didn't mean he didn't make his presence known. Instead, at the top of the panel, he made Rick's trusted right-hand man Daryl Dixon, i.e. Norman Reedus, read off a note on his behalf. "Dear New York Comic Con," Reedus began, "This is Andrew Lincoln here. I've occupied Norman Reedus for the next few minutes. I'm inside his mind. I'm truly sorry not to be with you all today, but to make up for it, Normskie has promised to read word for word this message on my behalf."
Reedus continued:
I would like to take this opportunity to apologize to Andrew Lincoln for all the pain and humiliation I've caused him over the years. The chicken in his trailer was juvenile. The ongoing glitter war was ill-judged and consistently not knowing any new character names or plotlines that Daryl Dixon doesn't happen to be in is quite simply unprofessional. I admire him deeply. I secretly wish I was him. When he's not here I miss him. I really do. Don't skip this beat, I'll know if you do, because Steven has a copy of this message.
Steven Yeun (Glenn!!), then jumped in: "He's a remarkable man. You'd better say this Steven, because Cudlitz has a hard copy of this message as well."
Reedus continued:
Keep going with this speech quick, because Mike will probably say something shitty. I thought it would be nice to do something for the fans to make up for my absence, so Normskie will ask a question and the first person to get it right gets to choose any item of clothing he's currently wearing. The question is this: How many squirrels did Daryl Dixon throw at Rick when I told him I handcuffed Merle to the rooftop? Good luck, have a great night, and I hope you're wearing boxers, Norm.
Predictably, the audience became rabid, with some screaming the correct answer: three! "Three is a hundred percent correct!" yelled Chris Hardwick, host of The Talking Dead and moderator of the evening. "Take it off!" So, much to this reporter's chagrin, Norman Reedus doffed his cap and threw it into a mass of grasping limbs. "I really like that hat, too," he said. Then he went on to reminisce about the last prank that Lincoln pulled on him.
"We've always screwed with each other," said Reedus. "The last thing that happened, he put my motorcycle out on a boat and pushed it out to the middle of a lake with a sex doll sitting on top of it. So he's due. It gets pretty heavy. We all goof around on set when we can."