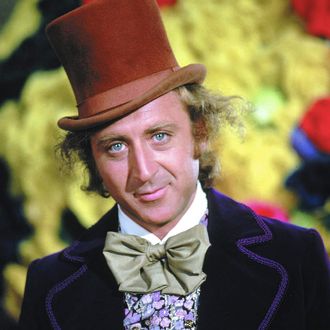 Please, tell me more.
Photo: Warner Brothers
Come with me, and you'll be in a world of preexisting intellectual property. Take a look, and you'll see into Warner Bros.' plans to make a Willy Wonka and the Chocolate Factory prequel with the help of David Heyman, the producer behind the Harry Potter movies. The studio has acquired the Willy Wonka rights from the Roald Dahl estate, just months after the death of the original film Wonka, Gene Wilder. Simon Rich (The Secret Life of Pets, Man Seeking Woman) is writing the script, but so far there's no director or star attached. The film won't be a traditional reboot, according to Variety, but "a standalone movie focused on Wonka and his early adventures." Maybe it'll explain why Wonka loves candy so much, tell us the reasoning behind his taste in fashion, or dig into the history of the Oompa Loompas — actually, never mind, that could get really offensive really fast.