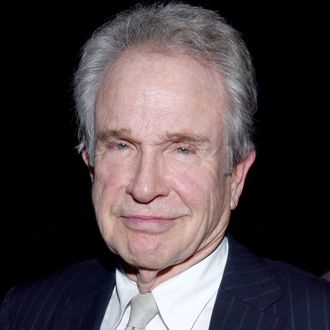 Warren Beatty.
Photo: Vivien Killilea/Getty Images for San Diego Film
In the run-up to the release of Rules Don't Apply, his first film in nearly two decades, Warren Beatty sat down for an in-depth interview with Vanity Fair. As with any story about the legendary actor, writer, director, and recluse, there are lots of tantalizing bits of information, mostly about his many affairs:  Beatty nearly missed the moon landing because he was hooking up with Edie Sedgwick, and he walked along the beach with Marilyn Monroe the day before she died. But there's also a hint — and you have to pay close attention — about where Beatty's been hiding for all this time. Early on, we get this scene:
Then there's the fame. On his way into a California Pizza Kitchen on the less glamorous side of Wilshire Boulevard, a young woman on her way out of the restaurant instantly recognized him: "Oh my god, you're my favorite actor!"

"And you're mine," Beatty fired back. Warren Beatty seduced the world, and the world still seems to be in love with him.
Did you catch that? Vanity Fair has given us the best Warren Beatty story of all: Warren Beatty likes to eat at California Pizza Kitchen. Sadly, the profile leaves out whether he orders the Thai chicken pizza, or prefers to go with the Thai crunch salad, the two best CPK options. Later, Beatty also gets a burger at the Apple Pan, a West L.A. greasy spoon. The next time you see a guy who looks like Warren Beatty at your local fast-casual dining spot, know this: It is Warren Beatty!