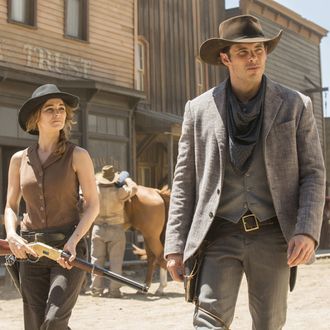 Photo: John P. Johnson/HBO
Following each week's episode of Westworld, show composer Ramin Djawadi will be Vulture's guide to the music.
Last week on HBO's Westworld, we heard instrumental versions of "Black Hole Sun" and "Paint It Black" incorporated into the soundtrack. This week, it was Radiohead's "No Surprises," a band we'll be hearing a lot more of on the show (especially from OK Computer), given that showrunner Jonathan Nolan is a fan. "When Jonathan says, 'Do a Radiohead song,' I say, 'Great!'" show composer Ramin Djawadi (Game of Thrones) told Vulture. "This particular piece was pretty simple, actually. The opening arpeggiated riff from 'No Surprises' translates really well into piano."
For episode two, Djawadi was asked to do a Radiohead piano reduction for two scenes in which madam host Maeve (Thandie Newton) is having trouble with her settings. She tries her programmed spiel on one customer and blanks in the middle of it, distracted by a memory. After her aggression is bumped up, she tries it again on a separate customer and fails again. The song plays both times, "as part of the repetition of resetting her," Djawadi said. Should we infer any meaning as to the selection of the song itself?
"The way I see it, it's like a jukebox in a restaurant," Djawadi said. "When you put money in it, it plays preprogrammed pieces. These particular pieces that the piano plays help you with the sense of time, the repeats. It just marks time, and it provides the recognition factor that this is a preprogrammed event." Or as Newton put it at New York Comic Con, when "you suddenly realize, 'That piece of music! I know what it is!'… you'll pick it up and perhaps make connections."
Fans going back to watch the original Westworld movie might make another connection — between that movie's gunslinger theme music and the TV theme. "What I liked about the original so much was that the score had both elements," Djawadi said. "Organic elements, with these really scratchy solo violins, and then also very synthetic sounds that were very popular in the 1970s, the analog synthesizers and stuff." The movie used Fred Karlin's experimental score sparingly, saving it for Yul Brynner's most menacing moments (for instance). The TV show has more space to play with, so Djawadi anchored the doomy theme with bass notes, inspired by the movie, and added in lighter arpeggios and a melody "to support the theme park aspect," he says. "We have more of a fun element to it."