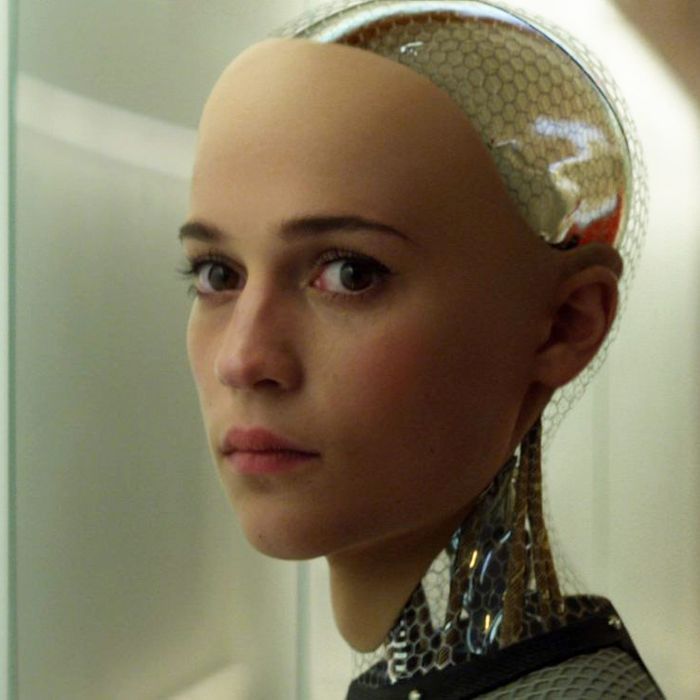 The sci-fi thriller Westworld is already HBO's biggest success in years, with a debut that earned glowing reviews and millions of viewers. Based on a Michael Crichton book and then movie and set in a Wild West theme park full of lifelike androids, the series explores ideas about technology and humanity that have fascinated sci-fi fans for decades. It's already inspired comparisons to everything from Battlestar Galactica to Dollhouse to Jurassic Park, but if you're jonesing for similar thrills between one Sunday and the next, here are a dozen films, shows, comics, and games to tide you over.
Blade Runner and Do Androids Dream of Electric Sheep?
If you haven't watched the 1982 cyberpunk film starring Harrison Ford — or read the equally classic Philip K. Dick novel that inspired it — then you should definitely start here. A profound influence on modern science fiction, this tale about genetically engineered "replicants" whose existence is forbidden on Earth and the "blade runners" who hunt them down is essential viewing and reading. Available on Netflix DVD.
Isaac Asimov's Robot series
This one is obvious, right? Isaac Asimov's novels and short stories about positronic robots, which he started writing in 1939, are perhaps the most seminal works about artificial intelligence, and the source of the famous Three Laws of Robotics that are crucial to Westworld.
Star Trek: The Next Generation
Specifically, the sixth season episode "A Fistful of Datas." It's one of the holodeck episodes, where Worf and his son Alexander enter a Wild West program set in Deadwood. Because of a power surge in engineering, they find themselves trapped inside with the holodeck safety protocols turned off, while their gun-slinging foes take on both the appearance and the formidable abilities of their android crewmate, Data. You also get to see Data dressed up as a saloon girl, if that is your sort of thing. Available on CBS, iTunes, Amazon Video, YouTube, and Google Play.
Red Dead Redemption
Cited by showrunner Jonathan Nolan as an influence on the series, this Wild West game about a former outlaw trying to capture his old gang might be as close as you can get to the experience of visiting Westworld, barring virtual reality. Much like Westworld, it offers both a sandbox approach to storytelling — go wherever you want! — ultraviolent gunfights, and a morality system where your behavior affects your reputation, which determines how characters in the game respond to you. Also, it's awfully pretty.
Terminator: The Sarah Connor Chronicles
The first two Terminator movies could easily find a place on this list, though with 31 hour-long episodes, the television series had far more time to stretch out and explore philosophical issues about artificial intelligence in between the robot-shooting action that characterizes the franchise. It's a bit less sympathetic to artificial beings than most of the other media here, as it's about stopping machines from wiping out all human life, but you get to see Cersei (Lena Heady) blowing up robots long before went she went nuclear on King's Landing. Available on iTunes, Amazon Video, YouTube, and Google Play.
Real Humans and Humans
The Swedish TV series Real Humans and its British adaptation Humans imagine a world where androids have become commonplace as laborers and companions, even for middle-class families. As in Westworld, treating them as property becomes a lot more complicated when they start to develop feelings and desires of their own. Available on Amazon Video, YouTube, and Google Play.
Ex Machina
A programmer (Domhnall Gleeson) is invited to visit to the remote home of a reclusive tech billionaire (Oscar Isaac), where he soon finds himself administering an unexpected Turing test to the CEO's latest creation: an artificial intelligence named Ava (Alicia Vikander). If you want more cerebral explorations of men being creepy to robots who look like women, this movie fits the bill. Available on Amazon Video, iTunes, YouTube, and Google Play.
vN
The debut novel from writer Madeline Ashby centers on a girl named Amy with mixed technological heritage — that is, she has a human father and a vN (android) mother. When her estranged grandmother appears one day and attacks her mother, Amy defends her family by literally eating her grandma, swallowing her whole and turning her into a partition on Amy's own hard drive — and a voice in her head. When she goes on the lam for the murder she's committed, her unhinged grandmother's memories start filtering back, urging her to do some very dangerous things.
The Vision: Little Worse Than a Man
An artificial life form best known as a member of the Avengers, the Vision has often been used by Marvel Comics writers to explore questions about what it means to be human. In this remarkable and sometimes heartbreaking comic-book series by Tom King, the Vision decides to explore what it means to be a part of family — by building one of his own. The Visions, as it says on their mailbox, reside in a quiet Virginian suburb where they struggle to imitate a normal human family, though the most painful and insightful moments of the series occur in the uncanny valley where they don't quite succeed. In the process, they manage to hold a strange, sad mirror up to our own presumptions about humanity in the process. You can read it in print issues, digital issues, or as a graphic novel.
Ghost in the Shell
One of the first anime series to break through in America during the mid-1990s, Ghost in the Shell is a slick, cyberpunk vision of a futuristic Japan where humans can not only integrate computers into their brains, but replace their bodies entirely with cyborg prosthetics. The traces of humanity left behind are known as "ghosts," and the idea of modifying humans until they are almost entirely synthetic poses an inverse of Westworld's central question: Rather than pontificating on whether machines can become people, it imagines what happens when people become machines. If you get into it, this series runs the gamut from movies and TV series to manga and video games — and a live-action adaptation is coming next year. Available on iTunes and Google Play.
Edge of Tomorrow
Despite choosing a vastly inferior name to the original Japanese novel, All You Need Is Kill, this excellent action flick starring Tom Cruise and Emily Blunt imagines a future where time-looping soldiers can perfect their tactics in a war against invading aliens the same way that video-game players do: by dying over and over and over. Like Westworld, it offers thought-provoking ideas about violence through the lens of interactive entertainment, underscoring how traumatic it would actually be to live the first-person life of a video-game character. Available on YouTube and Google Play.
Westworld
When you can't wait for more Westworld, why not watch … Westworld? The original 1973 film starred Yul Brynner as a gunslinging android in a Western-themed robot amusement park where — surprise! — things go horribly awry. It was scripted and directed by Michael Crichton, which means that he was writing about hubristic and technologically advanced themed parks where the attractions rise up against their human visitors at least 17 years before Jurassic Park. Available on iTunes, Amazon Video, YouTube, and Google Play.
Futureworld
If the original Westworld tickles your fancy, then it's possible you may enjoy its 1976 cinematic sequel, Futureworld. It's not likely, though, because it's not very good. Michael Crichton didn't write or direct this outing, where the park's owners unwisely decide to reopen it. It's still full of robots, although the movies ends up being less about robots and more about clones. That's kind of a spoiler, but again, it's a pretty bad movie. Available on Amazon Video, Hulu, iTunes, YouTube, and Google Play.
Beyond Westworld
Yes, there was a TV show too. Set between Westworld and Futureworld, and yet weirdly disconnected from the plots of both, Beyond Westworld focuses on the evil schemes of the androids' creator, who has amassed a robot army and is now bent on world domination. Only five episodes were made before the show got canned, and based on descriptions it sounds like it was about ferreting out androids that had been secretly embedded in police departments or submarine crews. In what I feel certain would be my favorite episode, we're told that "Quaid gets his hands on some uranium, and John and Pamela must find another android who is hiding in a rock band." Anyway, it's on DVD.