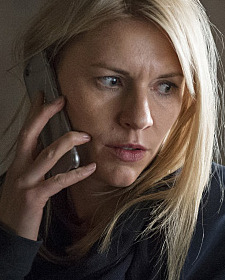 The loudest applause during Thursday night's Homeland panel, which kicked off PaleyFest 2016, came roughly 40 minutes into the conversation. Prompted by a question from the audience, Claire Danes revealed Peter Quinn (Rupert Friend) was still alive. When we last saw Quinn, he was comatose, the result of prolonged exposure to sarin gas. Hooked up to various IVs in a hospital bed, Quinn's life was very much in the hands of Danes's Carrie Mathison, and it wasn't clear whether the end result of "A False Glimmer" would be the death of one of Homeland's most complex and beloved characters.
The show's sixth season takes place in New York City, and as co-creator Alex Gansa stressed during the panel, which was attended by Mandy Patinkin, F. Murray Abraham, and director Lesli Linka Glatter, a theme of this season is an examination of the effects of the United States' counterterrorism policy since September 11. "Was 9/11 a black swan? Was there ever really a threat of another 9/11?," he says. "Our cast of characters can take all different sides of that argument … we want to talk about the counterterrorism industry that has grown up in this country since 9/11." Here's what else we learned:
Carrie followed Quinn to New York City.
According to Danes, Quinn and Carrie both relocated to NYC while Quinn "receiv[es] therapy here, on multiple levels." When asked how her character would redeem herself to Quinn, Danes quipped, "By annoying the crap out of him." Other than knowing Quinn has recovered, in some sense, the cast is tight-lipped on details.
Don't expect any rogue terrorist cells.
Gansa and the writers didn't want to dramatize anything in the United States that didn't actually exist. "There are no Islamic State terrorist networks or organized terrorist networks in the United States like there are in Europe," Gansa said. "There is so much fear flying around right now, and Homeland doesn't want to contribute to that fear, so we are going to tell a different kind of thriller this year."
Or bomb plots, either.
Though Gansa touched on the recent bombing in Chelsea, this upcoming season will steer clear of any plots involving bomb threats. The focus will instead be on the United States' $110 billion counterterrorism industry.
"We have created a surveillance state at some level, and we have demonized an entire community, a Muslim community in this country," Gansa said. "The intelligence officers … will say we haven't had an attack since 9/11. That is a very persuasive argument. On the other hand … seven years [after 9/11], the FBI had not found a single terrorist cell in this country, after a tremendous and frantic investigation." It would appear that much of this season's plot will focus on the community level — an engaged micro-examination of a very macro issue — and how the actions undertaken by Carrie, Quinn, and Patinkin's Saul Berenson have affected a large swath of American citizens. "We have engendered fear in our population," Gansa says.
We won't learn much about Dar's backstory.
Abraham's Dar is an opaque character. Heading the CIA's black-ops program, Dar shed significant insight on Quinn's backstory at the end of season five, but Abraham won't budge when discussing Dar's machinations. "I am not going to say anything more about him, except that I have a great deal of respect for the man, and love for him," says Abraham. "As far as his backstory, that is my business. My whole life has been trying to reveal the truth through my work … this character you just can forget the truth. The truth belongs to him." Dar reportedly is tasked, along with Saul, with prepping president-elect Elizabeth Keane on all matters of national security, which Abraham hinted will cause some conflict: "Dar believes it is necessary to achieve a balance between the impossibility of dealing with certain people and doing the just thing. The problem is, of course, when you have the kind of power that this character has, is of course bending the power. Becoming omniscient, and taking the character of God into your own hands. But that's all I am going to say."
Saul won't sing.
A legendary Broadway performer, Patinkin laughed when asked whether Saul would have the opportunity to sing at any point during Homeland's run. "Absolutely not," he said. "That is a sure way to jump the shark." Though, if Saul was to sing in the shower, he'd likely belt out "Rubber Ducky."