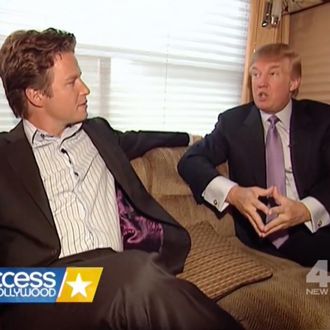 Beyond the seismic effects it's having on the presidential race, Friday's release of Donald Trump's now-infamous Access Hollywood tape has also done potentially catastrophic damage to the career of Billy Bush, the former Access anchor and current Today show co-host who chats with Trump in the video, seemingly unbothered by the billionaire's misogyny. What's not yet known: just what the fallout will be for Bush, and whether other individuals and organizations — including NBC News and Mark Burnett, executive producer of The Apprentice and a former Trump business partner — will end up getting dinged as well. Let's break down the dangers ahead for the three key media players in this weekend's megascandal:
Billy Bush
Bush issued a brief statement of apology Friday, but as of Saturday afternoon, NBC had not issued any statement at all regarding Bush's behavior or his future with Today. The New York Post's Page Six reported that Bush's job "is safe," but it is hard to imagine NBC simply letting Bush show up for work as usual on Monday to anchor the 9 a.m. hour of Today. Bush may not have gone as far as Trump by personally bragging about his ability to commit sexual assault unchecked, but he laughed and egged on Trump during the entire bus ride and appeared to demean his then co-anchor at Access, Nancy O'Dell. (O'Dell is the woman Trump is referring to in the video as having thwarted his advances.) Even if NBC were to simply wave away such comments and behavior by Bush — and it'd be shocking if it did so— Today would be left with a conflict-of-interest problem for Bush. While the 9 a.m. hour of the show is devoted mostly to soft news and features, the presidential election won't be completely ignored during Bush's portion of the show. How does NBC allow someone who's now a supporting player in a major campaign controversy to anchor any portion of Today before the election?
Of course, it's possible NBC News chief Andy Lack isn't aware of how bad it would look to let Bush anchor as usual on Monday, and if so, it wouldn't be the first time he's demonstrated a blind spot. Nineteen years ago, appearing with other NBC execs on a conference call with other reporters to discuss an NBC News series of special reports on the "war" between men and women, Lack was very defensive when a TV Guide reporter asked why there were no females on the call. A reporter for the New York Post — me — then quizzed Lack about the paucity of female executive producers working at NBC News, and Lack got angry. "I think these titles are kind of silly," Lack told me, seeming to suggest that female journalists with senior producer titles actually had more power than their bosses. The conference call resulted in a flurry of bad press for Lack, including a column from Pulitzer Prize–winning Los Angeles Times TV critic Howard Rosenberg. 
To be clear, none of this is to suggest Lack somehow shares Trump or Bush's attitudes toward women, or that he approves their actions. But Lack did not cover himself in glory dealing with the recent departure of Melissa Harris-Perry from MSNBC, and NBC News didn't come off looking very good with its Ryan Lochte coverage or with Matt Lauer's handling of an NBC presidential forum last month. And if Bush simply keeps anchoring Today with no consequences, it would be a massive blunder for the Today and NBC brands. My hunch? Saturday's silence is a prelude to an announcement that Bush will either take a leave of absence from the show or is being suspended. It also wouldn't be shocking to hear Bush's contract had been bought out and that he is leaving NBC News and returning to Access. As one former NBC employee told me, "I think they keep Billy where he belongs — doing fluffy entertainment.  [It] always seemed like an odd move bringing him over to NBC News."
Update: NBC reversed itself on Sunday and suspended Bush from the Today show pending a review. It's unclear when or if he will return.
NBC News
Lack may have to deal with another problem stemming from the Trump tape: Why didn't NBC News break the story before the Washington Post? According to CNN's Brian Stelter, both Access Hollywood and NBC News knew about the tape as early as Monday, but neither outlet apparently was going to report the story before Sunday's second presidential debate. In fairness, NBC News can't control Access Hollywood's coverage, and the video was apparently not under the control of the news division. But so what? The actions seen in the video are clearly newsworthy, and yet two different units of NBC simply sat on the news for days. At the very least, both Access and NBC News need to issue detailed explanations as to why they waited, and how far up the NBCUniversal executive chain the decision-making process went. Some questions I have: Was anyone at NBC trying to protect Bush's reputation? Were there concerns about releasing the video before the debate? Did anyone at NBC News or Access reach out to Trump or the Trump campaign before the Washington Post contacted them on Friday? And was Bush given a heads-up that this tape had surfaced? There may well be perfectly plausible explanations for all this. But NBC News in particular owes its viewers transparency here. CBS News hired an independent panel to look into what happened with the preparation of a 60 Minutes investigation Wednesday into President George W. Bush's National Guard service. The Trump tape story may not require quite so much self-searching, but it does require full disclosure.
Mark Burnett and The Celebrity Apprentice
Friday's bombshell has put renewed spotlight on a Monday report by the Associated Press detailing allegations of similar misogynistic behavior by Trump on the set of The Apprentice. The AP has been asking NBC, which airs the franchise, and producer Mark Burnett to make outtakes from the show available for review in order to corroborate the charges by former Apprentice contestants and staffers. NBC referred the news organization to Burnett, which is logical, given the network doesn't control the footage from the show (just the finished episodes). But Burnett, says the AP, has refused to respond. This is his right, of course, but in the wake of the Access disclosure, Burnett will come under increasing pressure to say something about the matter. (On Saturday, Vulture emailed a PR rep for MGM, where Burnett's company is now based, for comment. So far, we've not heard back.)
It's obviously not Burnett's duty to do opposition research for the Clinton campaign, and he may have very good reasons to do all he can to keep such footage (if it exists) private. Remember, Trump was once a producer of The Apprentice and a business partner with Burnett, as well as a host of the franchise. When he exited the show last June following his controversial immigrant-bashing speech announcing his presidential bid, it seems likely he and Burnett agreed on some sort of deal buying out Trump's stake in the show. (Or maybe not: Burnett has said very little about the matter). In any event, it's possible part of Trump's exit deal may prevent Burnett from releasing any outtakes from The Apprentice, or possibly even talking about the matter. Even if it's not, Burnett may be loath to release outtakes because they would possibly do further damage to the Apprentice brand. Imagine video of Trump talking the way he did to Bush, but against the backdrop of the show's boardroom? Such images would become seared into viewers' minds, making the already risky reboot of the show planned for next winter even riskier — particularly because the new host of The Apprentice, Arnold Schwarzenegger, has had to apologize after he himself faced charges of groping women.