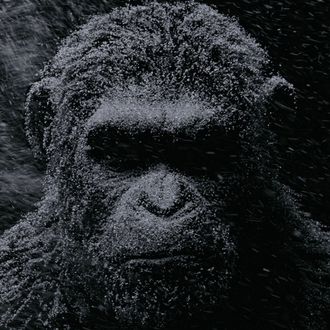 Teaser art for War for the Planet of the Apes.
Photo: Twentieth Century Fox
After the success of 2014's Dawn of the Planet of the Apes, the primate-supremacy franchise returns next summer with the release of War for the Planet of the Apes. In a first-look session at New York Comic Con Thursday night, director Matt Reeves (who also helmed Dawn), producer Dylan Clark, and star Andy Serkis gave fans a short glimpse of the making of the film, which follows the ape leader Caesar (Serkis) as he battles both his inner demons and a ruthless military commander (Woody Harrelson) making one last stand for humanity. Over the course of the hour-long session, here's what we learned.
The trio showed off seven-minutes of rough-cut footage.
Reeves said that he felt "naked" showing the sequence, which was comprised of shots of Serkis and the other ape actors in their motion-capture suits, mixed in with rough Quicktime CGI and a few shots of polished animation. Though the film depicts an increasingly brutal war between humans and apes, the scene shown at Comic Con was a quiet affair that gave Karin Konoval's orangutan Maurice a moment to shine. The new scene also included lots of footage of the apes riding horses, which raises interesting ethical questions.
Everyone loves Andy Serkis.
Reeves and Clark spent most of the session singing the praises of Serkis's acting, which the production clearly considers its edge over similar franchises. (Reeves said the word "acting" more than he said the word "apes.") Serkis himself, sitting beside them, could only grin.
Because of the motion-capture, most shots had to be done three or four times.
To get the shots of CGI monkeys interacting with real environments, each shot that included the apes had to be done at least twice: once with the actors in their motion-capture suits, and once with no one in the frame at all. Shots where the apes interacted with human characters had to be done four times: Once as an empty frame, once with everyone, once with just the apes, and once with just the humans. Though it was a lot of of work, Reeves explained that the process allowed him to continue tinkering with ape scenes throughout the editing process, giving him the option of, say, redoing the end of a movie over Skype.
When you're making a Planet of the Apes movie, vacations are for the birds.
As Reeves explained, preproduction on War began almost immediately after Dawn opened in 2014. "I only got four weeks off" in between them, he revealed. Clark, his boss, disagreed, telling Reeves he got six weeks off — four weeks of vacation, and a two-week trip. "Those two weeks were press," Reeves said.
The movie's teaser trailer ends with Woody Harrelson giving an ominous voice-over: "If we lose, it will be a planet of apes."
Hey, that's the name of the movie!