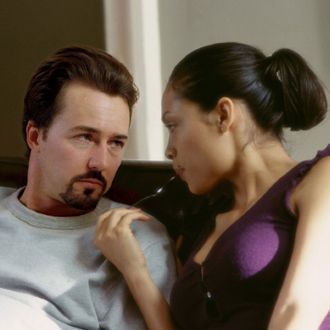 Photo: Touchstone Pictures
Each month, several films and TV shows leave HBO's catalogue. We provide a list of departing titles so you can watch them before they're gone forever (or are just available on a different site). For more comprehensive coverage of the best titles available on HBO and elsewhere, check out Vulture's What to Stream Now hub, which is updated throughout the month.
F*ck you and this whole city: 25th Hour (2002)
There is something pure and wondrous in Spike Lee's 2002 drama about a man's final day of freedom before his seven-year prison sentence for drug trafficking begins. Is it Lee's typically boisterous filmmaking style, the deeply felt monologues from Edward Norton and Brian Cox, or just the sheer audacity of trying to capture the humanity of New York in the immediate aftermath of 9/11? Whatever it is, you should not let November pass without seeing this modern American masterpiece for yourself. Leaving November 30.
Befriending King James: Trainwreck (2015)
Is Amy Schumer on the naughty list now? It's exhausting to keep track of pop culture's oscillating stance on the fiery and unapologetic comic, but her collaboration with Judd Apatow lands laughs regardless. (That most of those laughs come from LeBron James is immaterial.) Also, on HBO, you can stop this overlong movie at the two-hour mark and do something else with your life instead of watching Schumer and Bill Hader spin their wheels for another 20 minutes. Leaving November 30.
Broken-down piece of meat: The Wrestler (2008)
That promised magic comeback from Mickey Rourke after the raves he earned in Darren Aronofsky's 2008 drama never really happened, did it? No matter. He's still perfect here as a faded professional wrestler who continues to debase himself long past his expiration date, all in the name of entertainment. Even once we know he should hang up his unitard, it's nearly impossible to stop cheering for Randy "the Ram" Robinson. Leaving November 30.
Scribbles on a chalkboard: A Beautiful Mind (2001)
Look, I know this movie gets a bad rap because a standard biopic with Ron Howard's milquetoast directing didn't deserve all those Oscars or whatever. But if you go in cold to Russell Crowe's wounded portrayal of paranoid schizophrenic mathematician John Nash, then goddammit, the thing just works. Crowe is brilliant as a man trapped in a vast government conspiracy in his own head. Leaving November 30.
Leaving November 30
25th Hour
A Beautiful Mind 
American Gangster
American Pie
American Pie 2
Bee Movie
The Black Dahlia
Face/Off
Igby Goes Down
Jurassic World
Night at the Museum: Secret of the Tomb
Paper Towns
The Score
State and Main
The Transporter
Trainwreck
The Wrestler