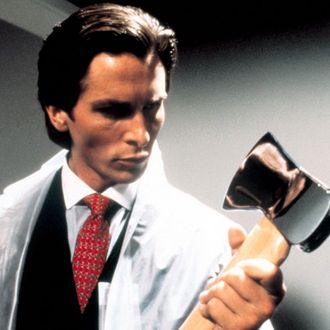 Each month, several films and TV shows leave Hulu's catalogue. We provide a list of departing titles so you can watch them before they're gone forever (or are just available on a different site). For more comprehensive coverage of the best titles available on Hulu and elsewhere, check out Vulture's What to Stream Now hub, which is updated throughout the month.
Into the woods: The Blair Witch Project (1999)
You have likely already forgotten about this year's Blair Witch, as a film released with only a few weeks' advance notice is liable to be. But you still have some time to watch the original (again) and see if its found-footage spooky business still works after nearly two decades of imitators (it does). Paranormal what now? Leaving November 30.
Hip to be square: American Psycho (2000)
The "need to return some videotapes" line may have lost some of its luster in the streaming era, but the rest of Mary Harron's ultraviolent adaptation of Bret Easton Ellis's comic nihilism sure hasn't. Marvel in fright as Christian Bale's Patrick Bateman, a sign of the times if there ever was one, chainsaws innocent victims with wild abandon and zero remorse. And don't be afraid if you find yourself kinda craving his business card. It's natural. Leaving November 30.
Travesty of a mockery of a sham: Bananas (1971)
Several of Woody Allen's early comedies are about to leave Hulu; one of the funniest is this 1971 slapstick satire about a nebbish named Mellish who accidentally becomes leader of a South American banana republic. The jokes are solid, and the pacing is much, much better than Allen's Amazon series. Leaving November 30.
Leaving November 30
Alice
American Psycho
American Psycho 2
Bananas
Bowling for Columbine
Bridget Jones: The Edge of Reason
Class
The Dogs of War
From Dusk Till Dawn
Everything You Always Wanted to Know About Sex* (*But Were Afraid to Ask)
The Falcon and the Snowman
Lost and Delirious
Love and Death
Married to the Mob
The Messengers
A Midsummer Night's Sex Comedy
North Dallas Forty
Scary Movie 2
Scary Movie 3
Spanish Judges
Stage Beauty
Stigmata
The Blair Witch Project
Throw Momma From the Train
Troll
Troll 2
Under Fire
W.