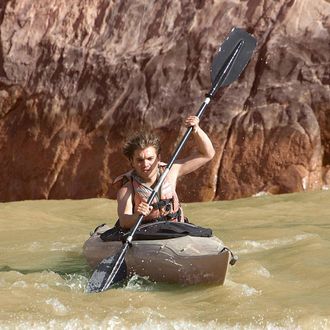 Each month, several films and TV shows leave Netflix's catalogue. We provide a list of departing titles so you can watch them before they're gone forever (or are just available on a different site). For more comprehensive coverage of the best titles available on Netflix and elsewhere, check out Vulture's What to Stream Now hub, which is updated throughout the month.
Magic bus: Into the Wild (2007)
With every passing year, I worry that this exquisite rendering of the Christopher McCandless story will fall out of fashion. Either the culture will collectively decide that McCandless was a fool who didn't deserve our love, or, more likely, that director Sean Penn should go sit in a cave somewhere until he can emerge a halfway decent human being. But here's the rub: Neither conclusion dulls the impact of Penn's profound American epic, a poetic tale of wanderlust and yearning that's just as worthy for its sweeping shots of the Western frontier as it is for the precise depiction of the tragically naïve amateur philosopher at its center. Keep this film's memory alive, please. Leaving November 1.
Frontier patriarchy: The Homesman (2014)
Criminally overlooked when it sneaked into theaters in late 2014, Tommy Lee Jones's riff on the Western unpacks the sins of sexism that haunt our country's history. Hilary Swank nails her best role in years as Mary Bee Cuddy, a brave frontierswoman who volunteers to bring three mentally ill young women across unfriendly terrain to seek medical attention. The Homesman has precise filmmaking technique to match its blistering intelligence, with an ending that, to be honest, should have stirred up far more debate that year than American Sniper or Birdman. Leaving November 5.
It's all happening: Almost Famous (2000)
A friend recently told me he hates Almost Famous, because in real life the biggest rock bands of the '70s were often horribly abusive to their groupies, and he viewed Cameron Crowe's decision not to articulate this in a film about groupies as a moral failing. I can share his concern but not his conclusion: Crowe's road journey into the heart of American rock is still the most affecting and personal capturing of an entire era's mindset in recent memory. Either "Tiny Dancer" sweeps you away, or it doesn't. Leaving November 1.
TELEVISION
November 1
Chuck (seasons 1–5)
Powerpuff Girls (seasons 1–6)
Shameless (the U.K. version, seasons 1–10)
November 24
The Boondocks (seasons 1–4)
Chowder (seasons 1–3)
Courage the Cowardly Dog (seasons 1–4)
Uncle Grandpa (season 1)
MOVIES
November 1
The Addams Family (1991)
Almost Famous (2000)
Angel Heart (1987)
Barnyard (2006)
Bratz: The Movie (2007)
The 'Burbs (1989)
Can't Hardly Wait (1998)
The Core (2003)
Deliverance (1972)
E.T. the Extra-Terrestrial (1982)
Echelon Conspiracy (2009)
Eight Crazy Nights (2002)
Empire State (2012)
Equilibrium (2002)
Escape to Witch Mountain (1975)
The Family Man (2000)
Fatal Attraction (1987)
Fresh (1994)
Get Rich or Die Tryin' (2005)
The Holiday (2006)
Into the Wild (2007)
Kangaroo Jack (2003)
Legally Blonde (2001)
Legally Blonde 2: Red, White & Blonde (2003)
Major League (1989)
Mansfield Park (1999)
Meet Joe Black (1998)
Mel Brooks: Make a Noise (2013)
Open Season (2006)
Open Season 2 (2008)
Open Season 3 (2010)
Patton Oswalt: My Weakness Is Strong (2009)
Rounders (1998)
Scream 2 (1997)
Sex: My British Job (2013)
Sky Captain and the World of Tomorrow (2004)
Something's Gotta Give (2003)
The SpongeBob SquarePants Movie (2004)
Spy Game (2001)
The Sum of All Fears (2002)
Total Drama World Tour (2014)
Underground: The Julian Assange Story (2012)
Urban Cowboy (1980)
Varsity Blues (1999)
What Women Want (2000)
November 2
The English Teacher (2013)
November 4
Gigli (2003)
November 5
The Homesman (2014)
November 11
Quartet (2012)
November 14
Seal Team 8: Behind Enemy Lines (2014)
November 15
Naked Among Wolves (2015)
November 16
The American (2010)
Let's Go to Prison (2006)
November 22
Tracers (2014)
November 23
The Boxtrolls (2014)
Scenic Route (2013)
Ultimate Spider-Man: Web Warriors (2015)
November 25
Robin Hood (1973)
November 30
Stuck in Love (2012)
xXx (2002)